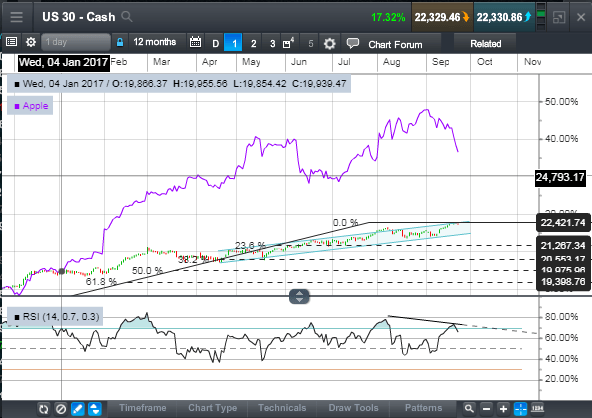 Since the US election last November the Dow has been climbing in a staircase pattern of rallies followed by consolidation at higher levels. Last week, the index reached a new all-time high but has started to backslide. A number of bearish technical signals have emerged suggesting the potential for a correction heading into a week where we could hear more hawkish talk from the Fed.
Technicals:
Last week, the US 30 broke out over 22,180 to a new all-time high, rallying toward 22,420 before running into resistance and dropping back toward 22,320.
Technical storm clouds have been growing. The RSI peaked at a lower high, creating a negative divergence that suggests slowing upward momentum. The RSI then fell back under 70 signalling the start of a correction.
Action in other markets also suggests the potential for a pullback. The S&P 500 failed to hold above 2,500 while the NASDAQ 100 failed to break out over 6,000 and completed a double top.
Perhaps most importantly, Apple is showing a big change in momentum stocks. After outperforming and pulling indices upward for most of this year, Apple peaked in early September, three weeks before the US 30 and US SPX. Apple has been leading the NDAQ downward and as one of the market's top Generals, its accelerating retreat could be a sign of things to come for major indices.
Fundamentals:
There are a number of fundamental factors that could impact US index trading this week.
The big market advance of the last several years has been fuelled by cheap credit and easy money. Last week, the Fed announced that it intends to start shrinking its balance sheet in October and most members expect to raise interest rates again in December than an additional 3-4 times in 2018. Meanwhile, the ECB is expected to announce its own QE tapering plans at its next meeting in October.
There are ten Fed member speeches scheduled for this week, headlined by Chair Yellen, which could continue to drive home that the Fed is getting ready to start seriously taking away the punch bowl and steadily bringing the big liquidity party to an end. Bank of Canada Governor Poloz, and Bank of England Governor Carney are also speaking this week and could echo the notion that central banks are moving away from the heavy stimulus of the last several years.
It's the last week of the quarter, which could start to bring earnings warnings, particularly from companies impacted by recent hurricanes. This could impact high growth expectations. Apple has already started to retreat on reports that the iPhone 8 isn't selling as well as previous models with customers apparently holding out for the iPhone X or tired of paying big money for small upgrades.
CMC Markets is an execution only service provider. The material (whether or not it states any opinions) is for general information purposes only, and does not take into account your personal circumstances or objectives. Nothing in this material is (or should be considered to be) financial, investment or other advice on which reliance should be placed. No opinion given in the material constitutes a recommendation by CMC Markets or the author that any particular investment, security, transaction or investment strategy is suitable for any specific person.
CMC Markets Canada Inc. is a member of the Investment Industry Regulatory Organization of Canada and Member-Canadian Investor Protection Fund / Membre-Fonds canadien de protection des épargnants. CFDs are distributed in Canada by CMC Markets Canada Inc. dealer and agent of CMC Markets UK plc. Trading CFDs and FX involves a high degree of risk and investors should be prepared for the risk of losing their entire investment and losing further amounts. CMC Markets is an execution only dealer and does not provide investment advice or recommendations regarding the purchase or sale of any securities.
CFD and FX trading with CMC Markets is only available in jurisdictions in which CMC is registered or exempt from registration, and in Alberta is available to Accredited Investors only. CMC Markets neither solicits nor accepts business or accounts from residents of the United States of America.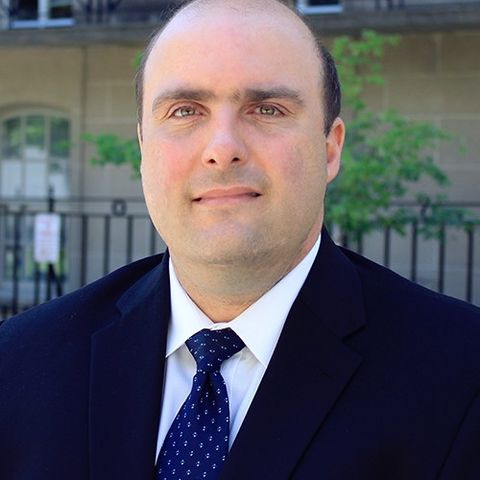 Colin Cieszynski