Spread betting forex is a type of spread betting that involves speculating on the price movement of currency pairs. Spread betting in forex involves opening a position based on whether you think the price of a currency pair is due to rise or fall, resulting in either profits if the market moves in your favour, or losses if the market goes against you.
Spread betting forex is one of the most common methods for forex trading, along with the use of contracts for difference (CFDs), which are both financial derivatives. The foreign exchange market is the largest and most liquid in the world, meaning that currency trading is popular with both beginner and professional traders. We offer over 300 forex pairs on our online trading platform, including major forex currency pairs, such as the EUR/USD and USD/JPY, as well as minor and exotic crosses.
This article discusses the best tips and strategies for currency spread betting, along with the differences between spread betting vs CFDs. It is important to find a suitable trading method for you in order to trade forex successfully.

What is spread betting in forex?

Spread betting forex is a tax-free* method of trading the currency markets. Traders are able to speculate on the price movements of forex currency pairs by opening a position based on whether they think the currency will appreciate or depreciate. If you expect the value to rise, you would open a long or 'buy' position, or if you expect the value to fall, you would open a short or 'sell' position.
With a spread betting account, you never own the underlying asset. If the market moves in your favour, this will lead to capital profits, but equally, if the market moves against your position, this will result in losses.

When trading currency pairs, there are usually two quotes given: the bid price and the ask price. The difference between the bid (sell) price and ask (buy) price of a currency pair is referred to as a spread in forex. In general, traders prefer currency pairs with tighter spreads, as this allows them to enter and exit trades more quickly with lower transaction costs.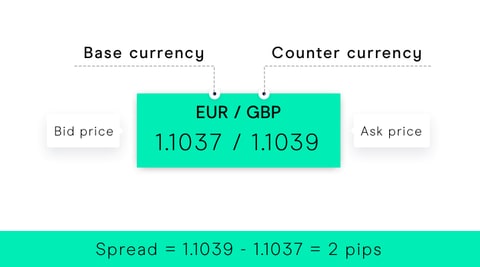 View our forex market page for a full breakdown of the spreads, margins and leverage ratios that we currently offer for FX spread betting.

Spot forex vs spread betting

Whereas spread betting is a product or method that allows traders access to the financial markets to speculate on price movements, forex trading is simply the market involved. Spot forex requires an investor to buy and sell currency pairs at the current market spot price, whereas spread betting allows the trader to speculate on the price movements of the underlying asset, without taking ownership.

​Many independent spot forex brokers charge tax on profits, as there will be some sort of ownership involved. No physical purchase takes place in forex spread betting; therefore, traders do not need to pay stamp duty or capital gains tax with a forex spread betting account*. This is the main difference between spread betting and forex trading, along with the use of leverage. There is also no commission to pay when spread betting forex.

How to spread bet forex
Learn how to spread bet. Consult our article on spread betting for beginners for advice about trading the currency market.
Learn about forex trading. Our forex for beginners article covers costs, strategies and examples to help you along the way.
Create an account. Choose between a live account to deposit funds or a demo account to practise beforehand.
Download our mobile app. You can set price alerts and trading notifications to pop up on your mobile.
Find a trading opportunity. Define your entry and exit points and place a trade.
Currency spread betting strategies
There is a wide range of forex spread betting strategies that can be applied to the market, and some that are particularly effective when trading in the short-term. These include trend following, news trading, forex scalping and hedging forex, of which the latter is a method of protecting against currency risk.
Forex spread betting tips

Before you begin trading, you should strengthen your knowledge of spread betting first. Read our spread betting tips and strategies guide to learn how this trading method can be applied to all markets, including foreign exchange.
Forex trading can often be volatile, therefore we advise you to brush up your knowledge of forex to learn the basic rules of currency pairs. We have a team of dedicated market analysts that provide daily updates on the financial markets in our news and analysis section. Alternatively, if you are looking for materials and articles from well-established sources, our news and insight section will help you to analyse the financial markets from an outside perspective, through Morningstar financial reports and Reuters updates.
It is worth creating a trading plan in order to strategize how you will enter and exit the forex market. This helps with consistency and organisation, as well as removing any emotion from your trading decisions, which can often end in rash decisions.
Part of your trading plan should include risk management precautions. In particular, it is a good idea to set a limit of the maximum capital you are willing to lose and sticking with it. Stop-loss orders are risk management tools that specify an exact price for closing your position when the markets move against your spread bets. The forex market is known for occasional volatility and rapid price movements, therefore, this tool will help to minimise your losses.
Forex spread betting vs CFDs
Spread betting is the most popular product on our platform in the UK, closely followed by CFD trading. With CFDs, you can trade on the forex market in a similar way to spread betting, by speculating on currency pair price movements. You also do not have ownership of the underlying asset. Contracts for difference are derivative products that require a trader to exchange the difference in value of a currency pair between the time that the position opens and closes. Likewise, if the market moves in your favour, you may experience profits, but if the market moves in an opposing direction, you may experience losses. Read our CFD definition article for more information.
Both products use leverage to gain better exposure to the FX market. CFDs are most commonly used for share dealing, and they also provide access to exchange-traded funds, another type of stock investment, whereas spread betting forex is thought to be the most popular method of currency trading. The main difference between spread betting and CFDs is the way that they are treated for taxation: spread betting is exempt from stamp duty, capital gains tax and commission charges, whereas CFD traders are required to pay both capital gains tax and commission on their profits.

Read our article on spread betting vs CFDs here for a full list of differences between the products. Spread betting is only available in the UK and Ireland, so if you are planning on opening trades within another region, you may want to consider forex CFDs.

Spread betting risk management

As mentioned in this article, spread betting the forex markets involves the use of leverage, also called trading on margin. When opening a position, forex spread betters are only required to place a fraction of the full trade value as their deposit. This provides them with better exposure to the markets. However, forex leverage comes with many risks that all traders should prepare for beforehand. Spread betting forex on leveraged positions will calculate losses at full trade value, meaning that while profits can be magnified if the markets move in your favour, there is the chance of losing all your capital if the markets move in the opposite direction.

You may also have to pay spread betting holding costs, depending on the assets and how long your positions last. In some cases, these costs can even succeed the profits made on your account; therefore, it is important that you deposit a sufficient amount of funds in your account to cover any holding costs.

Read more about the risks of spread betting forex here, including leverage, holding costs and account close-outs.


Forex spread betting broker
At CMC Markets, our forex traders often choose to practise with virtual funds on a demo account before depositing live funds, in order to familiarise themselves with the market. Opening a forex demo account is a simple process and will give you the opportunity to practise your forex spread betting strategies with £10,000 worth of virtual currency.
To learn more about how to use a spread betting demo account, follow the link to our information page. Alternatively, you can set up a live account here.
Forex spread betting platform
It is important to find a forex spread betting platform that is suitable for your trading plan. Our online trading platform, Next Generation, is an award-winning system that caters for traders of all experience levels. We also offer forex spread betting on MT4, an internationally recognised trading platform.
If you are a remote trader, our platform is also available for trading from home, thanks to our advanced mobile technology. Our forex spread betting and MT4 platforms are both suitable for traders on-the-go, whether you prefer to trade on a mobile or tablet device. Learn more about mobile trading apps here.
Forex spread betting forum

Forex spread betting forums can be useful for sharing trading strategies and market news and analysis with other traders. This is a form of social trading and can be especially useful for beginner traders in order to learn about financial trends and patterns from our key market analysts. Our platform comes with a built-in spread betting trading forum for both desktop and mobile devices.
Test drive our trading platform with a practice account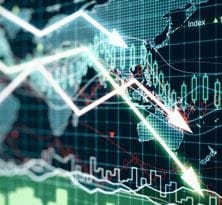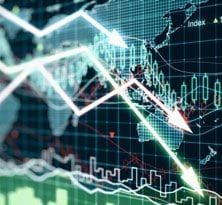 Experience our powerful online platform with pattern recognition scanner, price alerts and module linking.
Fill in our short form and start trading
Explore our intuitive trading platform
Trade the markets risk-free
*Tax treatment depends on individual circumstances and can change or may differ in a jurisdiction other than the UK.

Disclaimer: CMC Markets is an execution-only service provider. The material (whether or not it states any opinions) is for general information purposes only, and does not take into account your personal circumstances or objectives. Nothing in this material is (or should be considered to be) financial, investment or other advice on which reliance should be placed. No opinion given in the material constitutes a recommendation by CMC Markets or the author that any particular investment, security, transaction or investment strategy is suitable for any specific person. CMC Markets does not endorse or offer opinion on the trading strategies used by the author. Their trading strategies do not guarantee any return and CMC Markets shall not be held responsible for any loss that you may incur, either directly or indirectly, arising from any investment based on any information contained herein.