What are forex forward contracts?
Our FX forward contracts represent a number of major, minor and exotic currency pairs within the forex market. Forex forwards are derivative products that allow traders to buy or sell a currency pair at a specific price on a specific future date. This means that you do not take ownership of the asset, but rather speculate on its price, based on whether you think that the base or quote currency will strengthen against the other by the specified end date of the contract.
You may wish to trade currency forwards if you aim to open longer-term positions within the FX market without the extra fees, as these are not subject to overnight holding costs. You can spread bet on FX forwards tax-free in the UK and Ireland** or trade CFDs on a global level. Our forex forward contracts are traded over the counter (OTC), and they are not standardised for everyone.
FX forward rates
Our FX forward rates are calculated based on the spot rate (current market valuation) and the length of time that you intend to hold onto the contract, plus the contract expiration date. The currencies that market participants intend on trading are also factored into the calculation.
The main benefit of this approach is that it allows market participants to "lock in" an exchange rate for a future date, at any time. This process helps market participants to hedge against forex exchange market risk between the date they went long or short on the FX forward and the date of its expiration.
It's worth noting that when spread betting or trading CFDs on FX forwards, you are speculating on the price movements of the contract and not actually purchasing the underlying forward contract itself.
The terms FX forwards contracts are usually agreed upon include:
The date on which the contract should end
What time the contract should end
Whether the contract is to buy or sell the currency
What amount should they be bought or sold in
What are FX forward curves?
FX forward curves are visual representations of the settlement prices of the asset that you are planning to enter a contract for. It's important to note that the curve does not display the current market values of assets, so a settlement price offer in one months' time may be higher or lower than what the current FX forward contracts are valued at.
There are two types of "curves": an upwards curve that reflects an increasing in the expected settlement price of the held asset, which is referred to as a normal curve; and an inverted curve, where the settlement prices decrease over time.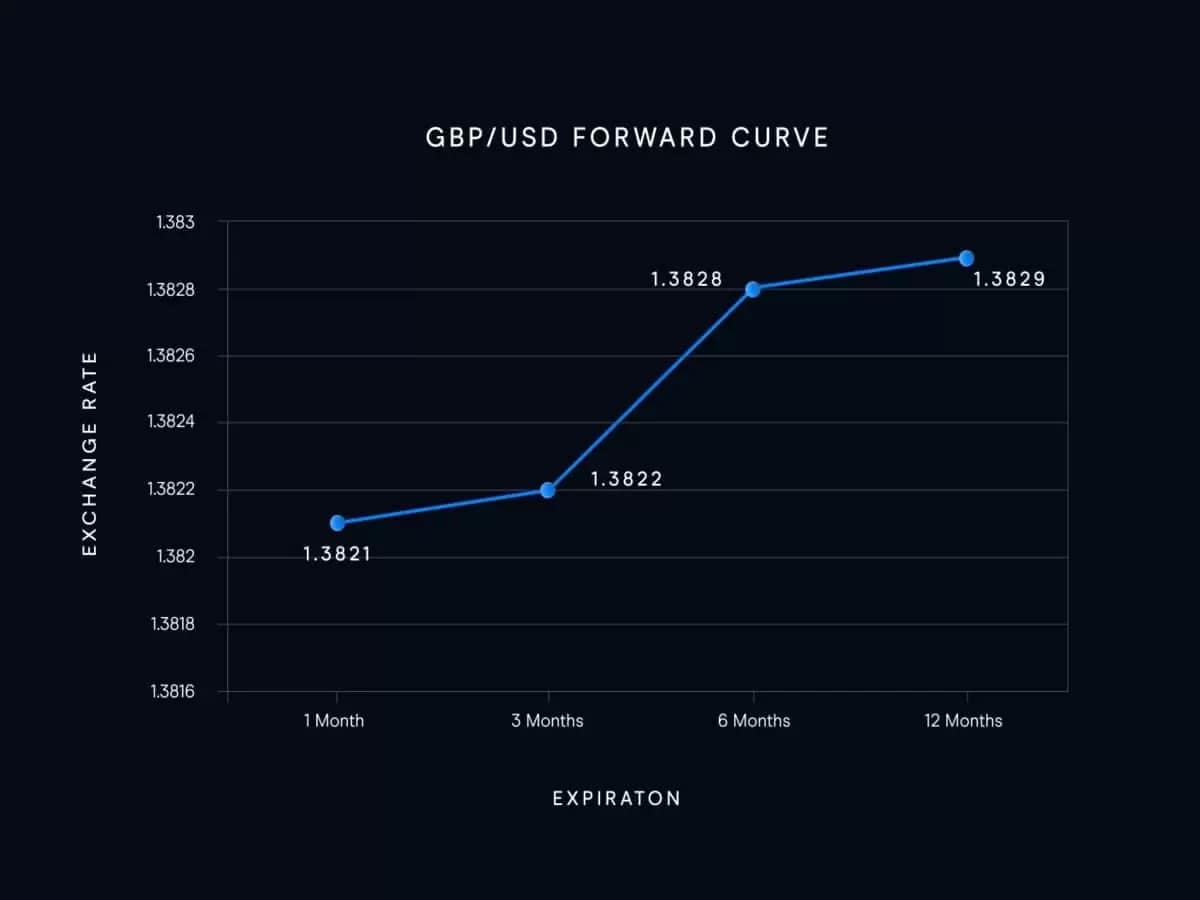 Trading hours shown in London local time