Leverage is a technique which enables traders to 'borrow' capital in order to gain a larger exposure to a particular market, with a comparatively small deposit. It offers the potential for traders to magnify potential profits, as well as losses.
The forex market offers some of the lowest margin rates (and therefore highest leverage ratios) compared to other leveraged assets, making it an attractive proposition for forex traders who like to trade using leverage.
Forex is traded on margin, with margin rates as low as 3.3%. A margin rate of 3.3% can also be referred to as a leverage rate of 30:1 (leverage is commonly expressed as a ratio). This means you can open a position worth up to 30 times more than the deposit required to open the trade. The leverage difference between forex and stocks, for example, is much higher. Stock market leverage starts at around 5:1, which makes trading within the share market slightly less prone to capital risk.
What is leverage in forex?
Leverage in forex is a way for traders to borrow capital to gain a larger exposure to the market. With a limited amount of capital, they can control a larger trade size. This could lead to bigger profits and losses as they are based on the full value of the position.
Using leverage in forex, which is also referred to as forex margin, means you can magnify profits if markets move in your favour; however you can also lose all of your capital should markets move against you. This is because profits and losses are based on the full value of the trade, and not just the deposit amount.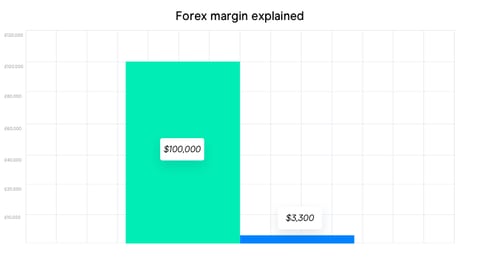 Leverage and margin in forex
Margin is the amount of money needed to open a leveraged trade. When trading forex on margin, you only need to pay a percentage of the full value of the position, which acts as a deposit. Margin requirements can differ between brokers, but start at around 3.3% for the most traded currency pairs.
Forex leverage calculator
A forex leverage calculator helps traders determine how much capital they need to open a new position, as well as manage their trades. It also helps them to avoid margin calls by determining the optimal position size.

The formula for forex leverage is:

L = A / E
where L is leverage, E is the margin amount (equity) and A is the asset amount.

You can also start with the margin amount and apply a leverage ratio to determine the position size. In this instance, the formula would be A = E.L. Therefore, multiplying the margin amount by the leverage ratio will give the asset size of a trader's position.
What does a margin call mean in forex?
Any deposits used to keep positions open are held by the broker and referred to as 'used margin'. Any available funds to open further positions are referred to as 'available equity' and when expressed as a percentage, 'margin level'.
A margin call occurs when your margin level has dropped below a pre-determined value, where you are at risk of your positions being liquidated. ​Margin calls should be avoided as they will lock in any of the trader's losses, hence the margin level needs to be continuously monitored. Traders can also reduce the chance of margin calls by implementing risk-management techniques.

High leverage forex broker
At CMC Markets, we offer very competitive spreads, margin rates and leverage ratios on over 330 currency pairs, including major, minor and exotic crosses. Get started now by opening a live account, or practise first with virtual funds on our demo account.
Familiarise yourself with our high leverage trading platform, Next Generation. Our award-winning platform comes with price projection tools, trading charts and graphs and drawing tools to ensure that you perfect using leverage in forex in whichever position you open.

Test drive our trading platform with a practice account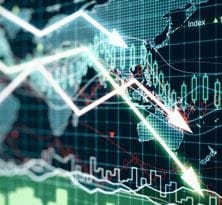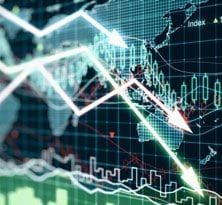 Experience our powerful online platform with pattern recognition scanner, price alerts and module linking.
Fill in our short form and start trading
Explore our intuitive trading platform
Trade the markets risk-free
Risks of leverage in FX trading
As much as leverage trading can be seen as a way to increase your forex profits, it also magnifies your risks. For that reason, having an effective risk-management strategy in place is essential for using leverage in forex. High leverage forex brokers usually provide key risk management tools, including the following list, which can help traders to manage their risk more effectively.
Stop-loss orders
A stop-loss order aims to limit your losses in an unfavourable market by closing you out of a trade that moves against you at a price that is specified by the trader. You are essentially specifying the amount you are willing to risk on the trade. However, even if a stop-loss is in place, the close out price cannot be guaranteed due to slippage.
A trailing stop-loss works similarly to a regular stop-loss. However, when the market moves in your favour, the trailing stop-loss moves with it, aiming to secure any favourable movement in price.
The main difference between regular and guaranteed stop-loss orders (GSLOs) is that a GSLO will be executed at the exact price you want, regardless of market volatility or gapping. For this benefit, there is a premium payable on execution of your order, which is displayed on the order ticket. The premium is refunded if the GSLO is not triggered.
Take-profit order
A take-profit order works in the same way as a limit order, in that it's always executed at the target price you specify. Where the market for any product opens at a more favourable price than your target price, your order will be executed at the better level, passing on any positive slippage.
Summary

While margin is the deposit amount required to open a trade, leverage is capital borrowed from the broker in order to gain exposure to larger trading positions. Therefore, forex trading on margin enables traders to open larger positions with relatively small deposits. It is important to remember that trading on leverage can be risky as losses, as well as profits, are amplified. Learn more about forex trading and its fundamental components in our forex trading for beginners guide.
Disclaimer: CMC Markets is an execution-only service provider. The material (whether or not it states any opinions) is for general information purposes only, and does not take into account your personal circumstances or objectives. Nothing in this material is (or should be considered to be) financial, investment or other advice on which reliance should be placed. No opinion given in the material constitutes a recommendation by CMC Markets or the author that any particular investment, security, transaction or investment strategy is suitable for any specific person. CMC Markets does not endorse or offer opinion on the trading strategies used by the author. Their trading strategies do not guarantee any return and CMC Markets shall not be held responsible for any loss that you may incur, either directly or indirectly, arising from any investment based on any information contained herein.