New features | Web platform
Multi-interval charts & full-screen mode

Posted in November 2018 by Ryan O'Doherty
In this update we're pleased to introduce some useful new features based on our clients' feedback, including multi-interval charts and the ability to resize table columns and download positions. ​

Multi-interval charts

We've introduced a new multi-interval chart feature that allows you to view up to four charts of varying intervals with a single click. This means you can look at long-term versus short-term price movements simultaneously when analysing the markets. You can access this new feature via an icon in the top menu bar.
The top-left chart will display the current interval, with new charts added in this order:

4 hour (if 2 charts)
1 hour (if 3 charts)
15 minutes (if 4 charts)

If you prefer different intervals, you can create a chart with the intervals you want and then save to one of the templates.
The master chart is highlighted with a blue border. Menu controls such as interval, history and draw tools will only work on this chart. Templates, technicals and patterns will apply to all charts.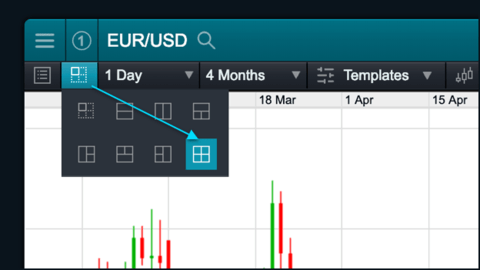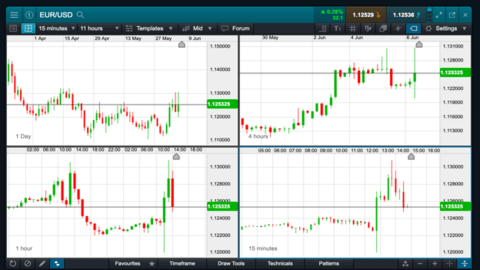 Full-screen mode
To enable you to quickly view multiple modules in full screen we've introduced a tab panel at the top of the screen. This populates with all open modules that support full-screen functionality, so you quickly switch between them.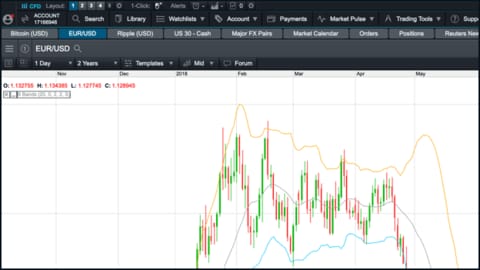 Resize column widths
Utilise your screen space by resizing windows that display content in columns. Just drag the new column header borders left or right, and the resized column will highlight with a blue border.

Double-tap the column border to auto fit the space

Drag-and-drop the column header up and out of the module space to remove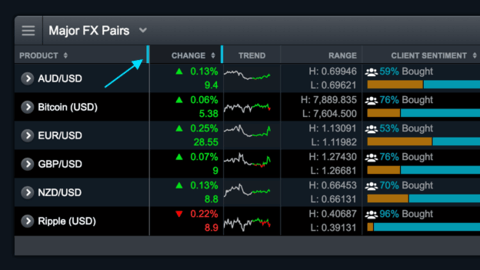 Download positions to CSV
To help you analyse your trades in more detail, we've added the ability to download all open positions to a CSV file. You can do this from the position window context menu or via the quick link at the bottom left of the module.