The move by leading oil-producing nations to cut production sent oil prices to the top of their recent range yesterday. In any case, the Elliott Wave scenario we described two weeks ago was invalidated by last week's price action. Now, having revised our expectations, we set out two possible big-picture scenarios for US oil benchmark West Texas Intermediate (WTI) that could materialise over the coming months.
In the very near term, we expect the market to fill the gap back down to Friday's close at $75.67 a barrel. Note that the gap created between Friday's close and Monday's open took price slightly above the upper Bollinger Band, which many market participants are likely to interpret as a sell signal.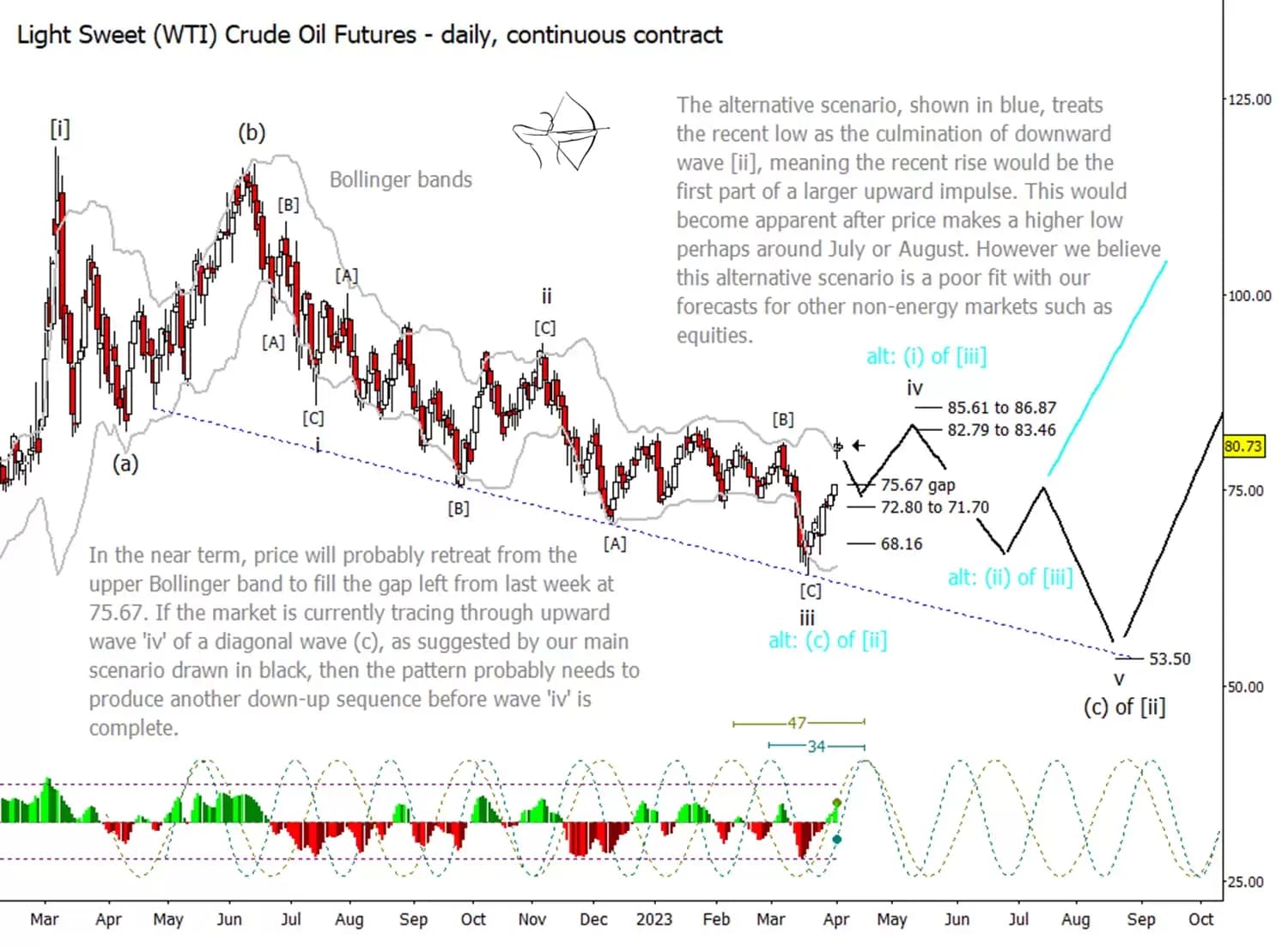 Source: Trading on the Mark
After the gap fill, we'll watch for price to test the first support zone from around $72.80 to $71.70. A deeper retracement to $68.16 is also possible, but one of the support zones could serve as the springboard for a second rally that may reach even higher than the current price, possibly testing the zone from $82.79 to $83.46, and perhaps even the zone from $85.61 to $86.87.
In our main scenario (drawn and labelled in black), the second rally would complete wave 'iv' of a five-wave downward diagonal move. This could potentially be followed by a reversal to lows that have not been tested recently.
Our alternative scenario (drawn and labelled in blue) considers price to have made a durable low on 20 March. In this case, the upward move of the past two weeks could represent part of a developing upward impulse that might eventually carry the market well above last year's high. However, we are unlikely to get confirmation of this alternative scenario until mid-summer as the overall pattern might remain ambiguous until price either manages or fails to break beneath last month's low. The market is likely to view a confirmed higher low as very bullish. 
For more technical analysis from Trading On The Mark, follow them on Twitter. Trading On The Mark's views and findings are their own, and should not be relied upon as the basis of a trading or investment decision. Pricing is indicative. Past performance is not a reliable indicator of future results.