Wall Street finished higher as bank and energy stocks rebounded after the FDIC striked a deal for SVB. First Citizens BancShares Inc.'s shares soared 56% after the bank agreed to buy SVB's assets worth of $72 billion at a discount of $16.5 billion, lifting other regional bank's stocks, with the first Republic Bank jumping 11%. Investment funds rotated again in the asset classes amid the event, with gold, bonds, and Japanese Yen falling, while oil and Canadian dollar rebounded sharply. The US tech sector's rally has also lost steam due to the rise in bond yields. Cryptocurrencies fell on the news that Binance is sued by the Commodity Futures Trading Commission (CFTC) over regulatory violations.
Asian stock markets are set to open lower, with the ASX futures up 0.41%, the Hang Seng Index futures rising 0.18%, and Nikkei 225 futures advancing 0.15%.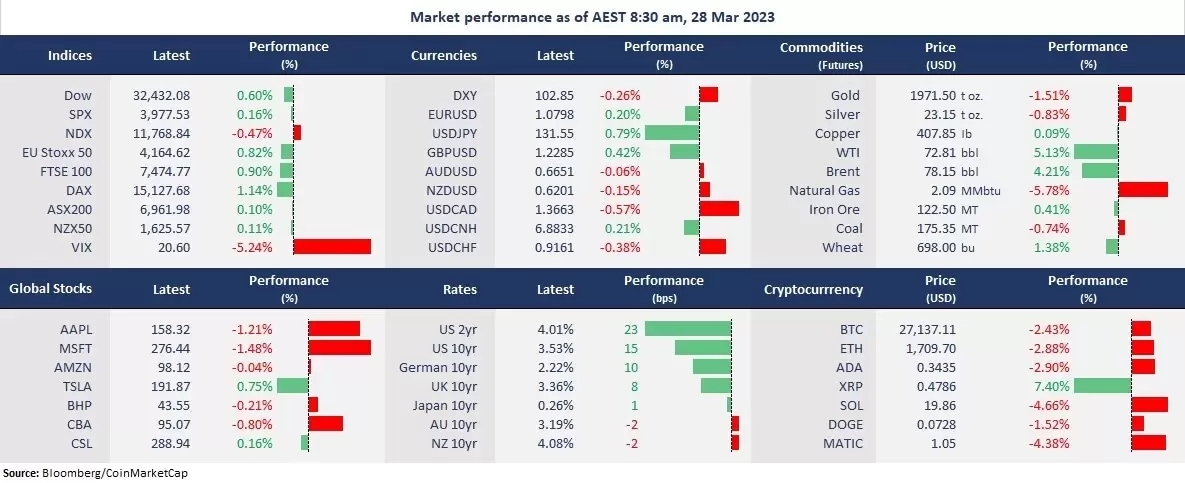 Click to enlarge the table
8 out of 11 sectors in the S&P 500 closed in the green, with energy and financial sectors leading gains, up 2.1% and 1.4%, respectively.  The growth sectors, such as communication services fell, with all the big tech shares down between 1-3%. Tesla is the only major growth stock that finished higher, up 0.75%.
Both Bitcoin and Ethereum fell more than 3% on the news that the CFTC sued the world's largest crypto exchange, Binance and CEO, Changpeng Zhao regarding violation of derivatives rules and anti-money laundering. The leading cryptocurrencies, however, still hovered around multi-month highs.
Crude oil surged due to the Kurdistan shipping disruptions which led to a supply reduction of 450,000 barrels per day. Risk sentiment in energy has also been lifted by the SVB deal, pushing up growth-sensitive commodities in general, along with a softened US dollar.
The US dollar index was lower but strengthened against most of Asian currencies, particularly the Japanese Yen as the SVB deal helped regain investors' confidence in the US banking system. Meantime, the dollar weakened the Eurodollar and British pound.
Gold pulled back further as haven assets are out of favour in the short term. The precious metal faced pivotal resistance around 2,000 and may continue to retreat towards further support of the 50-day moving average around 1,888.
Today's agenda:
Australian February retail sales is due for release at 11:30 am the local time. The data is expected to slow down from January as consumer power losses momentum.
BOJ Governor Kuroda speaks before he ends the term, followed by the BOJ Core CPI. Japanese inflation cooled sharply in February, thanks to the government subsidies. But there is still strong expectation for the bank to ease the ultra-loss monetary policy.
ASX and NZX announcements/news:
The Canadian investment giant, Brookfield plans to invest billions of dollars to accelerate decarbonisation after the $18.7 billion deal takeover Origin Energy.