Slowed GDP growth and sticky inflation will likely lead the US economy into the anticipated stagflation dynamic. However, better-than-expected big tech earnings defended the market woes deriving from regional banks' doom. While the economy seems not to face an immediate crisis, bets on Fed's sooner pivot may continue to fuel the bull market euphoria. The Fed is expected to keep its rate hike campaign on a 25-basis-points lift, but guidance for the future move will be key steering market sentiment this week. Both the Reserve Bank of Australia and the European Central Bank will also decide on their policy rates. Central banks may have to hold back on their inflation fights amid the mounting economic threat.
On the earnings front, the world-largest market cap company, Apple's first-quarter earnings will continue to gauge wealthy businesses' development in the tough macro environment. Plus, a slew of Asian banks, such as HSBC, Macquarie Group, and DBS Group, will report earnings, providing clues on big banks' health. These big banks may have benefited from regional banks' failure by the contrast between their earnings results in the US. First Republic Bank is mostly likely to fall into the same fate as failed banks, such as SVB and Credit Suisse, to be taken over by JPMorgan Chaise or Bank of America from the weekend development.
It will be a shortened week for European markets and most Asian markets as China is entering the Labour Day holiday, and Japanese markets will close on its slew of public holidays for the second half of the week.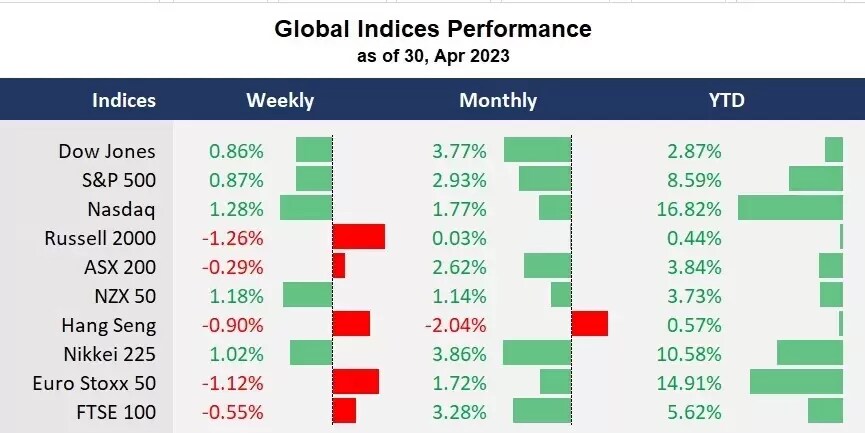 Click to enlarge the table
What are we watching?
US dollar may set to fall: With the recent economic playout and regional banks' vulnerability, the Fed is expected to start cutting rates sooner, which will potentially crash the US dollar against its peers.
Funds switch to cash-rich companies: The US earnings season offers clues that investment funds may start flowing into cash-rich tech and big banks, which are seen as safe destinations during an economic downturn.
Gold endures bond volatility: Gold prices were steady in the last few weeks despite big swings in the bond markets, suggesting its upside moment may continue if the Fed does not disappoint investors with stubborn hawkish rhetoric.  
China's economic uncertainty put growth commodities under pressure: The growth-sensitive commodities, such as crude oil, copper, and iron ore prices retreated sharply recently as China's economic recovery seems not to be very promising, pressing on these resource prices.
Cryptocurrencies take advantage of bank's failure: Crypto markets have been surprisingly resilient despite uncertainties in the world economy, digital coins may be seen as a hedging tool to fiat during a banking crisis. The theory of decentralized transactions and the recent AI heat in tech companies may continue to fuel cryptocurrency's rally.
Australian markets
The ASX 200 was down slightly for the week, underperforming its US peers as the commodity-heavy index was again dragged by the recent weak performance in miner's stocks amid China's demand uncertainty and global economic woes. Banking stocks also slid following US regional bank's turmoil. The RBA meeting will be in the spotlight this week when the bank is expected to pause rate hikes for the second time following cooled inflation data in the first quarter. However, with inflation staying well above the reserve bank's target, it is unlikely to end its rate hike cycle at this stage.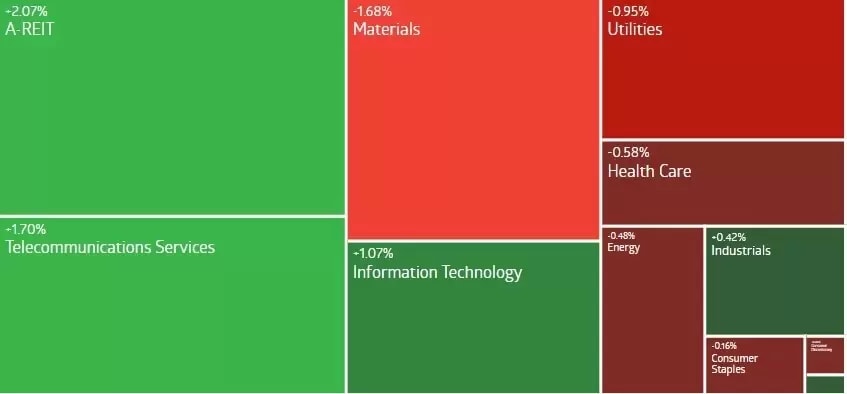 Source: ASX as of 30 April 2023
The Australian dollar declined against the US dollar to a one-month low level following the Q1 CPI data. The Australian 3-year bond yield slumped 10 basis points on Friday, putting further pressure on the dollar. AUD/USD is mostly likely to its long-term downtrend at such a macro backdrop.
Economic Calendar (1 May – 5 May)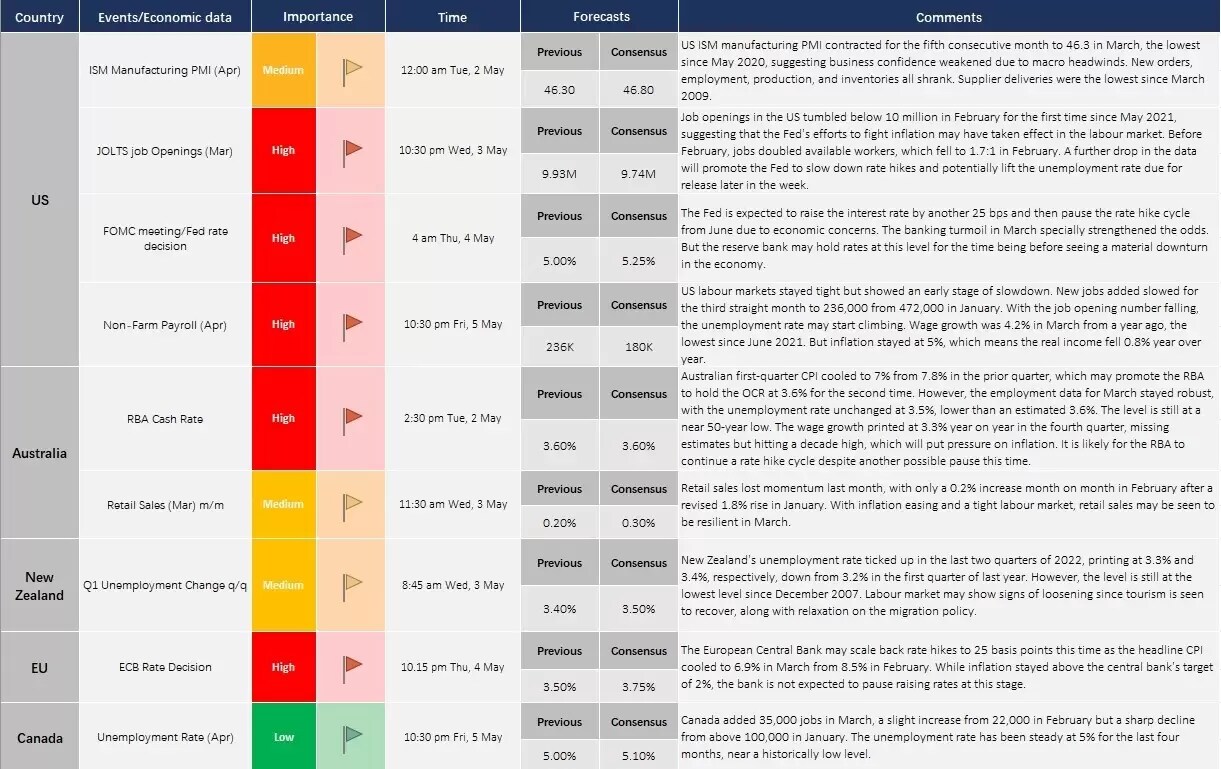 Click to enlarge the table