Weekly trading 'hot' list
By Adam Harris, Trade With Precision
As I sit, listening to soft jazz in the hotel lobby of Portugal's Pestana Cidadela Cascai, a revamped former military stronghold, I marvel at the way modern technology allows us to trade the markets from anywhere in the world.
And there are now so many markets to choose from throughout the year that the real effort comes down to carrying out appropriate technical analysis and being selective about our trading decisions. Yes, there are times when the markets offer less opportunities than others. But these periods can be followed by trends that have the potential to make up for the wait. 
Global Indices - Germany 30
After analysing the current Global Indices and still being cautious - as there is a possibility that we may be in the middle of a shift from a bull to a bear market - there are some indications that the bulls may be slowly giving way. Such a move may take many months, so traders need to be aware of the risks of jumping in too soon.
This is where risk management comes into its own. During such transitional periods markets can fall sharply and bounce just as sharply from historical levels. Traders should be cautious and prepared to take profits sooner rather than later.
The first chart I am considering for a shorting opportunity is the Germany 30 Weekly chart. By analysing the Monthly timeframe. I can see that the successive lower-highs and lower-lows confirm a technical downtrend. Price action has recently broken through a key level of support/resistance. The two momentum indicators are both convergent - that is to say, they are also trending lower, supporting what appears to be a bearish momentum of price action.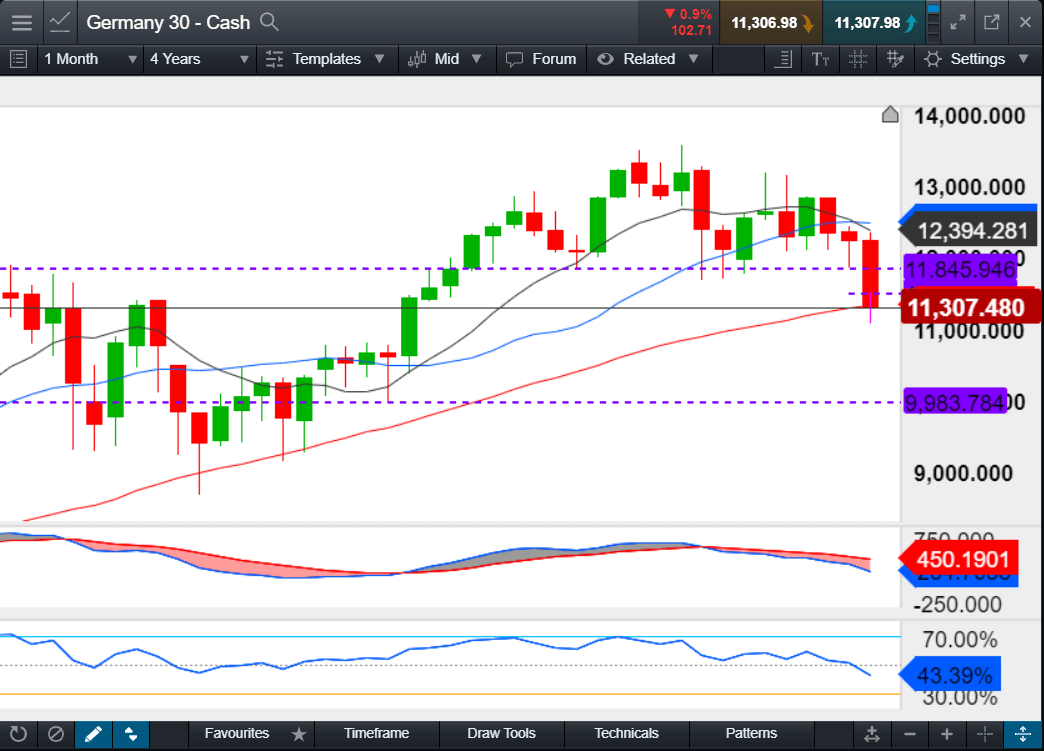 When we move to the Daily chart, there is also a downtrend in play, with lower-highs and lower-lows, again supported by similar moves in the momentum indicators.
The Moving Averages (MAs), from the Green 200 MA to the Black 10 MA, are in order for a bearish trend and all heading down. Price action has recently been displaying cyclical interaction with the MAs, indicating the potential for another similar move in the near future.
Price recently broke down through a level of support close to 11,500, and I am going to stalk this chart for a retracement back up into this level as well as the declining 10 and 20 MAs.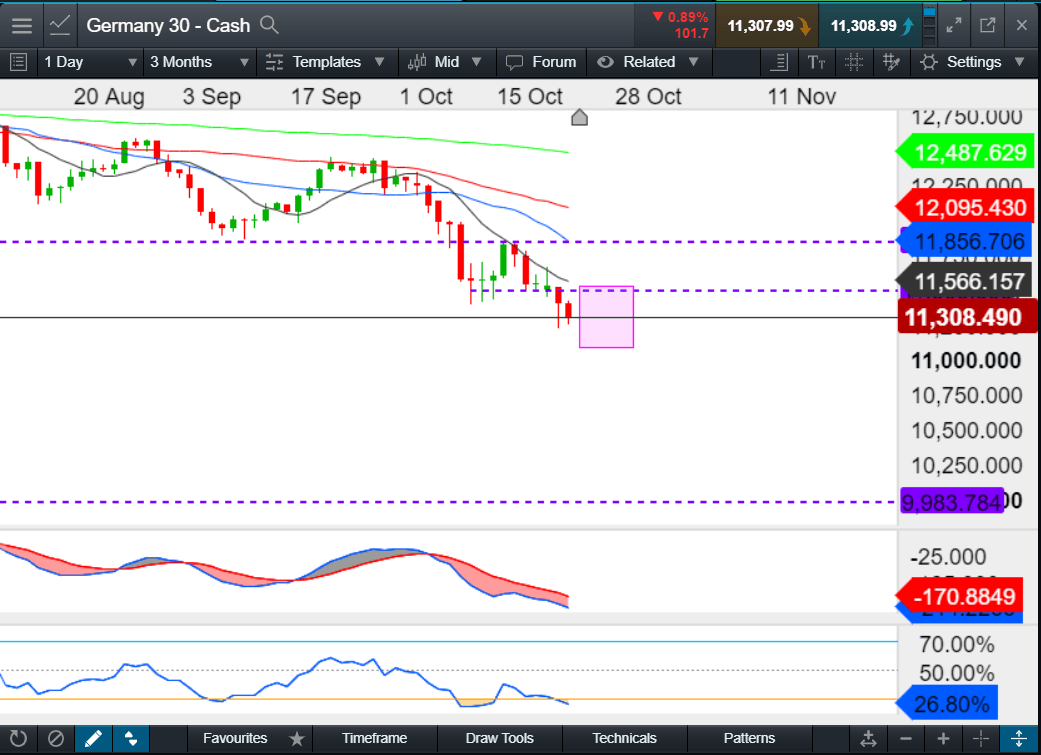 If price also finds resistance and produces a bearish candle against this same level, and in the MA Sell Zone, I would consider the following actions: placing an order below the low of the closed/printed candle with my stop-loss above the high, and also possibly another above the level at 11,500 for additional technical protection.
I always use a stop-loss, and I prefer splitting my risk into two half-trades, with 0.5 percent allocated to each order. They use the same entry and initial stop-loss values, and the first order has a 1:1 take-profit target.
The second order may then have a 3:1 take-profit target and be managed with a trailing stop-loss. Alternatively, the take-profit will be ahead of the next Monthly/Weekly support/ resistance level.
Based on my analysis, the next significant level below is potentially at 10,000, a solid round-number. That level could have many buy-orders in the market waiting to bounce price action up and erode my profits and increase risk. I will be cautious if price heads down to this level.
Currencies - AUD/CAD
Next on my watchlist is AUD/CAD, which has a potential bearish candle forming on the Weekly timeframe.
First, I note a series of lower-highs and lower-lows on the Monthly chart, with price action close to a Monthly support level around 0.9000. I will keep this in mind when it comes to risk and taking profits.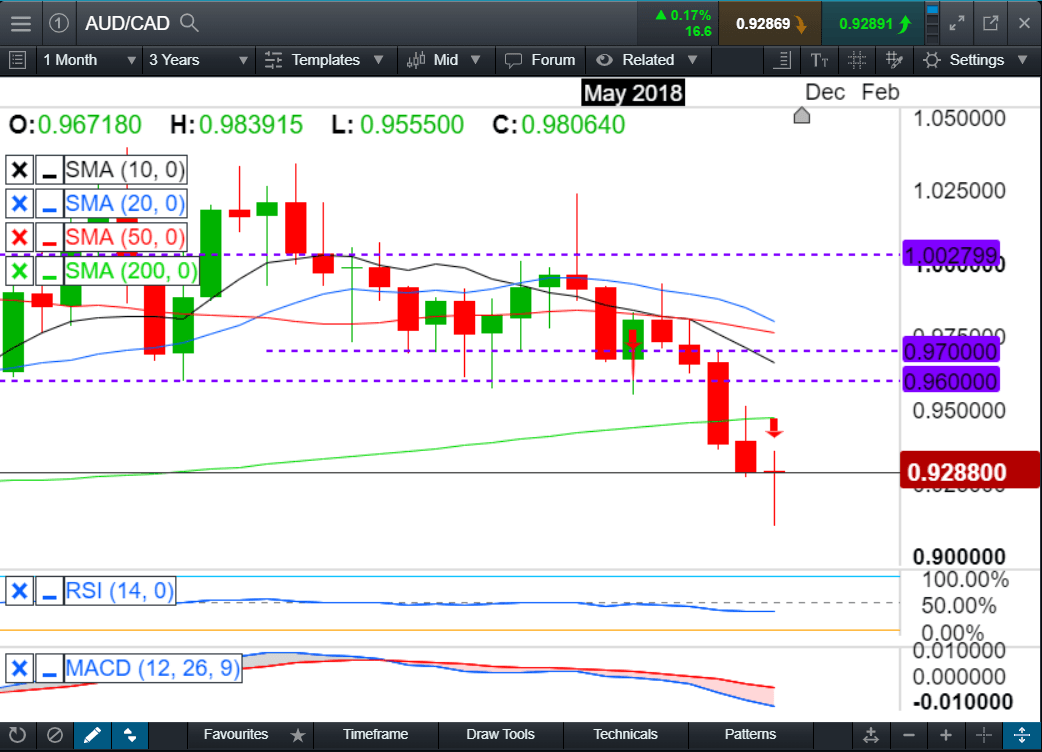 The Weekly chart has a more established downtrend, which is to say that price has been moving downwards steadily since June 2018. Currently there is a small bearish candle forming. And it's important that this candle closes roughly where it is by the end of the week in order to qualify for what I see as my trading opportunity.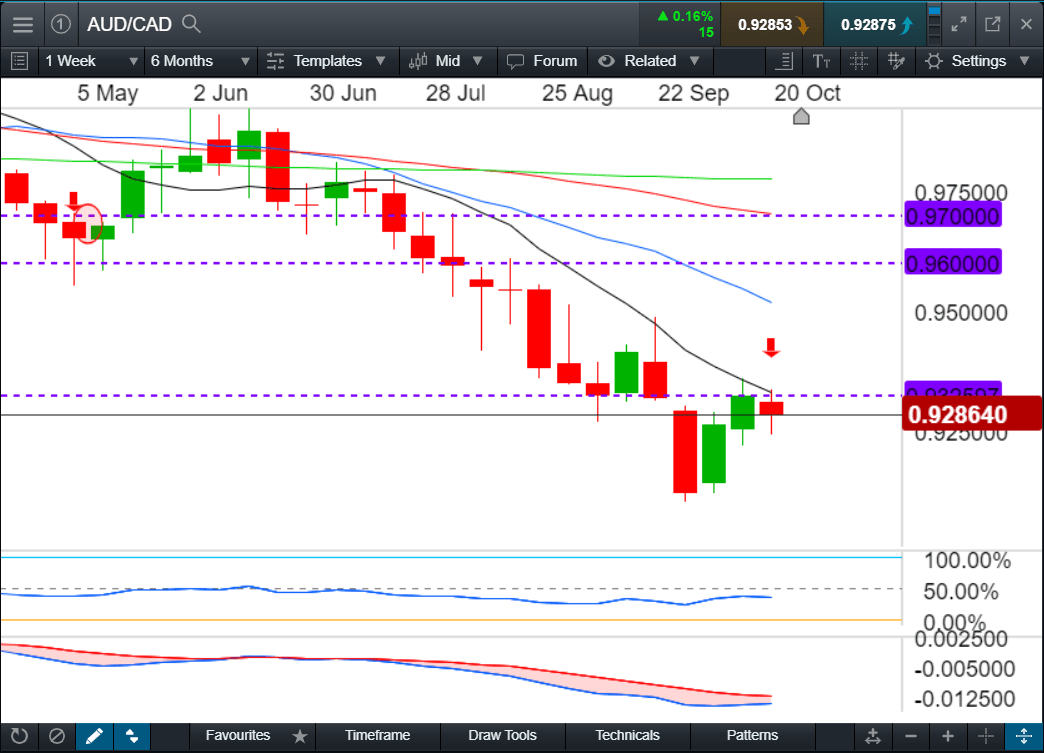 The MAs are fanning out in the correct order, and price is close to the Sell Zone of the 10 and 20 MAs. If the candle closes with a similar shape to the current one, I may place my entry order below the low of this candle. I will place a stop-loss above the high, which is also just above a technical support/resistance level. I would then manage the trade in the same way as the Germany 30 setup in the previous example.
Metals - Palladium
Last on my list is Palladium. The Weekly chart has been moving up for several candles, and breached the highs of the recent down trend prior to August.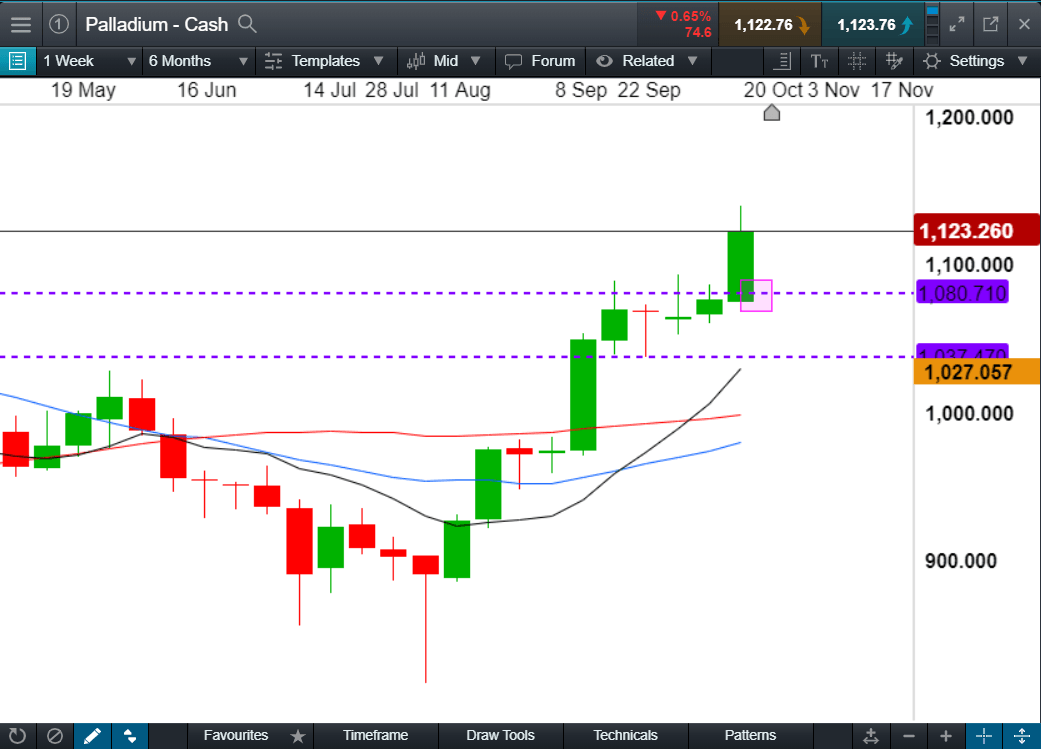 The Daily timeframe seems to indicate an uptrend of higher-highs and higher-lows, with price usually retracing back into the 10 and 20 MAs, and then extending away from them. Recently, price appeared to consolidate at a resistance level of 1.080, and then broke out to the upside.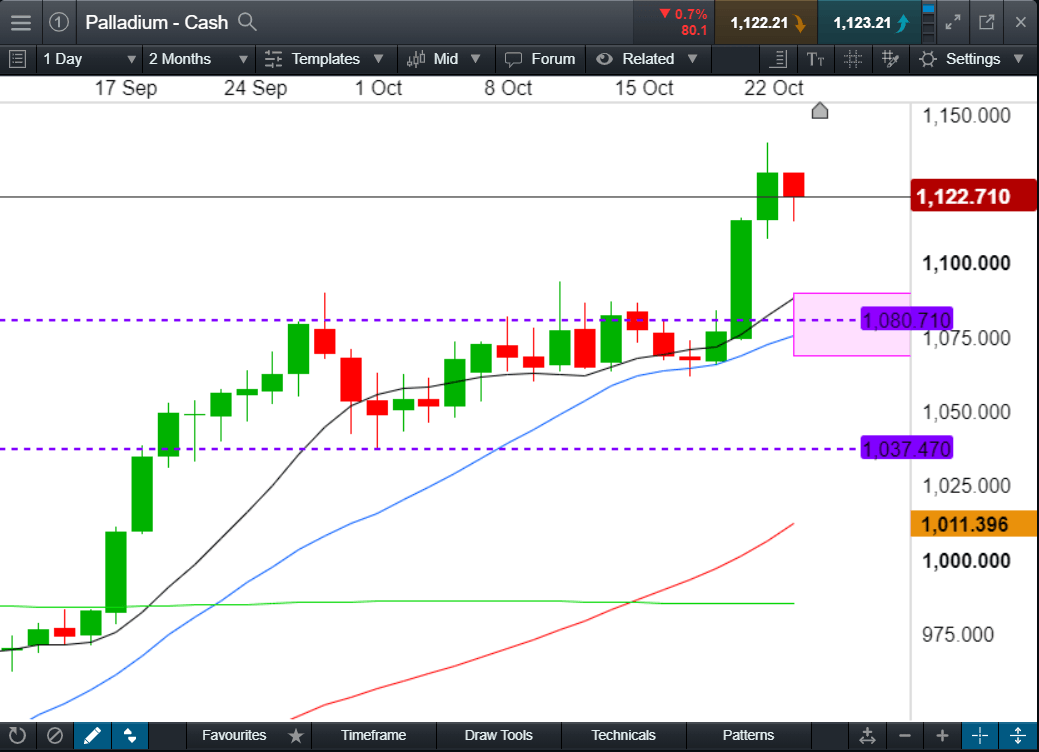 I may stalk an entry into this potential uptrend if it retraces back down into the rising MAs. And I will feel more confident if the price also tests the same level of 1.080 from above. If it then produces a bullish candle, this would be ideal for my strategy of entering above the break of that candle, with my stop-loss below the candle and the support/ resistance level.
I would split my orders into two as discussed in detail above and manage the trades in the same way. My aim is to be consistent in execution and management across the board with my orders. As an extra precaution, I will keep an eye out for high-impact scheduled economic calendar news, which could increase volatility and negatively affect my orders.
Now, I'm off to the beach to enjoy the mild Mediterranean climate, but I will be monitoring my positions from my smart phone.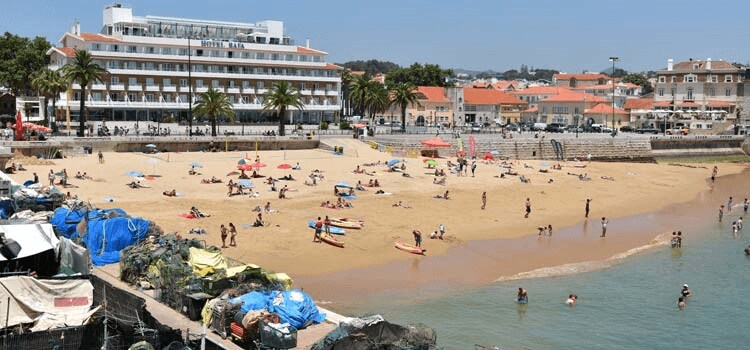 Happy trading.