A look at how the different industry sectors in the ASX 200 performed over 2017 answers some questions about the year that has been; and provides insights into the year to come
2017 sector performance
Fitting companies into a standard sector is an imperfect science. Carsales.com, for example, is an info tech stock while online travel platform, Webjet is in the Consumer Discretionary sector. This despite the fact that the core business of both companies is to provide an electronic platform selling discretionary items to consumers
Despite the difficulties of putting a precise label on many businesses, a big picture review of sector performance can provide some useful insights into what is going on with a stock market index.
Here is how the Australian industry sectors performed over 2017 with a couple of days to go until the end of the year.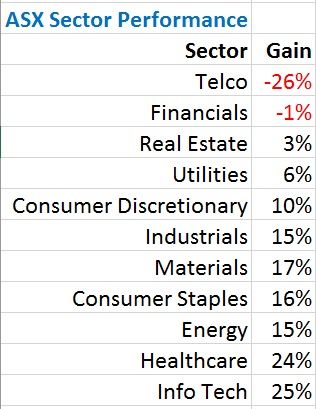 These are some of the insights I take from this table
ASX 200 underperformance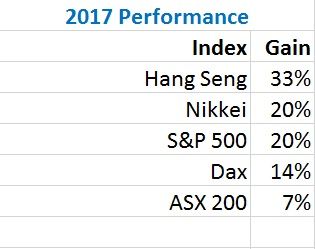 The ASX underperformed most of its peers in 2017. There are a number of reasons for this but one of the biggest is that the Telcos and banks were a millstone around its neck.
The 4 big trading banks and Telstra make up 28% of the ASX 200. With the US S&P 500 telco sector up 11% and its financial sector up 26%, the ASX 200 was doomed to underperform. Banks also staged a stellar recovery in the Hang Seng.
At the other end of the spectrum, Info tech was our best performing sector. However, the ASX 200 is underweight in tech stocks compared to the US. Info tech was also the best the best sector in the S&P 500. Not only is it a much bigger sector it clearly outperformed ours, up 38%.
In the middle of the spectrum the performance of many of our sectors like industrials; materials consumer staples and healthcare stacked up quite well compared to the US. Some did a bit better, others a bit worse.
Disruption
Disruption was a key theme in 2017 sector performance. It made its presence felt in a number of sectors including the disruptive influence of the NBN on the telco sector, the negative impact of online shopping on the consumer discretionary sector and the positive influence of investors' high growth expectations for the disruptors in the Info Tech sector.
Economic expansion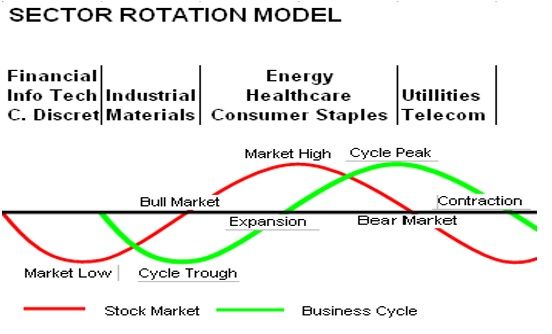 The diagram above was created by Sam Stovall of Standard and Poor's. It highlights how the relative share price performance of different industry sectors often relates to different stages of the business cycle. The stock market tends to move before the economic cycle actually turns
The economic cycle since the GFC has moved very slowly. The expansion phase has been low key and drawn out. It seems to me we are still in it and that it is likely to continue for some time yet. Consumer spending is likely to improve gradually as the job market slowly repairs industrial production is improving and interest rates are yet to rise except in the US where rate increases are only in the early stages.
When you strip out the impacts of disruption' the sectors you would expect to do well in this phase all had solid years in 2017. This includes the industrials, materials and energy sectors.
Assuming it is quite a while before markets get to the stage of predicting an end to the expansion phase, buying dips in these sectors could be a sound strategy for 2018.