By Adam Harris, Trade With Precision
20th February 2020
The jury is still out. But now that BREXIT is all but wrapped up, the charts appear to show a relatively stable, even strengthening GBP, while the EUR appears to be heading lower against many of its trading partners.
In recent weeks, the USD looks to be trending, more so than in a long time, revisiting highs seen three years ago.
At the same time, the newly spreading Coronavirus continues to add additional strain with its potential to impact production, not just in Europe, but globally. And that could possibly cause a move to the USD as a possible safe-haven currency.
Although several EUR pairs are now heading lower, more favourable trend seems to be the EUR/USD itself.
The monthly chart shows a clear downtrend, with lower-lows and lower-highs, and the 50, 20, 10 moving averages (MAs) now also arranged in a bearish formation.
Price has recently left the 10&20 MA sell zone area and is testing fresh lows, but is not by any means over-extended at this time.
Both momentum indicators are also heading lower, supporting a bearish sentiment.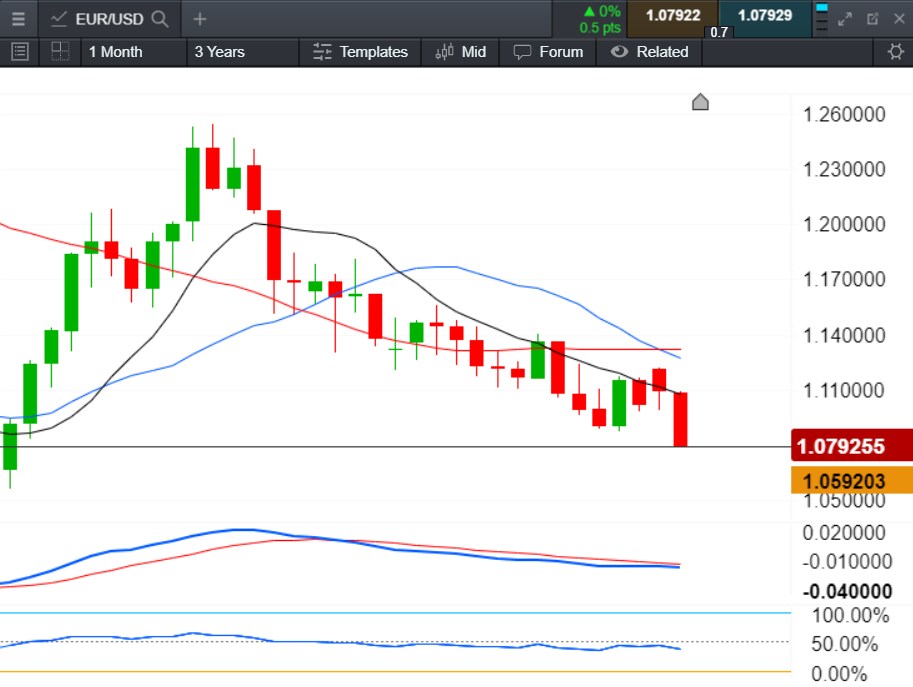 The weekly chart shows a possible impulse to move lower, with the candlesticks closing towards the lows, implying that the sellers are in control.
The MAs here are also in a bearish order, angle and separation.
Price has breached the 1.0800 level recently and is moderately over-extended on this timeframe. A retracement here would make technical sense.
Also, both momentum indicators match the bearish sentiment here as well.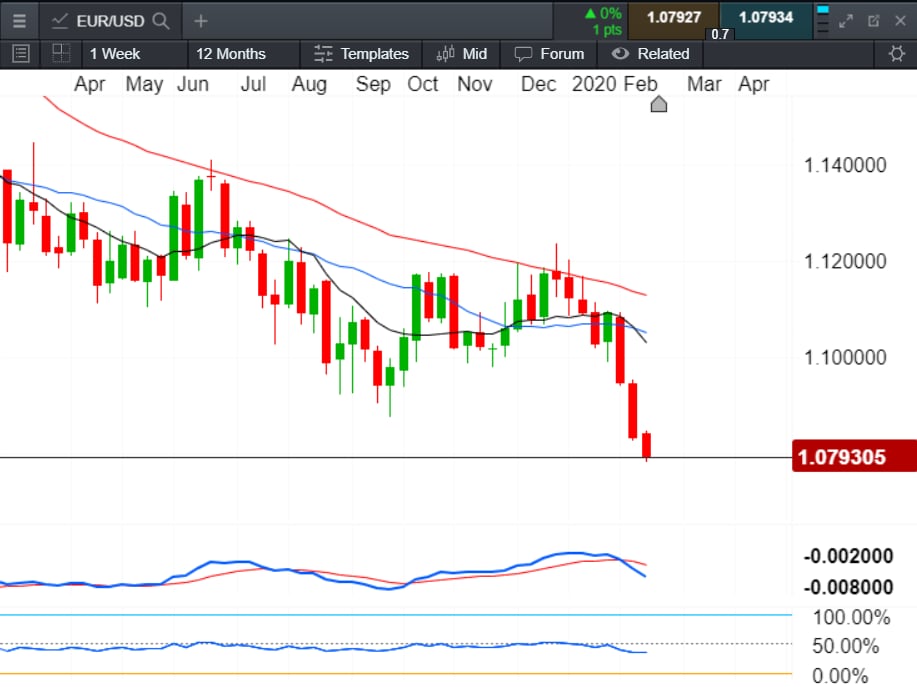 The daily chart has a well-structured - i.e. smooth and steady - downtrend of lower-highs and lower-lows.
Price is reasonably overdue for a retracement back in towards the MAs and/or a recent key price level.
The MAs are fanning out and in the correct bearish order, with both momentum indicators heading lower as well. The chart is overall well-structured and therefore could be seen as favourable for potential trading opportunities.
My key price levels have been identified at 1.1000, 1.0925 and 1.0875.
Therefore, the potential area price could retrace back into, before resuming the prevailing downtrend, is an area between 1.1000 and 1.0875.
These levels may overlap nicely with Fibonacci levels, which should only be measured once the retracement is confirmed with a swing low. Areas with either a 38.2%, 50% and 61.8%, which also correlate with a key price level, could be of additional interest to me.
Ideally, should price retrace into this area and also form a small bearish candlestick against key price levels as well as a Fibonacci level, this could present an economic entry into the trend if it resumes.
The Fibonacci and/or price levels above the candlestick could offer additional stop-loss protection.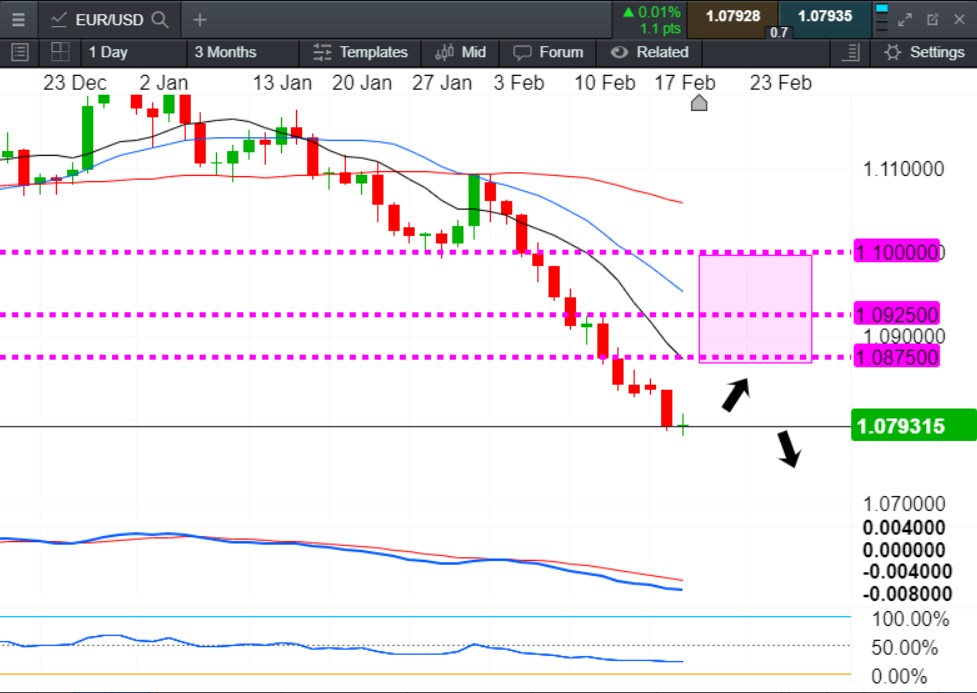 Should price subsequently head lower, risk could be mitigated by taking profit at regular intervals as it heads towards larger round numbers, such as 1.0700, or 1.0600.
It may also help to check for any high impact EUR or USD news ahead, using the economic market calendar available on the platform.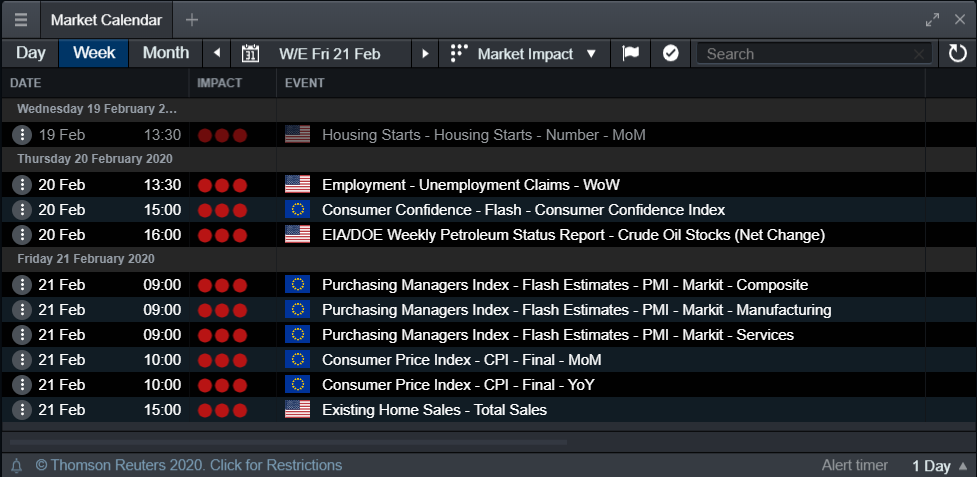 Happy trading.