The Woodside Petroleum and oil charts are both approaching significant support levels as I see it. At the same time, it's getting less likely that Libya, Nigeria and the US will add much more to oil production in the near term. This looks like a situation that active traders and bargain hunters should have on their watch list.
Oil market background
Large production increases by Libya; Nigeria and the US have offset cuts by OPEC and Russia.
Word inventories remain high, reflecting a situation where supply exceeds demand.
In the US, for example, crude oil inventories stand at 512m barrels compared to 490m at the same time last year. Inventories have started falling in recent weeks, as they usually do during the summer "driving season" However, despite OPEC's production cuts, the rate of decline is only about the same as last year. At this stage, inventories are 4.5% below their 536m peak. In the same week last year, they were 4.2% below their peak.
This lack of traction on inventory has, yet again, seen the market delay expectations for a return to balance in the oil market. The result has been lower oil prices.
However, there are reasons to think a base is in sight. From current levels, further production increases by Libya; Nigeria and the US look less likely
Libyan production has increased from around .25 million barrels per day in the middle of last year to around .75m.  This is near the top end of the production range analysts consider achievable by Libya in 2017
There remains considerable risk of political turmoil and production to disruption in both Libya and Nigeria which has lifted production from a low of 1.4m to 1.7m
Current low prices are likely to cap further increases in US shale oil production.
Steadier production levels will allow a more rapid draw in inventory which would support the oil price
Crude Oil West Texas chart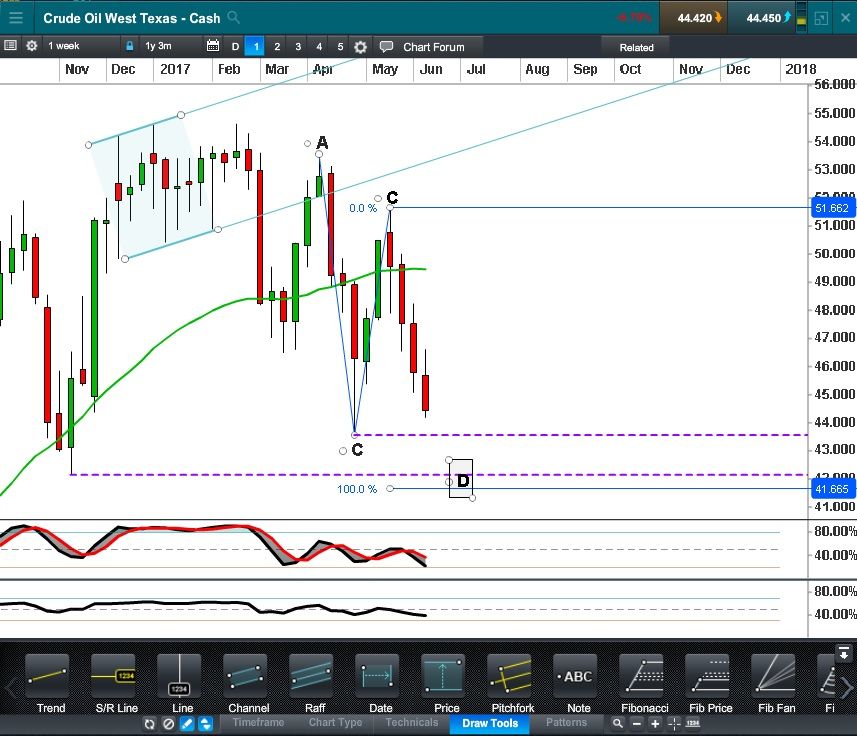 The US oil chart is approaching a couple of potential support levels that would fit with the scenario above:
The April low provides minor support around $43.50
Below that the November low at $42 is also potential support. This is given additional significance by being close to the AB=CD level shown on the chart above that sits just below it.
Woodside chart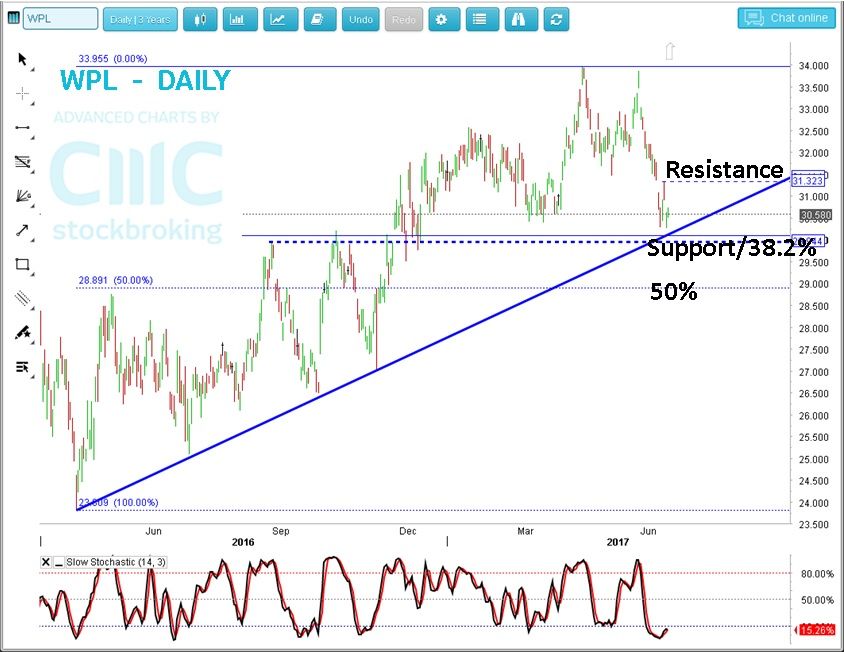 The slide in the oil price has taken its toll on Woodside's share price. It's 9% below its peak in late May.
However, as with the oil price chart, support is looming. There is significant support around $30. This consists of:
A well-established  trend line dating back to April 2016
Horizontal support across peaks and lows between August and December last year
The 38.2% Fibonacci retracement of the $23.82 - $33.97 rally
Yesterday's low at $30.28 was at the top end of this support zone and the daily chart made a minor double bottom at that price. From here, a move through resistance at $31.33 would complete the double bottom and look like conclusive rejection of the $30 support zone.
If the $30 support is broken, the next level for the buyers' watch list may be the 50% retracement level around $28.80