The Greenback has been pushed down against several of the major forex pairs recently. Pressures have included the Euro strengthening under recent European Central Bank comments on bonds, concerns voiced by the Federal Reserve chair about low US inflation, and continuing political problems for President Donald Trump as the enquiry into his campaign's alleged links to Russia deepens.
This weakening U.S. Dollar presents an opportunity for traders as the Loonie is currently showing strength against some of its trading partners, which justifies having a closer look at USD/CAD.
The monthly chart was in a decent uptrend until the end of 2015. But since then momentum has been lost and the market has failed to re-test those old highs. Although it put in a recent higher high, price is currently forming a new lower low and the 10-period moving average has now crossed below the 20 period moving average. The lower lows in price converged with both MACD and RSI, all of which suggests further USD weakness may come.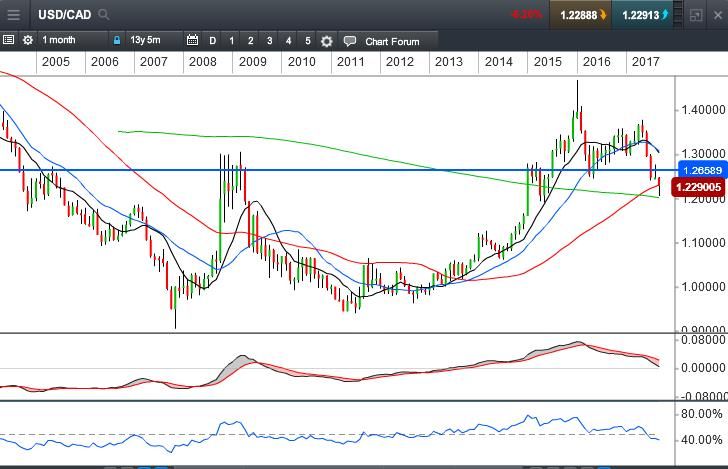 The weekly chart is in a well-defined down trend, with price making lower lows and lower highs. The healthy structure of the move down is confirmed by the fanning pattern in the moving averages and further convergence of MACD and RSI. The only grain of salt that can be taken on the direction of the weekly chart is a slight overextension from the moving average sell zone (the zone between the declining 10 and 20 period moving averages), suggesting room for a continued pullback further into this sell zone.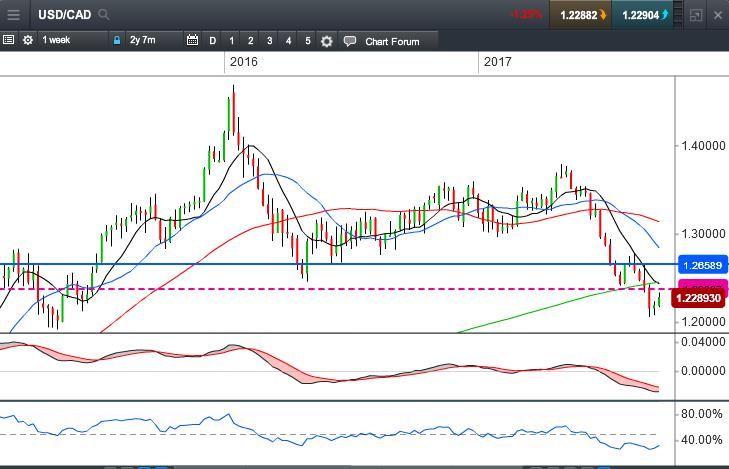 The daily chart looks primed for a potential short setup. Currently, a small bearish candle is setting up in the moving average sell zone and a potential short trade could hit its first profit target way before the old low is retested. However, note that the down trend has lost some of its bearish momentum during the deep pullback in August as price is currently showing divergence with both the MACD and RSI indicators. Since then momentum has picked up again, but the bigger picture divergence remains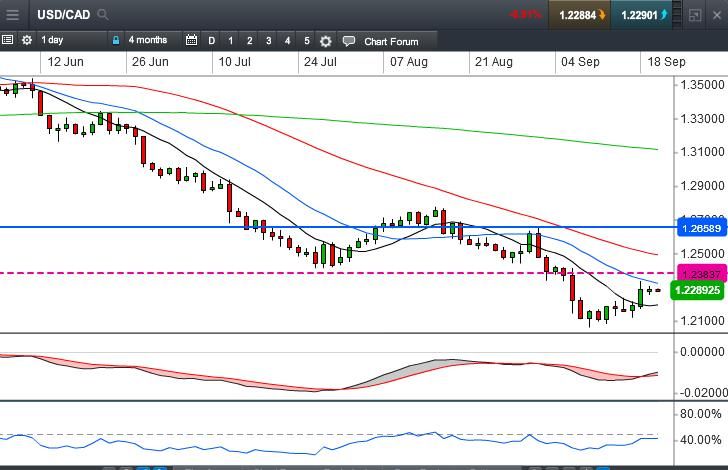 Let's hypothesize how this setup could be traded. An aggressive trader could consider shorting the current small indecisive candle by accepting the slight over extension on the weekly chart.
A more relaxed approach could be to wait for the overextension to be resolved, and then look for another short opportunity. With the current strength of the Loonie, my opinion is that such a setup should be bound to happen sooner or later.
By Philipp Pfitzenmaier