A guide to gold trading
Gold is one of the most widely traded raw materials around the world, along with crude oil trading, and certainly the most popular of the precious metals, for both its financial and cultural value.
Investing in gold in the UK is one of the most popular forms of trading. Gold belongs to the commodities market, along with other precious metals including silver and platinum, all of which you are able to trade with a CMC Markets account. The yellow metal comes in many forms, including gold bullion, gold coins and gold stocks in the share market.
The value of gold
The price of gold can fluctuate depending on political, social and economic instability. Trading gold is sometimes referred to as a 'safe haven' by traders because, unlike some shares in the stock market, its price is not always affected by governmental decisions or inflated by interest rates. On the contrary, gold can act as a form of insurance, as investors might reallocate assets into the gold market at unstable times. This could increase the value of gold, since its demand might rise as traders attempt to use it as a stock hedge.
So, why do some traders invest in gold? The answer relates to gold hedging. Gold and other precious metals sometimes have a negative correlation with stocks and bonds, depending on the current stability of the economy. This reinforces the idea of precious metals as a safe haven for traders. When their share positions are declining in value, some traders decide to take a chance on gold trading to balance out their potential losses. This is known as hedging in the gold market, and it is a popular trading strategy. This way, traders are attempting to diversify their portfolio as they spread their bets across a range of markets, where the price of gold may increase in response to events that would typically cause the price of stocks and bonds to decrease.
Why not start trading gold with our demo account? Practising with virtual funds can help you to build a strong trading strategy before jumping deep into the gold market.

Gold trading online
As a gold trader, there are several options for how to trade your asset. An easy option would be to buy and sell gold at its spot price. The spot price of gold reflects the exact current price that a buyer can purchase or sell the instrument for an immediate delivery. Alternatively, it is possible to trade gold through a forward contract, which is an agreement between two parties to buy and sell an asset at a fixed price at a future date. Read more about forward trading here.
Spread betting and CFD trading are also popular options, and CMC Markets offers both across a range of markets, including commodity trading. View our instruments page for Gold – Cash to view our competitive spreads, buy and sell prices and margin rates, and the common trading hours that we offer for gold trading. We also have a brand new US Gold share basket to trade through spread bets or CFDs, which tracks the top 15 shares within the gold industry. This basket is valued at around $20 million and gives exposure to the largest gold stocks in the US, including Newmont, Barrick and Franco-Nevada.
Gold spread betting
Spread betting is one of our most popular products for trading on gold. It allows you to trade tax-free* while taking advantage of the gold market's price movements without owning the physical asset. Spread betting enables you to open a position to invest in gold based on whether you believe the price of gold will rise or fall. Depending if the market moves in your favour or not, profits or losses will occur.
Gold CFDs
CFDs (contract for differences) are leveraged products that only require a trader to deposit a small percentage of the overall trade value, which is referred to as margin requirement. Unlike buying outright at the gold spot price, you do not own the underlying asset (similar to spread betting) but agree to exchange the difference in value from the time difference between opening and closing the position. Please note that where there is opportunity for profit from trading gold, there is equal opportunity for losses. Read more about the meaning of CFDs here.
How to trade gold
Open an account with CMC Markets. Choose between a live account to get started straight away or practise with virtual funds on our demo account.
Deposit funds into your account. Remember that spread betting and CFDs are leveraged products, so you will only need to deposit a small percentage of the overall value of the trade. Profits and losses will be based on the overall value of your position.
Research the best time to trade gold. Certain political and economic events can have an effect on the price and volatility of the commodity market. This means that the risk of gold investment can either pay off or cause serious losses. Use our news and analysis page to keep aware of any changes to the gold market that may affect your trade.
Monitor price movements. Keep up with the latest trends of your gold trade online using our range of our technical indicators.
Think about your risk management strategy. Consult our money and risk management guide in order to place the appropriate measures in your trading strategy. We advise all of our clients to consider using a stop-loss order to reduce their losses to the absolute minimum.
Trade gold through commodity indices
It is also possible to spread bet or trade CFDs on baskets of commodities for all precious metals, including gold, silver, platinum and palladium. Our commodity index gives you exposure to multiple commodities in one trade, which can be vital for diversifying your investment portfolio. You can invest in gold along with range of other precious metals within the same position.
The most significant of the precious metals group, gold and silver are weighted to make up 70% of the index. Platinum and palladium make up the remaining 30% of the commodities basket. The indices work by tracking underlying prices of the commodities: if the price of gold, for example, increases within the index, then the overall value of the index will increase. In a similar manner, if the price of gold is to decrease, then the overall value of the index will decrease.
Trading the commodity indices market can be a good way for traders to explore gold trading without placing all hopes and efforts in one single commodity. A disadvantage of trading gold is that the asset can be volatile in the short-term. By trading our Precious Metal Index, a trader does not place all of his hopes in the value of gold and instead may hope that the other commodities will bring up the overall value and price of the index.

Gold stocks
You can also spread bet and trade CFDs on a wide range of gold stocks within the share market, instead of investing in physical gold. This is an effective way to gain exposure to the underlying asset without physically owning the gold product. At CMC Markets, we offer over 8000 stocks and ETFs to trade on a worldwide level on our online trading platform.

Traders should open a position based on whether they think the share price of the gold company will rise or fall, and subsequently profit or lose based on which direction the price movement heads. Below is a list of some of the largest gold mining stocks right now.

Gold ETFs
An exchange traded fund (ETF) is a type of investment fund that holds a collection of underlying assets, including shares of a company, to give an investor exposure to this asset, which in this case would be the commodity. Gold ETF trading is a low-cost investment choice that can be bought and sold like any other share in the stock market. Read more about ETF trading and how to trade gold ETFs through this alternative method.
ETFs give traders the opportunity to diversify their portfolio by investing in a number of gold shares, rather than a singular one. Below is a list of the main gold ETF competitors to trade on our platform.

SPDR Gold – this is the largest and most popular physically backed gold ETF in the world, and it can be traded on a number of stock exchanges around the world. It seeks to reflect the performance of gold bullion's price. This ETF is often used for hedging against volatility of other markets, including forex and stocks.
iShares Gold Trust – this exchange-traded fund seeks to reflect the price of gold in general. It has one of the lowest expense ratios for gold ETFs, which is attractive for investors that are conscious of extra costs.
Aberdeen Standard Physical Swiss Gold Shares – also issued to reflect the performance of the price of gold bullion, this ETF is designed to be cost-effective and convenient, as an alternative to purchasing and storing gold directly.
Leveraged ETFs are complex financial instruments that carry significant risks. Certain leveraged ETFs are only considered appropriate for experienced traders.


Open an account to start trading gold stocks and gold ETFs.


Gold trading platform

As mentioned, we offer a large number of shares and ETFs, as well as the physical gold commodity, to spread bet and trade CFDs on through our web-based trading platform, Next Generation. Our price charts are customisable to your trading preferences, so you can see your data displayed as clearly as possible when entering and exiting positions.

Register for a live account now to start trading on gold, or you can practise first with £10,000 worth of virtual funds beforehand in order to familiarise yourself with our award-winning platform.
Test drive our trading platform with a practice account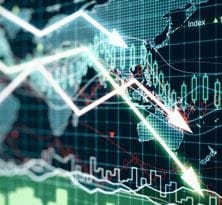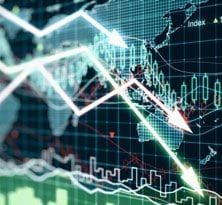 Experience our powerful online platform with pattern recognition scanner, price alerts and module linking.
Fill in our short form and start trading
Explore our intuitive trading platform
Trade the markets risk-free
Looking to hold gold for consecutive years? You can invest into gold. See our article 'Is gold a good investment?' for more information.
*Tax treatment depends on your individual circumstances. Tax law can change or may differ in a jurisdiction other than the UK.

Disclaimer: CMC Markets is an execution-only service provider. The material (whether or not it states any opinions) is for general information purposes only, and does not take into account your personal circumstances or objectives. Nothing in this material is (or should be considered to be) financial, investment or other advice on which reliance should be placed. No opinion given in the material constitutes a recommendation by CMC Markets or the author that any particular investment, security, transaction or investment strategy is suitable for any specific person.