Why trade international shares?

Share trading is often the first step into the financial world for most people. With the globe becoming ever more connected, the modern-day investor or trader can literally have the world's major trading exchanges in the palm of their hand. Thanks to the rise of international share platforms, it's now easier than ever for someone in Australia to diversify their investments and pursue new opportunities by buying and selling shares in New York, London and beyond.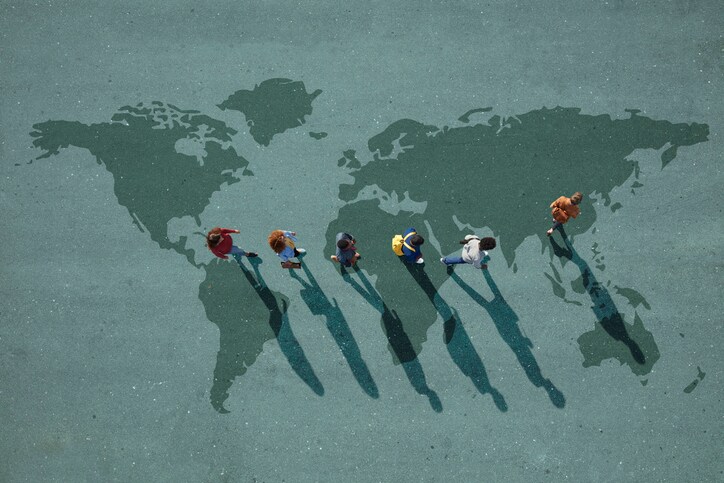 Opportunities and Diversification

The Australian Stock Exchange (ASX) represents less than two per cent of the global market and is dominated by a few sectors, including financials, mining and healthcare. While it provides access to many great companies, including household names and even a few major global businesses, it goes without saying that many more investment opportunities lie abroad.

If you are looking to invest in major tech stocks like Facebook and Google or big entertainment businesses like Disney or Netflix, you'll have to look to the major US exchanges. If you want greater access to the fast growing Chinese market, meanwhile, you might want to look to Hong Kong and if you're looking to invest in major global banks the London Stock Exchange could be a good option.

Ultimately, having the option to invest in overseas-listed companies opens up more opportunities and allows for greater diversification. An investor focused only on the ASX can miss out on many investment opportunities, and is unable to invest in a major automaker and has relatively limited (though growing) opportunities in the tech space.

Investing or trading internationally allows for access to different sectors and different markets. This can be important from a risk management point of view. Devoting some of your portfolio to internationally listed stocks will mean you are less exposed to a downturn in Australian stocks (though global markets are increasingly intertwined).

Reduce your currency risk

The Australian dollar is typically treated as a barometer of global growth – it tends to do well when economies are growing and investor confidence is high and fall when things go bad. This may benefit an investor in US stocks in the event of a global downturn. While their portfolio may fall in value in US dollar terms, a drop in the Australian dollar could offset some of the losses.

This works both ways of course. Currency fluctuations can amplify gains or exacerbate losses, depending on the situation. There are numerous other possible scenarios as well – the Australian dollar could rise in tandem with your US portfolio, effectively wiping out some of the gains, or it could fall while your portfolio stayed virtually flat, leading to a gain even though your stocks are not worth more in US dollar terms.

Maximise your trading hours

Having shares listed on international exchanges can also be a great way for traders to maximise their trading hours. This is especially useful for a trader who works a day job – they can come home after work and trade the London Stock Exchange or wake up early and trade US stocks.

Do your research

Whatever asset class or jurisdiction you are investing in, the key is always to do your research. Once you've decided to invest in a particular market, say the US for example, it's important to take the time to understand the dynamics at play. This could include­ accounting rules, the economic growth outlook, domestic and international exposures and so on.
Naturally, you need to do this on a stock-by-stock basis as well. The good news is quality information has never been more accessible – traders and investors using CMC's platform, for instance, have easy access to Morningstar research.

What are the largest stock exchanges? 

New York Stock Exchange (NYSE) – $28.5 trillion


Largest exchange in the world by market cap and home to titans of US industry. More than 2,800 companies are listed, the largest being J.P. Morgan Chase, Johnson & Johnson and Berkshire Hathaway. 


NASDAQ – $17.26 trillion


The second largest in the world by market cap, the National Association of Securities Dealers Automated Quotations System is home to well-known technology companies. About 3,300 firms are listed, with the largest being Apple, Microsoft, and Amazon. 


Tokyo Stock Exchange (JPX) – $5.37 trillion


More than 3,500 companies are listed, with the largest being Toyota Motor Corp, NTT Docomo, and Nippon Tel Corp.


​Hong Kong Stock Exchange (HKEx) – $4.63 trillion 


More than 2,400 companies are listed, including Tencent Holdings, BABA and Microsoft.


Euronext Stock Exchange (ENX) – $4.1 trillion


More than 1,400 companies are listed, with IBM, LVMH and Merck & Co among them.


London Stock Exchange (LSE) – $3.62 trillion 


More than 2,600 companies are listed, with the largest being Barclays, HSBC and Sainsbury's. 

While China has two of the largest exchanges by market cap in the Shanghai and Shenzhen exchanges, there are strict limitations on foreign investment into China, which makes these markets almost untenable for the average retail investor.

Why you should consider trading international shares

International shares can be a great addition to your trading strategy for a variety of reasons. By looking to the international market, you are able to start trading shares in the world's best performing and emerging companies.

Furthermore, by diversifying your portfolio outside your local market, you can spread the risk of being negatively affected by fluctuations in individual markets. Factoring in the time zone and currency of where you are looking to trade will also help minimise any risks and may even prove advantageous.

To find out more or get started, visit our international shares page. Or if you want are intrigued about the American market, here are some things you should know about trading US stocks.

Disclaimer
Investing in CMC Markets derivative products carries significant risks and is not suitable for all investors. You could lose more than your deposits. You do not own, or have any interest in, the underlying assets. We recommend that you seek independent advice and ensure you fully understand the risks involved before trading. Spreads may widen dependent on liquidity and market volatility. The information on this website is prepared without considering your objectives, financial situation or needs. Consequently, you should consider the information in light of your objectives, financial situation and needs. CMC Markets Asia Pacific Pty Ltd ABN 11 100 058 213, AFSL No. 238054 (the derivative product issuer), CMC Markets Stockbroking Limited, Participant of the ASX Group (Australian Securities Exchange) and SSX (Sydney Stock Exchange) and Chi-X (Chi-X Australia), ABN 69 081 002 851, AFSL No. 246381 (the stockbroking services provider) provides the financial products and/or services. It's important for you to consider the relevant Product Disclosure Statement ('PDS') and any other relevant CMC Markets Documents before you decide whether or not to acquire any of the financial products. Our Financial Services Guide contains details of our fees and charges. All of these documents are available at on this website or you can call us on 1300 303 888.
 
Apple, iPad, and iPhone are trademarks of Apple Inc., registered in the U.S. and other countries. App Store is a service mark of Apple Inc. Android is a trademark of Google Inc.