Tesla has had a roaring start to 2023. Price cuts have primarily driven Tesla demand, with Model Y cars reportedly being sold out for Q1 in the U.S. After reclaiming its $200 price point, speculators have since set their sights on Tesla's Investor Day 2023 event, hoping a wild announcement will continue to fuel the Tesla rally. From Cathie Wood's bold Robotaxi predictions to hopes of a new Tesla hatchback, all forms of wild speculation have sprouted up online.
With the passing of the Tesla presentation, long-term investors and speculators are up in arms as to how the announcements can impact Tesla's stock price. Want a quick summary of the four-hour-long event? Read on as we summarise what transpired at Investor Day 2023 and what was announced for Master Plan 3.
What Is Tesla's Master Plan 3
Tesla's Master Plan 3 is a follow-up to the original business strategy Elon Musk announced in 2006. According to Musk, Master Plan 3 outlines "the path to a fully sustainable energy future for Earth".
Before diving into the specifics of Master Plan 3, it's critical to first understand the first two parts of Tesla's originally announced Master Plan and how the third part plays into securing Tesla's role in providing a sustainable energy future for the planet.
Tesla's Master Plan 1
The now 17-year-old blog post by Tesla CEO Elon Musk is titled "The Secret Tesla Motors Master Plan (just between you and me)", poking fun at the lack of transparency present among many car companies' plans.
In it, Musk addresses the arguments against electric vehicles, namely toxic battery disposal and hefty power plant carbon emissions. Thereafter, he summarises the Master Plan in four brief bullet points, namely:
Build sports car
Use that money to build an affordable car
Use that money to build an even more affordable car
While doing above, also provide zero-emission electric power generation options
Was Tesla Successful with Master Plan 1?
While unorthodox, Musk's focus on being transparent and straightforward helped Tesla distinguish itself from legacy automakers like Ford and Toyota. Master Plan 1 ultimately helped Tesla scale its business as it stuck to its plan of first establishing the Tesla Roadster sports car model. Once they secured enough capital, Tesla transitioned towards its more affordable sedan models for the masses.
The unbridled success of its first Master Plan paved the way for a bright future. Within years, Tesla gained a cult following rooted in Musk's charismatic personality and car reservations reached upwards of 325,000 within a week of the Model 3's reveal.
Tesla's Master Plan 2
A decade after his first Master Plan address, Musk posted Master Plan, Part Deux, a post that details Tesla's future plans to achieve a sustainable energy economy. From lowered transport costs with Tesla Semis to full self-driving autonomy in Robotaxis, Musk goes to great lengths to illustrate a future where Tesla can execute these noble and lofty ambitions. In short, the second part of Tesla's Master Plan involves the following:
Create stunning solar roofs with seamlessly integrated battery storage
Expand the electric vehicle product line to address all major segments
Develop a self-driving capability that is 10X safer than manual via massive fleet learning
Enable your car to make money for you when you aren't using it
Was Tesla Successful with Master Plan 2?
If Master Plan 1 is seen as a considerable success, Master Plan 2 is, bluntly put, a disappointing failure. Despite being well-intentioned, Tesla has failed to deliver on any of its targets.
While novel, Tesla's solar roof idea has been significantly scaled back after losing money despite its high manufacturing and installation costs.
Product line-wise, the Tesla Roadster has been phased out, the Semi's urban transport plan has fizzled out and the Cybertruck is still nowhere to be seen.
Full Self-Driving failed to live up to the hype and acts more like a Level 2 driver-assist system that requires constant driver attention.
Lastly, autonomous, money-making Robotaxis that can earn up to $30,000 annually are noticeably absent.
Unfortunately, these failed promises leave a mark on Musk's otherwise stellar track record. By missing all four of their targets, Tesla has set a dangerous precedence of over-promising and under-delivering.
Tesla's Master Plan 3 & What Was Shown at Investor Day 2023
As previously mentioned, expectations were high thanks to the buzz about how revolutionary Master Plan 3 was going to be. At its core, Musk's 1st March 2023 Investor Day address can be summarised with the following key points:
1.
Master Plan 3: A Clear Path to Sustainable Energy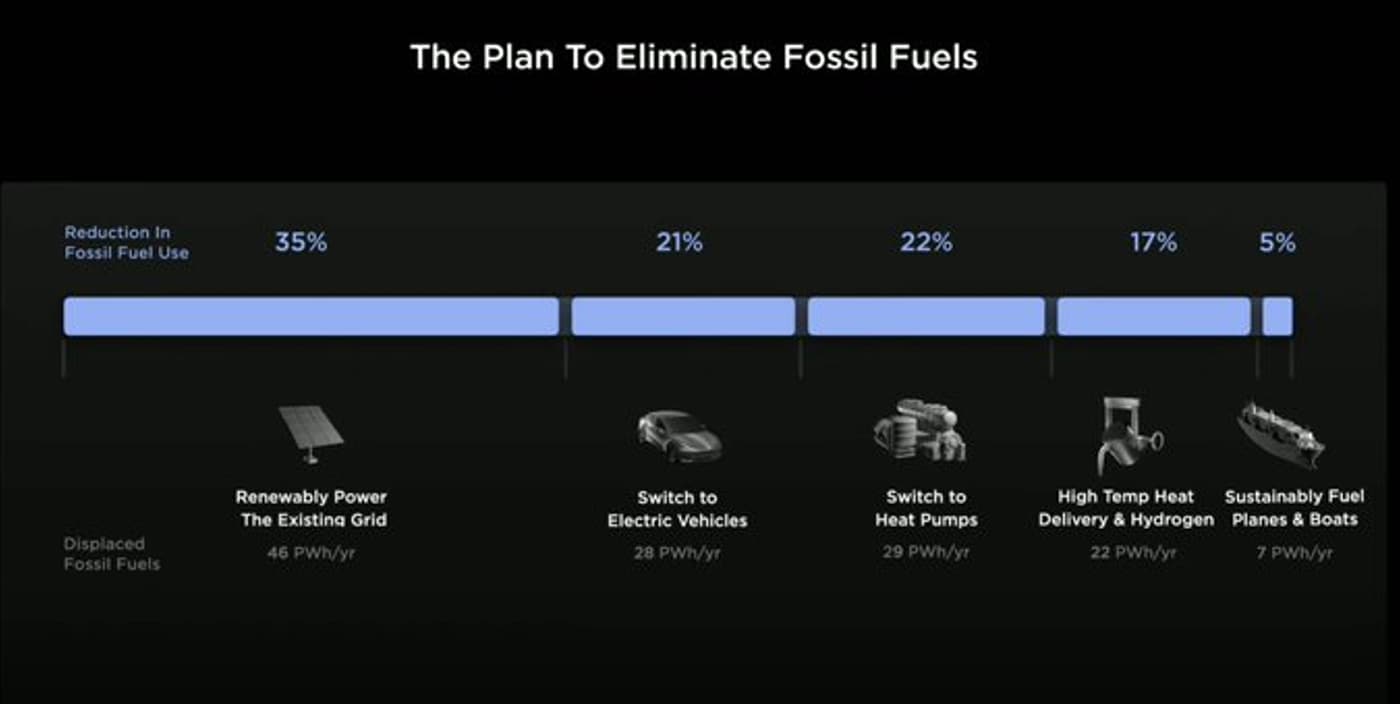 Musk opened the Investor Day 2023 address by detailing Master Plan 3 and highlighting how our planet is close to achieving a sustainable energy economy. After showing how two-thirds of the current global energy produced goes to waste because of fossil fuel reliance, he then breaks down the steps needed for Tesla to eliminate fossil fuels from our energy ecosystem. They include Renewably Powering Existing Power Grids, Switching to Electric Vehicles, Switching to Heat Pumps, Electrifying Heat Delivery and Sustainably Fuelling Planes & Boats.
All in all, Musk estimated that Tesla will need to expend $10 trillion by 2050 to accomplish Master Plan 3 and help the planet achieve this sustainable energy economy.
2.
The New-And-Improved Next-Gen Vehicle Manufacturing Process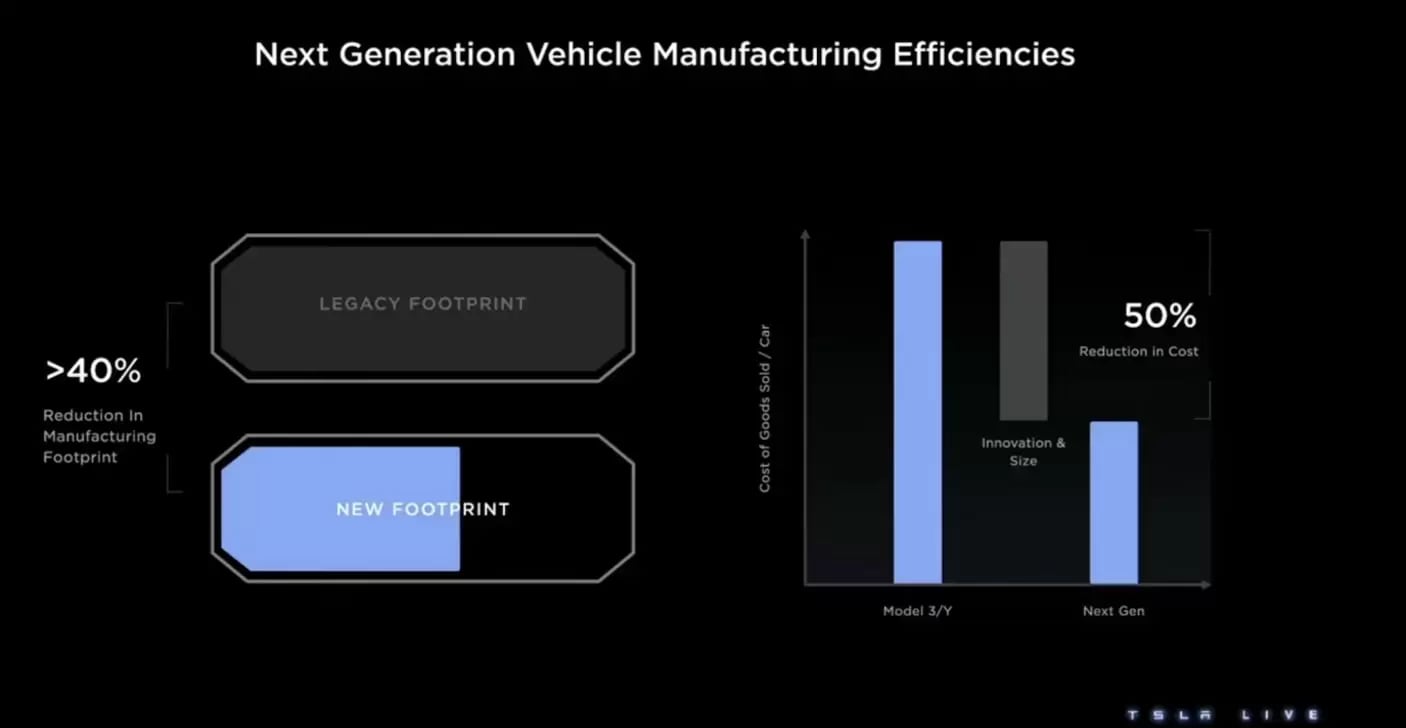 Next-Gen Tesla vehicles can improve their efficiency by 30% and save on production costs by 50%. This is thanks to a combination of manufacturing improvements and process changes that Tesla calls the Unboxed Process. By examining the assembly process through a deconstructive lens, separate pieces of the car are first worked on individually before they're put together in a preliminary stage and then finally snapped together at the final stage. Through this method, Tesla claims to have successfully reinvented the wheel when working on putting together a vehicle as unnecessary steps are streamlined and assembly lines bottlenecks are cut out.
3.
Rumoured Tesla Next-Gen "Model 2"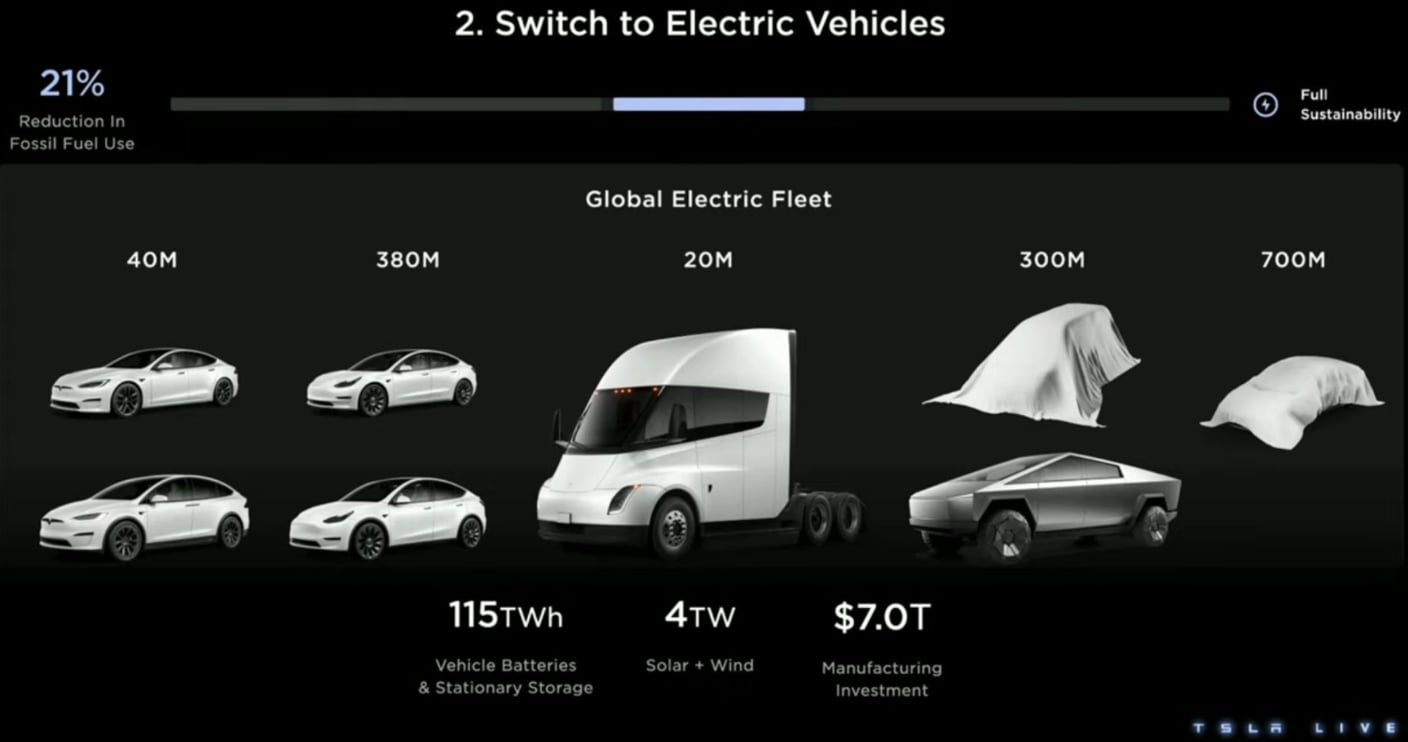 Current details about the $25,000 "Model 2" are scarce. To the disappointment of many Tesla investors, Musk merely teased the rumoured electric vehicle. It was 'unveiled' during the Master Plan 3 showcase while discussing an example of its global electric fleet. Of Tesla's 1.4 million vehicle fleet, half of it will be this mystery next-gen electric vehicle. Without fully showing off its form factor, Tesla mentioned that more details will be revealed in a product event showing at a later, unspecified time.
4.
The New Giga Mexico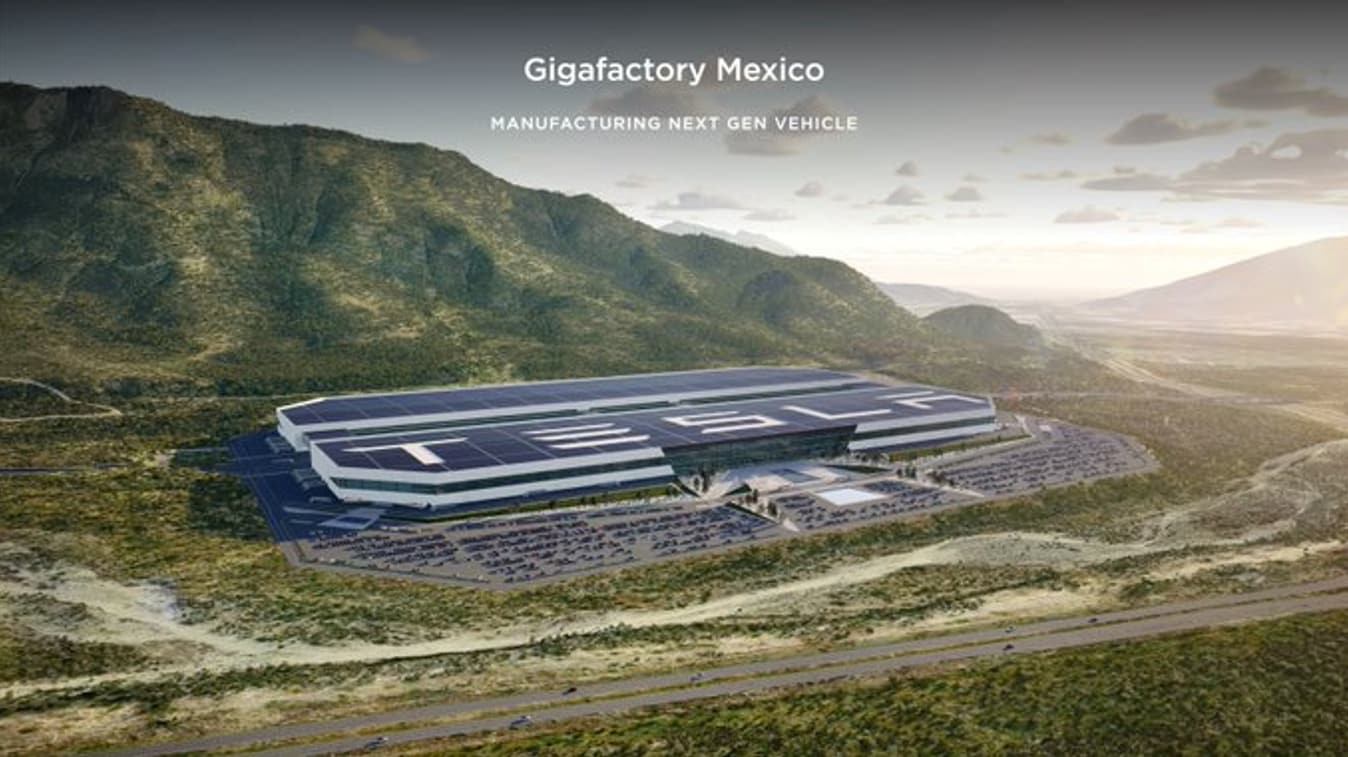 As previously mentioned by the Mexican government, Tesla will be building their next Gigafactory in Monterrey, Mexico. This brings the global number of Gigafactories to a grand total of six. This specific Gigafactory will oversee the production of Next-Gen Vehicles so future Tesla car owners can look forward to even shorter delivery backlog times as the Giga Mexico cranks out their vehicles in record time.
5.
Manufacturing Breakthroughs
From drive units not requiring rare-earth metals to the adoption of 48-volt power distribution, Tesla did not hold back when it comes to showcasing the unique ways their team has increased efficiency and saved on cost. Thanks to these innovative improvements, Tesla's electric vehicles will achieve all sorts of fundamental improvements like lighter overall weight, cheaper cost of production, better charging and much more.
6.
Miscellaneous Statistics & Achievements
Here are some other Investor Day highlights that are definitely worth keeping in mind:
Tesla finally hit its four million vehicle production milestone and mentioned that Gigafactories produce a single vehicle every 45 seconds
When taking into account manufacturing costs, Tesla argues its electric vehicles are three times cleaner than premium internal combustion engine vehicles
Tesla Model 3s now cost 30% less to build compared to when they first debuted in 2018
Thanks to an in-development power electronics retool, Tesla vehicles will possibly be able to power homes
Despite their in-car computers consisting of 7000 components, Tesla's computer manufacturing line is 95% automated
Tesla Superchargers now cost less to build than competitors and per kWh costs are now down 40% over the last year
The Bottom Line
After a night of showing off Tesla's engineering ingenuity and an overarching view of Tesla's future development plans, Wall Street has reacted negatively to Tesla's Master Plan 3 and Investor Day 2023 showcase as no progress was shown with regards to the much-anticipated budget "Model 2" vehicle, Robotaxis or the Cybertruck. This has resulted in TSLA stock tanking 5% after hours.
Despite this, Tesla bulls and long-term investors remain insistent that they're satisfied with Musk's address and believe that Investor Day 2023's showings will strengthen Tesla's fundamentals in the long run.
Keen on reading up more on Tesla? Browse through our article that questions if Tesla's bubble has burst.