The Reserve Bank of New Zealand (RBNZ) raised the Official Cash Rate (OCR) by 25 basis points to 5.5% and signalled a rate hike pause in the coming months, citing, "A pause would also allow more time to assess the impact of the significant tightening, and the timing of any further increase that might be needed."
Inflation peaks
The bank said the tightening measures have sufficiently moderated demands, in turn pressing inflation. The RBNZ projects that inflation has hit a peak of 7.2% in the final quarter and will return to the 1-3% target level by the end of 2025.  Inflation expectations have also peaked in mid-2022, with the 2-year rate falling below 3% in the current quarter. The dovish stance was unexpected as the bank was considered the most hawkish bank in the major Western economies, which started a rate hike cycle in October 2021, hiking the OCR by 12 times in a row, 525 basis points in total. The aggressive tightening measures sank the local housing market to drop 21% from its peak in November 2021. The bank forecasted negative GDP growth in the current quarter and the third quarter in 2023 due to weakened demands.
The New Zealand dollar tanks
The New Zealand dollar plunged following the RBNZ's dovish rate hike, falling 1.3% against the USD and 1.1% against the Australian dollar at 4 pm local time. New Zealand government bond yields all slumped following the announcement, with the yield on the 2-year NZGB down 29 basis points to 4.78% and the yield on the 5-year NZGB slipping 20 basis points to 4.23%. Since the RBNZ had a U-turn in its policy stance, the Kiwi dollar may continue to take a hit at the back of a strengthening USD and relatively hawkish RBA. 
Directional bias – dovish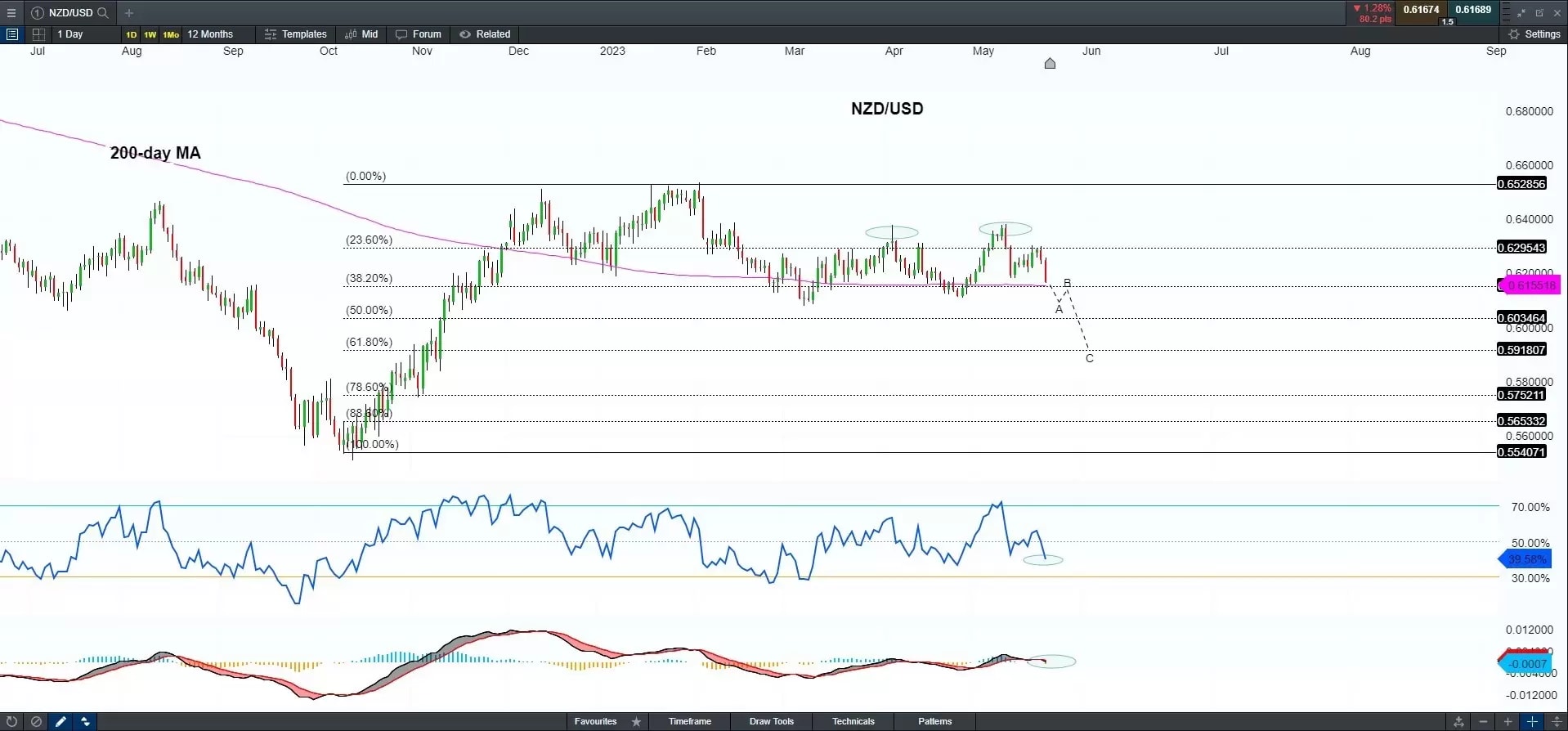 Source: CMC Markets as of 24 May, 2023
The pair has formed a potential double-top pattern, which may take it down to test imminent support of the 200-day moving average at 0.6155. A breakdown below this level may sink it further to 0.5918 the 61.80% retracement of Fibonacci retracement. Both MACD and RSI also signalled a downtrend.
On the flip side, if the pair finds support at the 200-day moving average support and rebounds back above the resistance of 0.63, it may reverse the downtrend, though this has little chance.