Since Microsoft announced their intention to acquire Activision Blizzard on January 18, 2022, the deal has been making headlines across the gaming world. From the FTC's lawsuit to the European Union's antitrust warning, the US$68.7B mega-deal has attracted the ire of many naysayers who worry about the gaming industry's future if the merger goes through.  
To the surprise of many, Berkshire Hathaway announced weeks later that they were taking on this speculative arbitrage opportunity by tripling their Activision share position and picking up almost 54M additional shares in H1 2022. While they've trimmed their total position in Q3 2022, Berkshire Hathaway still has over US$4B invested in ATVI stock. Keen to find out why? Read on as we dissect why Microsoft is acquiring Activision Blizzard and how arbitrage investors like Berkshire Hathaway want to profit from the merger. 
Understanding Why

Microsoft

Chose to Acquire

Activision

Blizzard
Before diving into the specifics of the merger deal, it's essential to consider why Microsoft is spending almost US$69B to take over Activision Blizzard. 
Despite possessing a multi-decade legacy in the personal computer and console space, Microsoft needed to gain their edge in the gaming market. Thanks to the aggressive competition from gaming giants Sony and Nintendo, Microsoft lost ground thanks to a lack of first-party titles.  Xbox franchises like Halo and Gears of War failed to exceed expectations while competing single-player exclusives like God of War and Pokémon continued breaking records. The exploding popularity of casual mobile gaming also exacerbated the situation as gamers flocked to the pick-up-and-play nature of gaming on the go. 
Microsoft sought to fill the first-party titles gap and went on the offensive in early 2021 by completing their US.5B acquisition of ZeniMax Media. This was done in hopes of fleshing out their software library with fan favourite titles like The Elder Scrolls Series and Doom. With ZeniMax onboard, Microsoft began to set their sights higher and pledged to take over Activision Blizzard. This will further strengthen Microsoft's game library as franchises like Call of Duty and World of Warcraft now call Microsoft their home. The merger also gives Microsoft access to more than 30 internal game development studios. 
Microsoft-

Activision Blizzard

Merger Specifics
At a US$68.7B valuation, Microsoft will be making history with the most significant tech deal to date as they'll acquire Activision Blizzard for US$95 per ATVI share. Based on when the deal was announced, this represents a hefty 45% premium. While exorbitant, the U.S. tech giant hopes Activision Blizzard's flagship franchises will accelerate Microsoft Gaming's growth to usher in a new era of gaming for all to enjoy. The deal also places Microsoft behind Tencent and Sony as Microsoft becomes the world's third-largest gaming company by revenue. 
Will the

Microsoft-Activision Blizzard Merger

Deal Go Through?
From the latest Microsoft-Activision Blizzard deal updates, it's still uncertain whether Microsoft can close the deal as they continue talking with different regulators. 
After the shocking announcement, there was instant resistance to this billion-dollar merger as regulators and competitors immediately became sceptical about the acquisition. Despite some initial opposition, Microsoft secured EU antitrust approval and has been given the green light from the European Commission. All that's left is to get nods from the UK's Competition Markets Authority (CMA), which carefully considers the merger's potential impact on the cloud gaming industry. 
There are concerns that Microsoft will gain an unfair advantage from the merger. With 2022's global gaming revenue being US$320B and growing to US$480B by 2027, Microsoft will need all the help it can get to secure the lion's share of the revenue. That's why acquiring a gaming behemoth like Activision Blizzard makes perfect sense for Microsoft as it seeks to strengthen its gaming foundations and bolster its total revenue with Activision Blizzard's share. In 2022 alone, Activision Blizzard managed to rake in US$7.5B in annual revenue. This will account for a 50% gain in Microsoft Gaming's total income should the merger go through. 
Although Microsoft has managed to strike deals with Nintendo and Nvidia, the most prominent opponent to the Activision Blizzard acquisition appears to be Sony. So far, the Japanese conglomerate has gone to great lengths to stop the merger from happening by highlighting the exclusive advantages Microsoft stands to gain from this. From claiming Call of Duty to be an irreplaceable franchise to being worried about Sony's version of games being sabotaged, Sony is pulling all the stops to ensure their market leader status is cemented in the gaming industry.
The latest news is that Microsoft has managed to successfully make headway against the FTC as they withdrew their challenge to the acquisition after losing its case for an injunction. All that's left is negotiations with the CMA, of which Microsoft has provided an update on the situation by restructuring their acquisition deal in accordance with the demands of the CMA. To quote Microsoft, they mentioned "Microsoft will not be in a position either to release Activision Blizzard games exclusively on its own cloud streaming service – Xbox Cloud Gaming – or to exclusively control the licensing terms of Activision Blizzard games for rival service".
Berkshire Hathaway's Arbitrage Bet
Despite the substantial risk associated with taking on the merger bet, Warren Buffett and Berkshire Hathaway showed no signs of backing down as they established a position for ATVI stocks. In Berkshire's 2022 annual meeting, Buffett highlighted that although his two investment lieutenants, Todd Combs and Ted Weschler usually direct the purchases, he increased his bet three-fold as he was confident about the Microsoft-Activision Blizzard takeover deal. 
Activision Blizzard Technical Analysis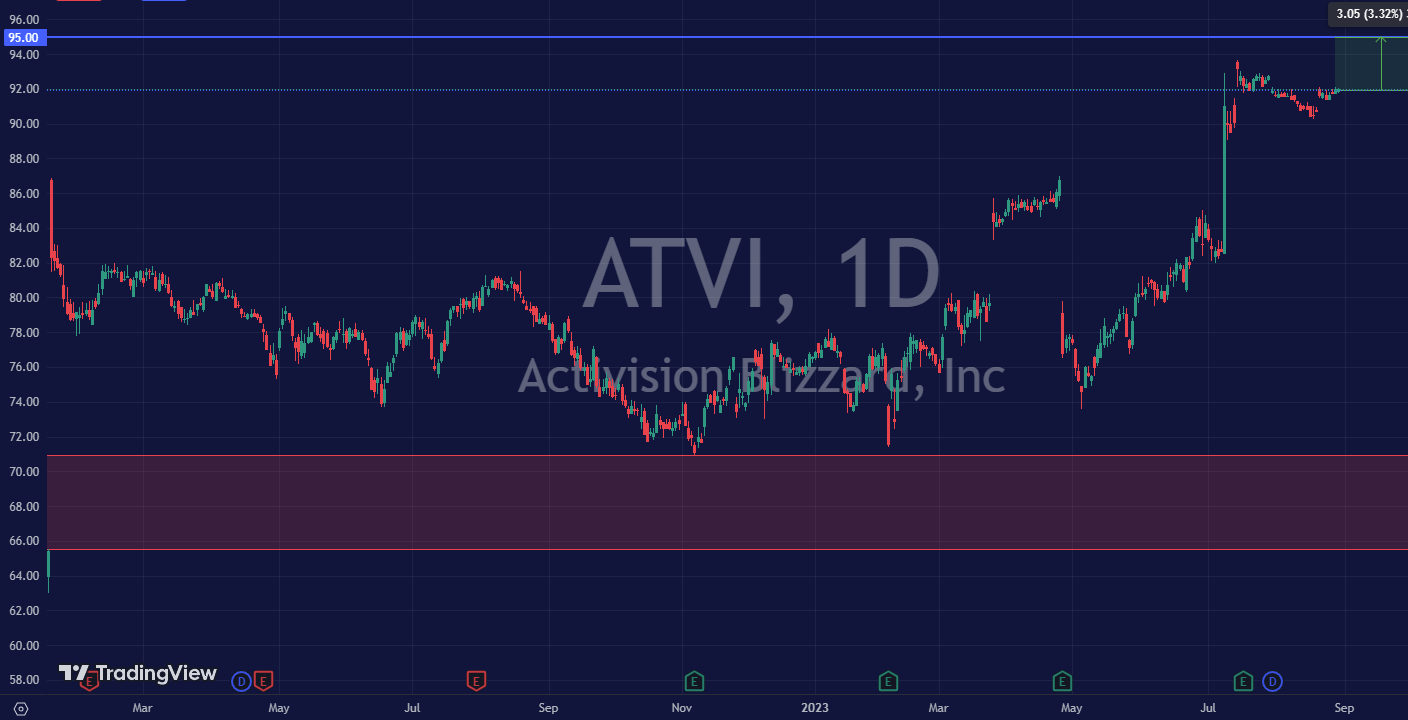 Source: TradingView as of 31 August 2023
Ever since the intention of a merger acquisition was announced by Microsoft, ATVI shares surged to US$87 as investors and traders got excited by the targeted acquisition price of US$95. With a current price of about $92 and a targeted acquisition price of $95 a share, traders who are expecting the merger to go through at this point in time can enjoy a sizeable profit as ATVI shares are currently trading at a 3.1% discount. While ATVI shares used to trade at a larger discount before the various legal proceedings commenced, it being so close to the acquisition price of US$95 proves that investors and traders are leaning towards the idea that the merger may happen sooner than expected.
In conclusion, Microsoft's acquisition of Activision Blizzard is a major move in the gaming industry that has attracted both excitement and concern. With this merger, Microsoft aims to strengthen its gaming library and catch up to competing gaming giants like Sony and Tencent, while also gaining access to new revenue streams. This competition will ultimately be healthy for the gaming industry as new intellectual properties are developed for the gaming market to enjoy. Yet, there are still numerous regulatory hurdles to clear as the CMA is watching deal proceedings like a hawk. Moreover, some stakeholders have expressed fears about the potential impact on the tech scape as Microsoft continues to expand and acquire more innovative businesses. Despite all these uncertainties, investors like Berkshire Hathaway are betting on the success of the deal and the potential for significant profits. Only time will tell as to whether Buffett's big $4B bet will pay off.
Did this Microsoft Activision Blizzard merger acquisition guide inspire you to act and begin trading? Start your trading and investing journey with us today.