Facebook parent, Meta Platforms Inc., is set to report the final quarter earnings after the US market closing bell on Thursday, 2 February in Australian time. Meta's shares had a decent rebound of more than 60% since the November low after the social media's announcement of 11,000 headcount cuts. CEO Mark Zuckerberg finally realized that he could not ignore investors' disappointments about the massive spending on Reality Labs, and a free fall in its revenue growth due to the fierce competition and macro headwinds. After a brutal year in 2022, investors seem to find Meta has been undervalued and piled into it. However, its shares are still 60% down from its all-time high seen in September 2021, when Meta's market cap topped the 1 trillion milestones. So, have Meta's shares been undervalued? In the upcoming earnings, its ads revenue growth, the user growth trend, and free cash flow will be keys for gauging the business' health.
A further slowdown in revenue is expected
In the third quarter, Meta Platform hugely missed the expectation for earnings per share, with its net income down 52% year on year. The well-known growth hurdle the company faces is slowed user growth due to severe competition from TikTok, while Apple's iOS privacy change made it less effective at its advertising targets, along with a sharp decline in its ads revenue due to the macro headwinds. However, the biggest issue of Meta Platform is CEO Mark Zuckerberg's reckless spending on the new business division Reality Lab, which cost billions of dollars in its development. The company's cash flow dropped to 41.8 billion in September 2022 from 48 billion at the end of 2021 as the loss of the Reality Labs' revenue widened from $6.9 billion to $9.4 billion by the September quarter. In addition, Meta lost about $10 billion in ad revenue due to Apple's privacy policy change.
In the third quarter, Meta's revenue was $27. 71 billion, decreased by 4% year on year and the net income came to 4.4 billion, dropped by 52% from a year ago, while Facebook's daily active users (DAUs) rose to 1.98 billion, up 3% annually. After a second-straight quarterly revenue decline, Meta expected another drop in the fourth quarter, which crashed its share price to the lowest since January 2016 in November, but the stock strongly rebounded since, outperforming most of the big tech stocks, most likely because investors piled into the hardest-beaten stocks to seek bargains.
According to Zacks Consensus, Meta's earnings per share for the fourth quarter is $2.12, or a 42.2% decline from a year ago. The revenue estimate is $31.31 billion, down 7% year on year, which is in line with Meta's own expectations. On a yearly basis, it is expected that Meta's revenue to drop 1% to $116.3 billion in 2022 and the net income to decline 37% to $24.7 billion.
A positive outlook for long term
Despite a bearish view of Meta's near-term growth, the social media giant has a positive prospect in a long term regarding its Metaverse development. CFO Dave Whene anticipates Reality Labs' operating losses will extend into 2023 but grow significantly year over year. Analysts expect Meta's revenue to grow 5% in 2023 and 12% in 2024. Also, the US ban on TikTok may shift users to Meta's Reel and the ads revenue may recover as the macro environment gets better on the back of cooling inflation and a slowdown in the Fed's rate hikes.  
Technical Analysis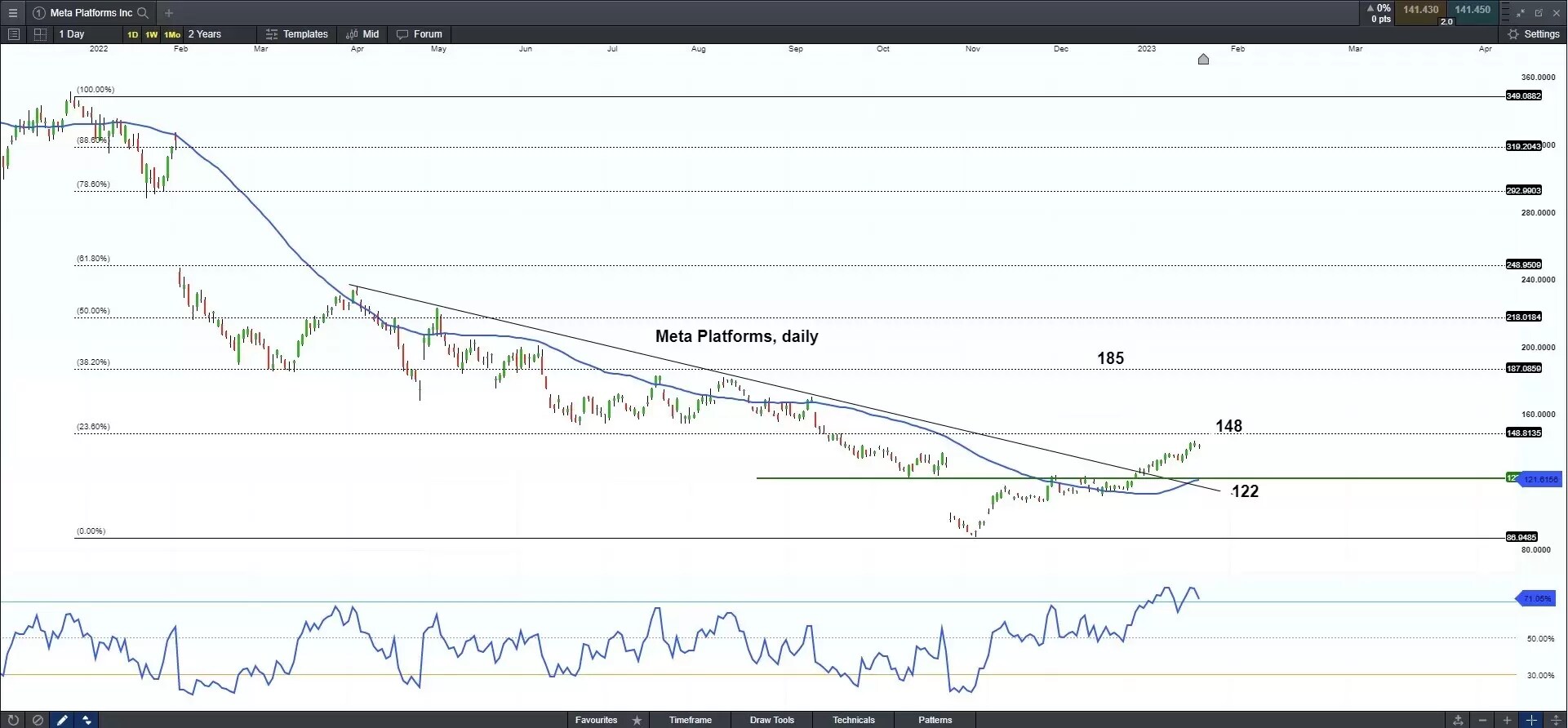 Source: CMC Markets as of 26 January 2023
Meta's shares had a major bullish breakout of the descending trendline that has been formed since April 2022. The potential near-term resistance is around 148 at the 23.60% retracement of Fibonacci retracement. A bullish breakout of this level could take its shares to further test the next potential long target of 185 (Fib. 38.20%). With RSI pointing down from the overbought territory, the share's price may face an imminent pullback risk. The near-term pivotal support is around 122 at the 50-day moving average. A breakdown below this level may take Meta's shares back to its 7-year low level of 87.