Broad equity markets were higher last week, buoyed by US earnings optimism and China's reopening, with Nasdaq outperforming the global markets. In fact, bets for a sooner Fed pivot are the macro tailwind that has been fuelling the new year bulls as US inflation cools down. Hence, the FOMC meeting will be in the spotlight to give clues on the Fed's policy path. The European Central Bank and Band of England will also decide on interest rates, both of which may have to maintain the pace of a 50-bps rate hike amid sicky inflation.
The last bunch of influential US tech earnings, including Apple, Amazon, Alphabet, and Meta Platforms, will also play key roles in bringing volatility to Wall Street.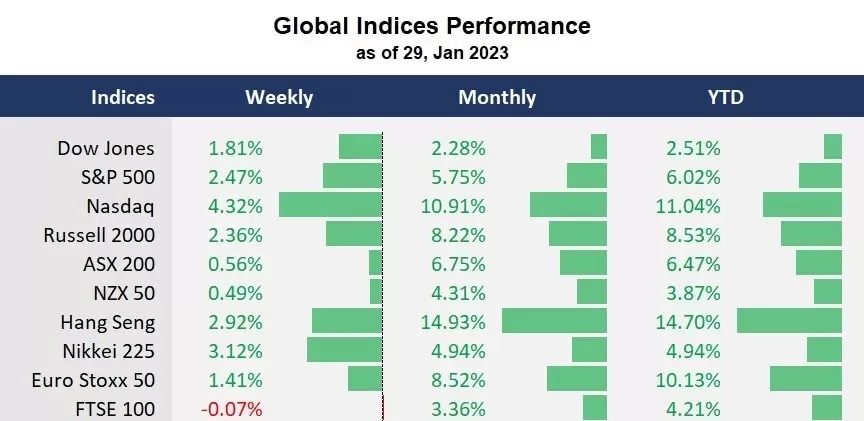 Click to enlarge the table
What are we watching?
Nasdaq bottoms up: The tech-heavy index closed above the 200-day moving average for the first time since January 2020, suggesting growth stocks may continue building the bottom reversal trends in the coming month.
Tesla surges: Tesla shares rose 30% for the week and spiked 23% in the last two trading days as CEO Elon Musk upgraded the sales target to 2 million cars in 2023. The EV maker has also beaten earnings expectations on both EPS and Revenue in the fourth quarter.  
US dollar stabilizes: The US dollar index stabilized above the key support of 101 for the last two weeks as the king dollar may have been oversold and the US bond yields paused falling. A near-term rebound of the USD may be expected.
Gold's rally pauses: Gold futures were flat in the last two weeks as the decline in the US dollar came to a pause. From a technical perspective, the precious metal is in a bearish divergence pattern with RSI, indicating that its upside momentum may be exhausted.
Crude oil retreats: The rebound in oil markets lost steam, with the WTI futures pulling back under $80 per barrel again. While the US crude inventories hit a 16-month high, Russia's supply seems not to be affected by the western sanctions, sparking the demand outlook, despite China's reopening.
Economic Calendar (30 Jan – 3 Feb)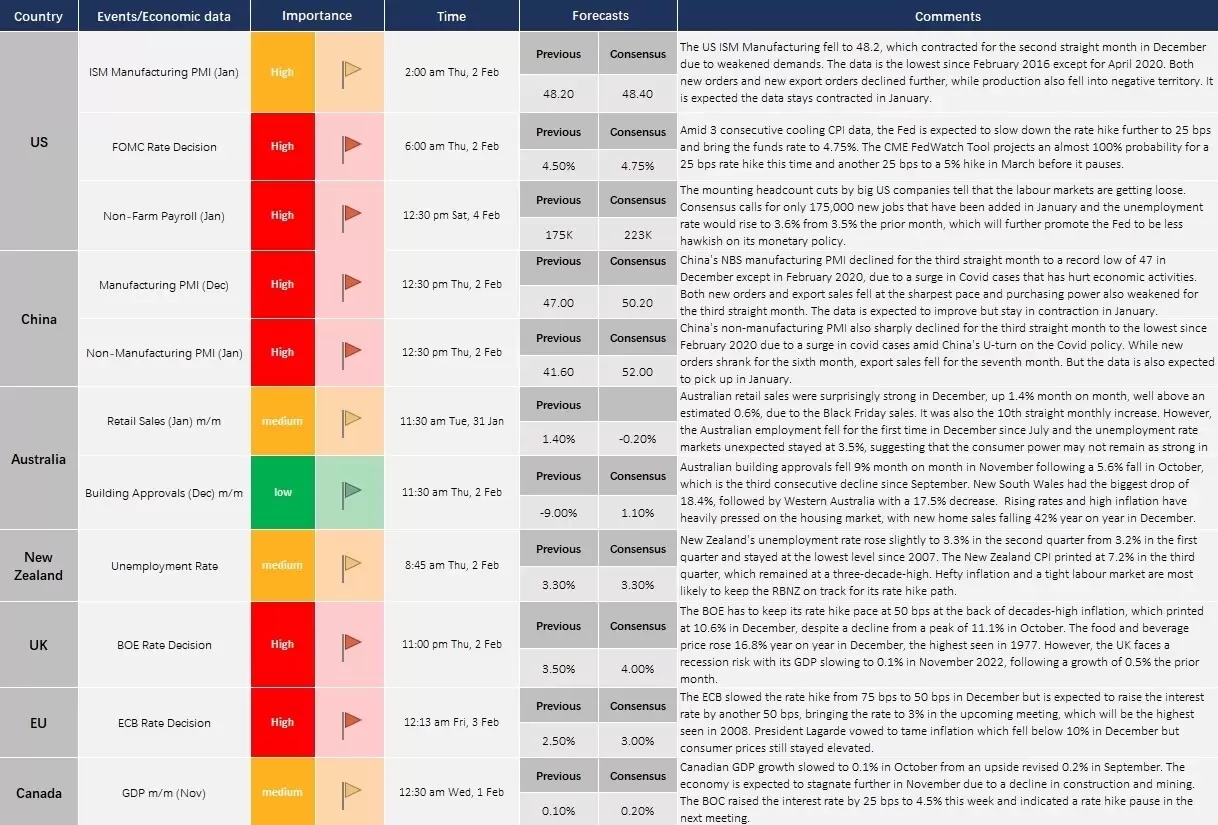 Click to enlarge the table