The Fed Chair Powell's hawkish reiteration sent the US bond yields to surge again, pressing on broad equity markets. The Silicon Valley Bank's rout dragged on global banking stocks, sparking concerns about a sooner-than-expected financial crisis. Investor sentiment gets sour with major equity markets finishing the week in the red. The US CPI data will be a crucial economic event that steers market movements. Shall inflation stick, further selloff on Wall Street may be expected. But on a positive note, the Chinese key economic data could offer some optimism towards the country's recovery from Covid disruptions. Hopefully, it can buffer the market's downside momentum.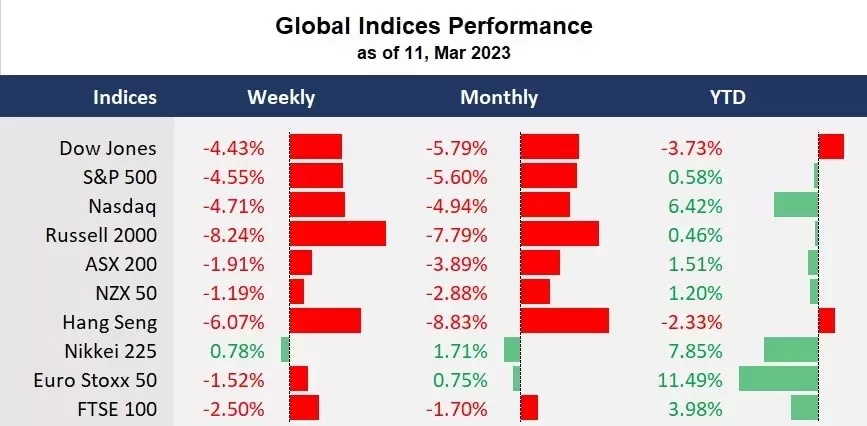 Click to enlarge the table
What are we watching?
The Russel 2000 slumps: SVB's shutdown caused a broad selloff in the small-cap stocks, particularly in Russel 2000, as these companies are the most venerable that could suffer from Fed's aggressive rate hikes, with the SVB's crash possibly being a catalyst. 
Gold and bonds surge: Haven assets surged on risk-off sentiment, with both gold and bonds surging. Gold futures soared 38 dollars per ounce on Friday as the US bond yields sharply retreated amid SVB's rout.
USD dollar falls: The US dollar weakened sharply against the other major currencies amid recession fears. It looks like market participants are not seeing much more aggressive rate hikes by the Fed after the US non-farm payroll shows a pickup in the unemployment rate and a slowdown in wage growth.
Cryptocurrency tumbles: Both Bitcoin and Ethereum fell to their lowest levels since mid-January following the news that the crypto-focused bank, Silvergate Capital winded down operations and planned for possible liquidation.
Economic Calendar (13 Mar – 17 Mar) All the time is in Australian AEST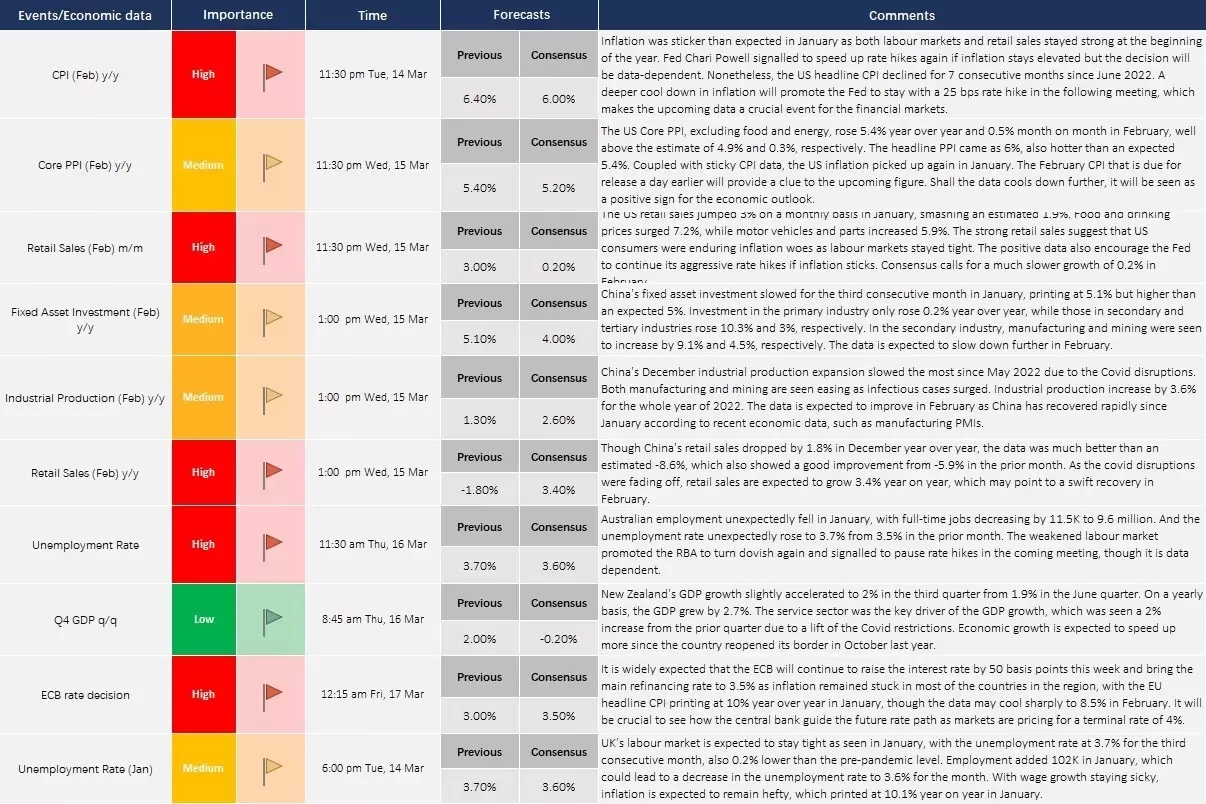 Click to enlarge the table