Most equity markets finished the week higher after the Fed confirmed to consider pausing rate hikes amid the recent bank turmoil. The US growth stocks benefit most from the event, with the tech-heavy index, Nasdaq, continuing to outperform Dow and S&P 500. In Asia, the Australian markets had a volatile week due to wide swings in energy and mining stocks. The commodity-heavy index, ASX 200, was under pressure due to the underperformance of these sectors. By contrast, Chinese shares managed to snap a two-week decline, reversing a nearly two-month downtrend as funds fled for safety. And the European stock markets were also strong, encouraged by ECB and SNB's pledge to support the banking system with sufficient liquidity. However, the bank turmoil may not be easily settled. Deutsche Bank's shares slumped amid concerns about the bank's ability to survive the contagion headwinds, with its credit default swaps jumping to 173 basis points from 142 basis points last Friday. 
This week, the US final Q4 GDP will be in the spotlight to gauge the country's economic health. China's economic data, such as manufacturing PMI, will also impact the commodity market.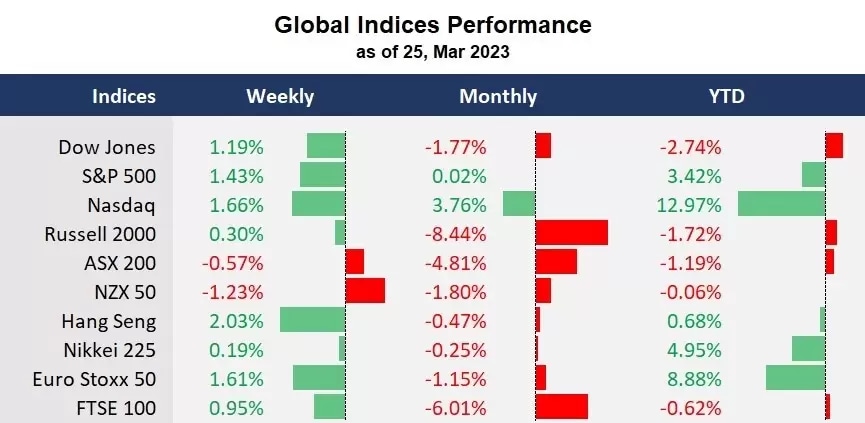 Click to enlarge the table
What are we watching?
The US dollar sinks: The US dollar continued to decline following the Fed meeting as Chairman Powell signaled to pause rate hikes if needed. The recent market turmoil and central banks' resecure measures put investors' sentiment in check.
Funds seek safety: A standout divergence in fund flow surfaces, with haven assets, including the Japanese Yen, gold, and bonds, surging further, while energy and bank stocks continued to be under pressure as the economic outlook glooms.
Tech stocks outperform: Signs of relaxation in bank liquidities buoyed the growth sectors, typically in tech shares, as central banks may have to stabilize the banking system by slowing down their aggressive approach to fighting inflation.
Cryptocurrencies extend gains: Cryptocurrencies gained for the second straight week as the recent market event triggered a potential bottom reversal in the digital coin market amid central banks' renewed liquidity to the economy. 
Economic Calendar (27 Mar – 31 Mar)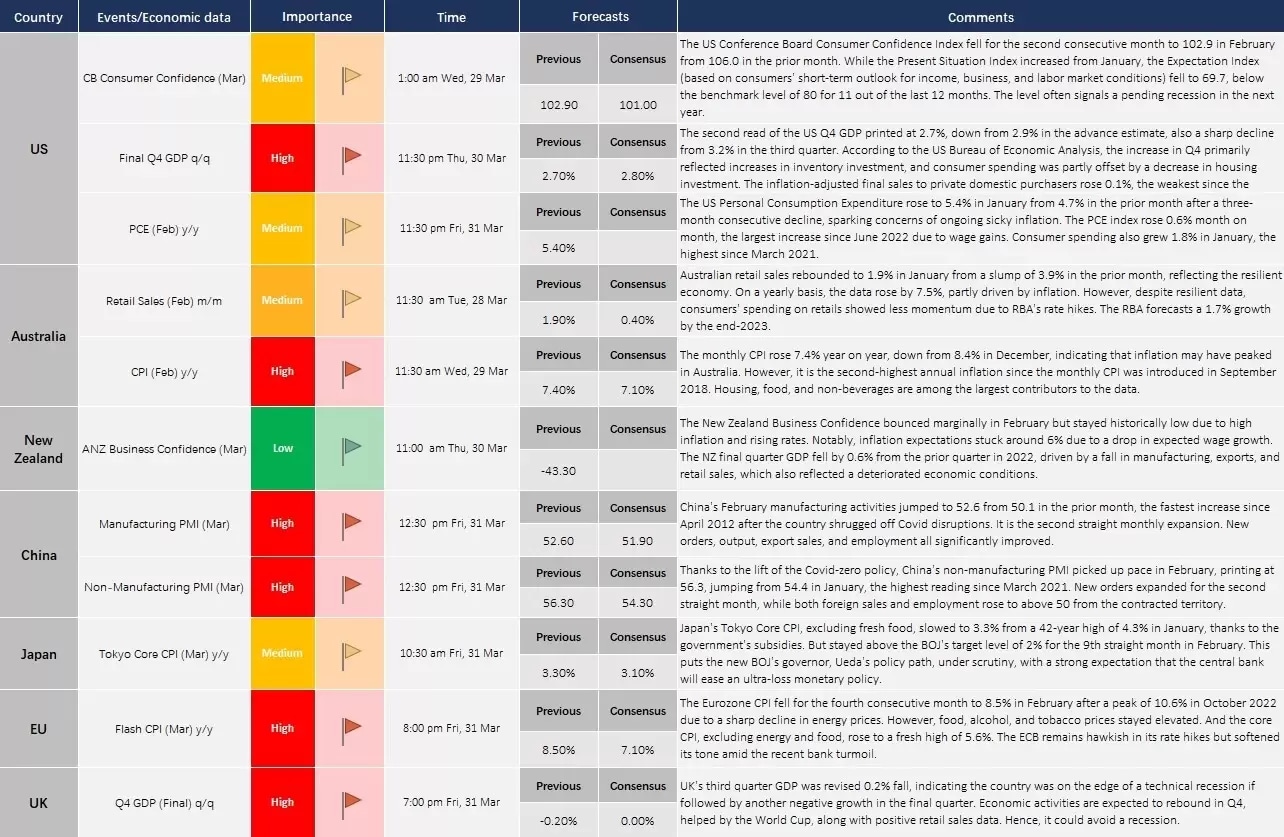 Click to enlarge the table