Wall Street wobbled for the week despite the rescue measures to backstop banks' depositors and stabilize the financial system. Central banks, including the Fed and the Swiss National Bank, injected extra liquidity into the banking sector to regain people's confidence. Over the weekend, UBS agreed to buy Credit Suisse in a 3 billion francs (US$3.25 billion) deal, a historical government-brokered deal aiming to settle a spreading financial crisis. The Fed leads the other five central banks to boost liquidity by increasing the frequency of 7-day maturity swap operations to daily from weekly. 
Amid bets for a sooner Fed pivot on rate hikes, growth stocks led the broad markets to gain last week. This makes this week's central banks, including the Fed, SNB, and BOE's decisions, more remarkable, with the FOMC meeting a pivotal event to steer market sentiment. 
The Fed may have to scale back its aggressive stance on rate hikes to reassure confidence in the banking system.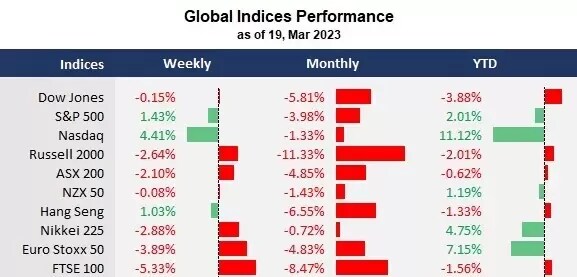 Click to enlarge the table
What are we watching?
Bond market is on fire: Global bonds swung widely amid the recent banking turmoil. The intense volatility is only seen during a crisis time, such as the pandemic in March 2020 and the GFC in 2008. Usually, this indicates that a pending fundamental change could be ahead regarding the central bank's policies and liquidity conditions.
Nasdaq outperforms: The tech-heavy index, Nasdaq, outperforms broad markets as the US major growth stocks extended their rebounding trend since January this year. Strengthened expectations for the Fed to pivot sooner particularly boosted sentiment in these high multiple stocks.
Crude oil futures (WTI) fall under $70: Crude prices dived about 10% last week due to recession fears caused by the bank's rout. The WTI futures fell below $70 per barrel for the first time since December 2021 before Russia's aggression in Ukraine.
Gold is on the surge: Gold surged for the third straight week, heading towards its 11-month high level, amid the bank's rout and a sharp decline in the bond yields. The precious metal is seen as a haven asset due to risk-off sentiment.
Cryptocurrencies regain steam: Cryptocurrencies seem to benefit from the extra liquidity that the central banks inject into the banking system amid the recent market event. Bitcoin rose about 30% last week, heading to its highest level since June 2022.
Economic Calendar ( 20 Mar – 24 Mar) All time is in Australia AEST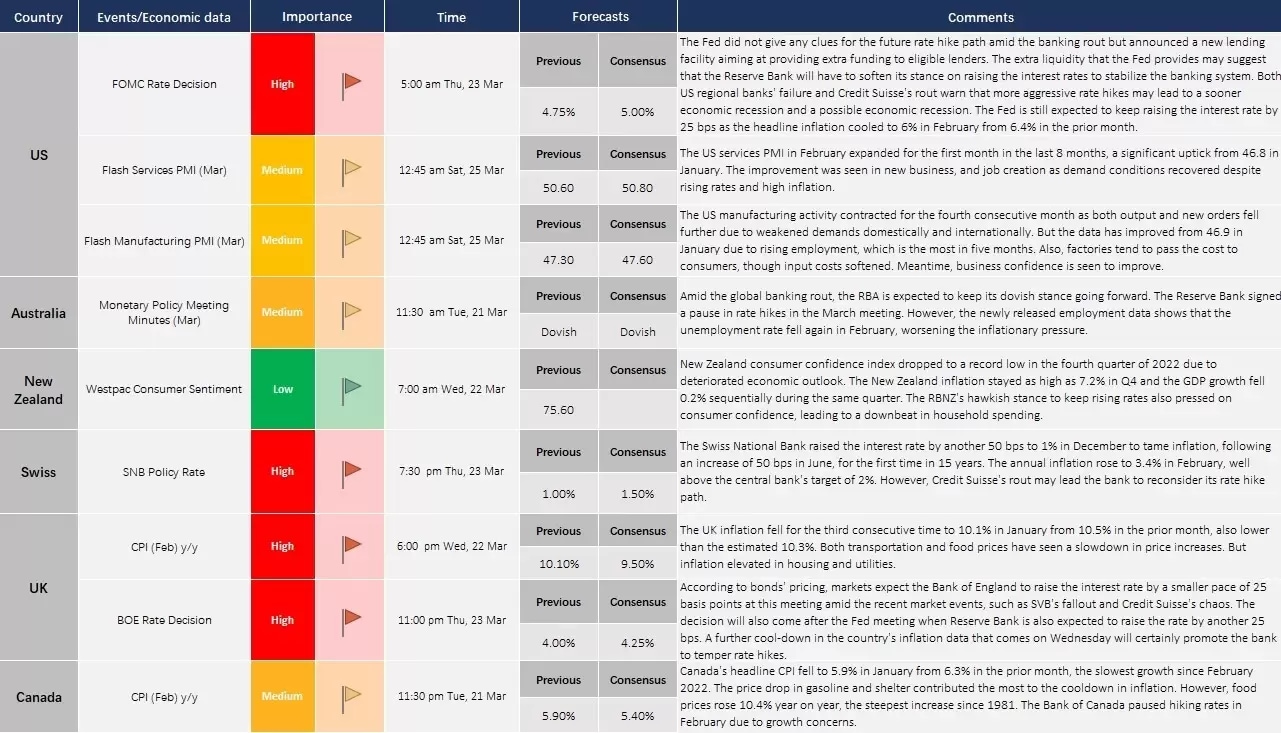 Click to enlarge the table