Most of the major stock markets finished lower for the week as economic concerns sparked a broad selloff in risk assets. And a jump in oil prices complicated the inflation outlook. In the meantime, though Friday's non-farm payroll signs that the labour market somewhat softened, hiring was still relatively resilient. The data may point to ongoing rate hikes by the Fed in its next meeting. For those market bulls, it is worth keeping cautious of the US March CPI data this week. Also, the US earnings season will kick in with big banks, including JPMorgan Chase, Citigroup, and Wells Fargo, reporting their first-quarter performance on Friday. After the bank turmoil that roils the global markets in early March, these bank earnings results will particularly be in the spotlight.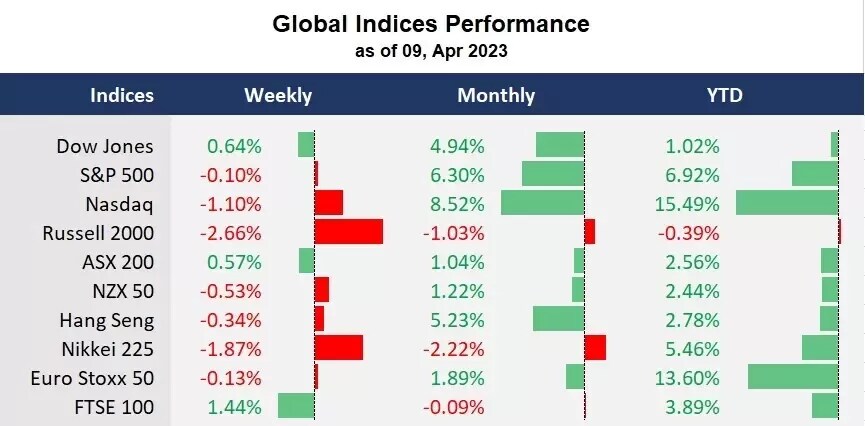 Click to enlarge the table
What are we watching?
The US dollar bounces: The US dollar index fell for the fifth week amid bets for a sooner Fed pivot. However, the king dollar bounced back to above 102 following Friday's job data as the US bond yields jumped on straightened odds for the Fed to continue the rate hike cycle.
Energy stocks regain strength: The unexpected OPEC+'s plan to further cut oil production caused a jump in oil prices, boosting energy stocks last week as the sector is expected to continue to benefit from the oil price increases.
Oil jumps: Oil futures surged after OPEC+'s announcement to further cut production by 1.16 million barrels per day, renewing concerns for an undersupplied market. Following Russia's retaliation action to cut output by 500,000 bpd and OPEC's previous cut of 2 million bpd, the supply reduction totaled 3.66 million.
Gold consolidates above 2,000: Gold futures rose 2.8% or 50 dollars per ounce last week on a softened USD and a further drop in the US bond yields. The precious metal, however, may face a pullback risk as the greenback may regain strength if the upcoming CPI does not pave the way for a sooner Fed pivot. 
The Global Economic Calendar (10 Apr – 14 Apr)