There is a large number of stock exchanges throughout the world, most of which operate throughout the weekdays, although the timetable of trading hours varies greatly depending on each country or region.

Stock market trading hours commonly run between Monday morning and Friday afternoon with a break on the weekend, meaning that traders must be able to pay close attention to market trends and predict changes for the following week. Stock markets can rise or drop depending on political, social and economic news across the UK and globally, and these updates can have an effect on trading hours for different regions.
For example, UK stock market hours will not reflect those in Hong Kong or Japan, due to the general difference in work politics and culture. Some stock exchanges also close for a lunch break, mainly those in Asia, whereas they do not in Europe and the Americas.

Stock market hours also vary compared to other financial markets. For example, forex market hours are generally 24 hours a day, from Sunday evening to Friday night. The three major trading sessions include locations in Tokyo (for Asia), London (for Europe) and New York (for North America). The overlap of these trading hours mean that clients are able to open and close positions at most hours within the forex market.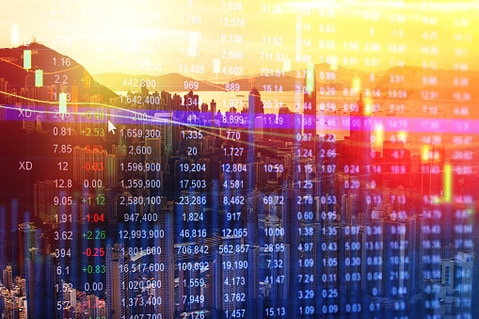 What are the stock exchange hours?

Below is a list of major worldwide stock exchanges and their opening times in both local and GMT trading times. The majority of these stock exchanges have a market capitalization of over a trillion US dollars and belong to the exclusive '$1 Trillion Club'. Together, they make up over 87% of the overall global market capitalization. However, some smaller but equally significant stock exchanges are also shown that do not belong to this statistic.

Please note that the market capitalization changes periodically for each stock exchange and trading hours are often subject to change, therefore the information and figures shown below are up to date as of April 2020.

| Stock exchange | Market cap. | Local trading time | GMT trading time |
| --- | --- | --- | --- |
| Australian Securities Exchange (ASX) | $1.5 trillion | 10.00 - 16.00 | 00.00 - 06.00 |
| Bombay Stock Exchange (BSE) | $2.18 trillion | 09.15 - 15.30 | 03.45 - 10.00 |
| Brazil Stock Exchange (B3) | $1.12 trillion | 10.00 - 17.30 | 13.00 - 20.30 |
| Euronext | $4.82 trillion | 09.00 - 17.30 | 08.00 - 16.30 |
| Frankfurt Stock Exchange (FSX) | $2.02 trillion | 08.00 - 20.00 | 07.00 - 19.00 |
| Hong Kong Stock Exchange (HKEX) | $4.6 trillion | 09.30 - 16.00 | 01.30 - 08.00 |
| Johannesburg Stock Exchange (JSE) | $1 trillion | 09.00 - 17.00 | 07.00 - 15.00 |
| Korea Exchange (KRX) | $1.46 trillion | 09.00 - 15.30 | 00.00 - 06.30 |
| London Stock Exchange (LSE) | $4.02 trillion | 08.00 - 16.30 | 08.00 - 16.30 |
| NASDAQ | $13.29 trillion | 09.30 - 16.00 | 14.30 - 21.00 |
| New York Stock Exchange (NYSE) | $23 trillion | 09.30 - 16.00 | 14.30 - 21.00 |
| Shanghai Stock Exchange (SSX) | $5.04 trillion | 09.30 - 15.00 | 01.30 - 07.00 |
| Swiss Stock Exchange (SIX) | $1.78 trillion | 09.00 - 17.30 | 08.00 - 16.30 |
| Tokyo Stock Exchange (TSE) | $6 trillion | 09.00 - 15.00 | 00.00 - 06.00 |
| Toronto Stock Exchange (TSX) | $2.39 trillion | 09.30 - 16.00 | 14.30 - 21.00 |
North and South America

In North America, the NYSE is the largest stock exchange in the world. Together with NASDAQ, TSX and the Bolsa Mexicana de Valores, this accounts for more than 40% of worldwide total value. The average US stock market hours reflect those in Europe and Oceania, starting at approximately 9am and closing at 5pm.

The South American stock market is modest in comparison with other competitors, given there is a trend that the largest stock exchange value falls above the equator. The B3 Brazil Stock Exchange represents a large percentage of overall value across this continent, having formed from the merging of two smaller stock exchanges in São Paulo, BM&F and Bovespa. The Santiago Stock Exchange in Chile changes its trading hours in the summer months, extending their closing time from 4pm to 5pm, with the hope of increasing volume to the stock markets from a longer opportunity.

Europe and Africa

European stock market hours are generally considered the longest of all regions, and they do not include a lunch break within trading hours. The largest exchange of the region by market capitalization is Euronext, which is a collective stock exchange that represents a number of European stock markets, including Amsterdam, Paris, Lisbon, Brussels and Dublin. This is followed closely by the London Stock Exchange, which is one of our most popular instruments to trade on. London stock market hours extend from 8am to 4.30pm.
JSE is the largest stock exchange in Africa, located in the southernmost country of South Africa, which has an agreement with the LSE to enable cross-dealing between the two stock exchanges. Other prevalent markets are located in Nigeria and Egypt.

Asia and Oceania

As you can infer from the table, stock markets in Asia tend to close slightly earlier than in other regions, mostly between 3pm and 4pm. They tend to stop for an hourly lunch break between 11.30am and 1.30pm local time, including the major exchanges in Tokyo, Shanghai and Singapore, as well as smaller island markets. However, the Korea Stock Exchange is an exception to this rule, as there is no lunch break. The lunch break ban was introduced in 2000 in a bid to encourage growth of the markets, as well as extending the stock market's close time to 3.30pm instead of 3pm. Increasing the availability of trading hours is a tactic used with the hope of increasing the volume of transactions made by traders throughout the day when other regions in Asia are closed, such as the Taiwan or Shenzhen stock exchanges.

Stock exchanges in Oceania, including the ASX and New Zealand Stock Exchange, open at 10am, which is relatively later than other stock markets worldwide. They also do not include a lunch break in a similar way to the Western markets.


Are stock markets closed on weekends?

Most stock exchanges around the world do not open for trading on the weekend and instead operate a consistent weekday trading routine. However, stock market trading hours can differ depending on the culture and religious practice of a region. For example, various Middle Eastern stock exchanges are open on either Saturdays, Sundays or both.

A notable stock exchange, Tadawul (Saudi Stock Exchange), opens its trading hours from Sunday to Thursday, as the population consider Friday and Saturday to be weekend days for rest. Both the Doha Securities Market in Qatar and Tel-Aviv Stock Exchange in Israel follow the same schedule, even if Tel-Aviv have changed their opening and closing times slightly to reflect European trading hours.

While most stock markets are closed for the weekend, it is still possible to trade other assets with CMC Markets on a fixed timetable, such as Bitcoin and cryptocurrencies. Please visit our markets page to find out more information about our weekend trading hours.
World stock exchange holidays

Stock market holidays may differ depending on each region, country and individual stock exchange. For example, stock market opening times over Christmas will only apply to regions in which the festivity is celebrated, most notably Europe, North America and Australia. In the same way, select public holidays such as Canada Day, Chinese New Year, Australia Day and Thanksgiving in the US will affect trading hours for all affected countries. Islamic New Year is a festivity celebrated across many Middle Eastern countries and will most likely affect the stock market trading hours for Israel, Kuwait and the UAE, among others.

Stock market bank holidays also apply to the London Stock Exchange. The markets periodically close on bank holidays including Good Friday, Spring Bank Holiday and Boxing Day, as well as having reduced trading hours on Christmas Eve to accommodate the morning only.

So, when does the stock market close for Christmas? In the United Kingdom, if Christmas Day falls on a Saturday or Sunday, the markets will automatically close on the Friday before, or in rare cases, the following Monday, for a certain period of time depending on the stock exchange.

How to trade on the stock market

Open a live account and choose between spread betting or CFD trading.
Browse our collection of stocks and conduct your own research into the best trading strategies and practices of either technical or fundamental analysis. This is particularly important when trading in volatile markets or periods of instability as you will need to evaluate the market thoroughly before you open a position.
Decide whether to go long and 'buy' if you speculate the stock's value will increase, or go short and 'sell' if you think the stock's value will fall.
Research the best stop-loss method for your position and apply it to the trade, as this is a very important aspect of money and risk management. This may help to decrease losses.
Share trading with CMC Markets

If you are interested in trading on the price movement of shares and following the above steps, then read our complete guide to share trading. With CMC Markets, you can spread bet and trade CFDs on stocks from blue chip companies including the 'Big Four' technology brands. Conversely, penny stock trading is seen as a more speculative investment that could pay off in the long term if the company achieves success, although it could go in the opposite direction and result in heavy losses. Penny stocks are small companies that usually value less than one dollar in the stock market; their worth can either increase by colossal amounts with time or diminish within the stock market.
Disclaimer
CMC Markets is an execution-only service provider. The material (whether or not it states any opinions) is for general information purposes only, and does not take into account your personal circumstances or objectives. Nothing in this material is (or should be considered to be) financial, investment or other advice on which reliance should be placed. No opinion given in the material constitutes a recommendation by CMC Markets or the author that any particular investment, security, transaction or investment strategy is suitable for any specific person.