How to trade bitcoin
When looking to trade bitcoin there is an alternative to using exchanges to own and store the currency. Instead, you can trade on bitcoin price movements via spread betting or CFD trading. You take a position on the price of the bitcoin market to rise or fall, based on our 'buy' and 'sell' prices. 
Follow our 'step-by-step guide to trading bitcoin' below to find out more.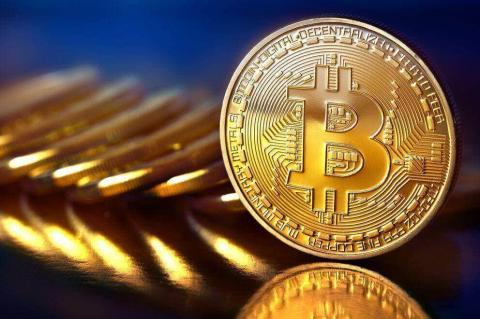 ​Bitcoin has guided the direction of most cryptocurrencies in the crypto market. It's the go-to cryptocurrency that many can name, but few properly understand. Known to be volatile, traders can experience massive shifts in price when trading bitcoin, which contributes to both its appeal and risk.

​​This article is aimed at people who wish to learn how to trade bitcoin. Following this step-by-step guide will help you to make informed decisions in the bitcoin market. To understand how bitcoin works, visit our what is bitcoin article to learn more about the digital currency that steers this market.
Methods of trading bitcoin
Trading bitcoin is split into two major categories. The first involves buying bitcoins on an exchange, in the hope of selling them at a later date for a profit. This process relies heavily on bitcoin exchanges' matching servers, which can be unreliable. The second bitcoin trading method is based on the speculation of price movements without actually owning the currency. This method is practised via a spread betting or CFD trading account.

Bitcoin exchanges

Exchanges that hold your bitcoin store large amounts of bitcoin and other cryptocurrencies, making them prime targets for cyber theft. Hacking and theft from cryptocurrency exchanges is a common practice; on average a major exchange was hacked every other month in 2018. Some notable cyber thefts in 2018 include $534,800,000 stolen from Coincheck in January that year, and $195,000,000 from BitGrail in February1. So there is clearly a risk in holding bitcoins on an exchange.
​
Cryptocurrencies operate within an infrastructure characterised by fewer regulations compared to conventional financial markets. This gives rise to a number of scams, and a lower degree of trust among investors. Also, due to its unregulated nature, there is very little support from other parties. This support can be needed as bitcoin's matching servers on some exchanges are unreliable, which could result in a trade execution that is not accurate, as it is not updated promptly. 
Bitcoin spread betting
Spread betting enables you to trade on the price movements of bitcoin tax-free. When spread betting bitcoin you will take a position on the price of bitcoin and whether you believe it will rise or fall.
​
Spread betting is a leveraged product, meaning you only need to front a small amount of capital as a deposit to cover the full price of the trade. This gives you greater scope to open positions in other financial instruments, spreading your risk. As a leveraged product, spread betting profits and losses are amplified as they are based on the full trade value. To learn more about spread betting visit our what is spread betting page.
​
Spread betting bitcoin is a tax-efficient way of trading the price movements of bitcoin, as it is usually free from capital gains tax2. However, it can only be used by customers who are residing in the UK or Ireland.
Bitcoin CFDs (contracts for difference)
​CFD trading is a derivative product based on financial leverage, similar to spread betting. However, CFDs require you to pay capital gains tax. CFDs are available globally, whereas spread betting is just available in the UK and Ireland. For a comprehensive explanation, visit what is a contract for difference.
​
​CFDs can be used as a hedging tool, where you can offset any losses incurred with a physical trade in the underlying market by opening a 'sell' CFD position, for example. This could be particularly useful in volatile markets, where prices are subject to regular and sometimes sudden movements. Subject to your circumstances, you should be able to offset any losses you make against your profits for tax purposes2.
Bitcoin trading strategies
What is the right bitcoin trading strategy for you? It largely comes down to your level of experience, free time, capital invested and daily discipline. Everyone has different goals when trading bitcoin and some people will re-structure their responsibilities around trading, whereas others will want trading to work around their responsibilities.

If you plan on investing in or trading bitcoin, you are likely to utilise one of the following methods.

Day-trading bitcoin
Day-trading bitcoin refers to the buying and selling of bitcoin in the same trading day. The strategy involves placement of long and short trades in an attempt to capitalise on the speculation of price movements. A day trader will close all of their positions at the end of the trading day, ensuring no positions are open overnight.

Day trading is perhaps the best option for traders who are looking to build a career trading markets. It can be very technical, takes a lot of time and has a steep learning curve. However, for those who are very dedicated, and have the focus to regularly analyse charts, this may be for you.
Swing-trading bitcoin
Swing trading is about buying and selling bitcoin based on market movements, and holding on to that position until the trend slows down or you witness a trend reversal. Unlike day trading, positions can be held from a couple of days to a few weeks.

The swing trader commonly utilises technical analysis and rarely analyses a market's fundamental data. Utilising technical signals such as Fibonacci retracement and moving average convergence divergence (MACDs), a swing trader makes their profit from capitalising on trends the moment they form.

Swing traders generally experience more risk in comparison to day traders, as the positions they hold are open for longer periods than day traders. However, this trading method often requires less time commitment as trades typically last for several weeks. 
Scalping bitcoin
Scalping bitcoin is a trading strategy that involves placing frequent trades over extremely short periods, sometimes just minutes long. Scalping traders attempt to capitalise on small market movements.

When scalping bitcoin, you should always have a clear exit strategy, as one trading loss could counteract any small gains you have made. With discipline, scalping bitcoin can be a lower risk trading strategy. This is because spreading your capital over a large number of small trades diversifies your capital risk. 

Expert Advisors for bitcoin markets
Traders often use algorithmic trading or trading automation in forex markets. By utilising a feature on the MetaTrader 4 (MT4) platform known as 'Expert Advisors' (EAs), traders can make use of EAs for bitcoin. These programs run based on algorithms you set that can monitor, evaluate and trade on financial markets. Based on the filters you set, EAs will find opportunities and seize them.
​
EAs can also be used to manage risk, as they remove the emotional aspect from trading, and can set risk-management conditions such as limit orders, stop-losses and take-profit.
​
As the cryptocurrency markets are less mature than many of the popular markets such as forex and shares, there is generally less historical data to base algorithms on. Pair this with the volatile, unpredictable nature of cryptocurrencies and you will see that Expert Advisors for bitcoin is relatively more risky.
Step by step guide to trading bitcoin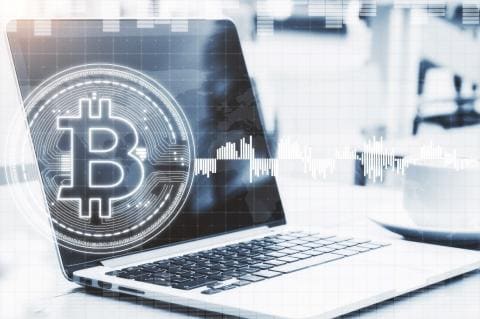 Open a CMC spread bet or CFD account. To place bitcoin trades via spread betting or CFDs, you can open an account with CMC Markets. Open a live account to start trading bitcoin, though it may be prudent to practise with a demo account first. 
Choose a bitcoin trading method. Choosing between a spread betting or CFD account depends on your situation. Weigh up the pros and cons of spread betting and CFDs and pick based on your individual needs.
Devise your bitcoin trading strategy. Undertake research to help you determine how you're going to trade on bitcoin. This will help outline your position sizing and entry/exit strategies in your trading plan. Not sure which strategy suits you? Choose based on your free time, amount of capital invested, level of experience and discipline. 
Build your trading strategy plan. After you have chosen your bitcoin trading strategy you can take it a step further and start defining your trading plan. A trading plan can help you make decisions based on objective information you have delineated before entering a trade. This helps you make consistent decisions from your plan with the aim of not entering or exiting a trade too early or late. Want some help designing your trading plan? We have a guide that can help you create a trading strategy plan.
Research the markets. When trading bitcoin or any other financial instrument, you should try to be aware of any news concerning the security and macroeconomics of the market, industry and/or country. This awareness can support the forecasting of future trends and offer insight into the causes of an instrument's price movement. Our news and insight tools and news and analysis section may help you to stay on top of developments in the bitcoin market and surrounding influences.
Trade and monitor. Next, you can place a bitcoin trade that's underpinned by your market research and trading plan. You'll want to input your position sizing and add risk-management options, like stop-loss and take-profit orders. These trading conditions can play a pivotal role in successful risk management. 
Open a demo account today.
Bitcoin trading platform
The platform you trade on can make a huge difference to your ability to analyse and execute trades efficiently. Our Next Generation platform is suited to all levels of experience, and can easily be modified to suit your specific trading needs.

Our platform won the award for Best Platform Features, and was ranked highest for charting, based on user satisfaction among spread betters, FX and CFD traders in the 2019 Investment Trends report1. Equipped with over 100 technical indicators and an abundance of chart patterns and types, you can access all the relevant features you need to conduct thorough technical analysis.
Bitcoin mobile app trading

You can trade on the go with our powerful mobile trading applications for iPhone, Android and iPad. Trade on bitcoin prices from the comfort of your phone, with over 40 technical indicators and full order ticket functionality. 
Disclaimer

CMC Markets is an execution-only service provider. The material (whether or not it states any opinions) is for general information purposes only, and does not take into account your personal circumstances or objectives. Nothing in this material is (or should be considered to be) financial, investment or other advice on which reliance should be placed. No opinion given in the material constitutes a recommendation by CMC Markets or the author that any particular investment, security, transaction or investment strategy is suitable for any specific person.

​CMC Markets does not endorse or offer opinion on the trading strategies used by the author. Their trading strategies do not guarantee any return and CMC Markets shall not be held responsible for any loss that you may incur, either directly or indirectly, arising from any investment based on any information contained herein.

1Ranked highest for Charting, based on highest user satisfaction among spread betters, CFD and FX traders, Investment Trends 2019 UK Leverage Trading Report.

2Tax treatment depends on your individual circumstances. Tax law can change or may differ in a jurisdiction other than the UK.