The Bank of England, Reserve Bank of Australia and Reserve Bank of New Zealand have recently cut their official interest rate whilst the Bank of Japan and European Central Bank have kept their interest rates sitting in negative territory. The only unknown at the moment is the Federal Reserve. Will the FED increase the fed rate in the near future with the "currency war" still going on around the world? If yes, what would it mean for the strength of the greenback? In today's blog, I would like to use technical analysis to provide a possible answer to this question. Let's look at three USD pairs …
USD/JPY presents the best trending condition now across the USD pairs with the weekly and monthly charts in sustained downtrends. The Daily chart of USD/JPY has also broken out of a two-week consolidation. The last point of support is the 100.00 major psychological level, which has recently been tested 3 times in a row. How am I looking to trade this? Well, a confirmed breakdown with a firm close below 100.00 on the daily chart would be an essential criterion. Then I will look for shorting opportunities when price retests and confirms this major 100.00 level as resistance. A potential target would be 95.00 which has been another major support level on the monthly chart.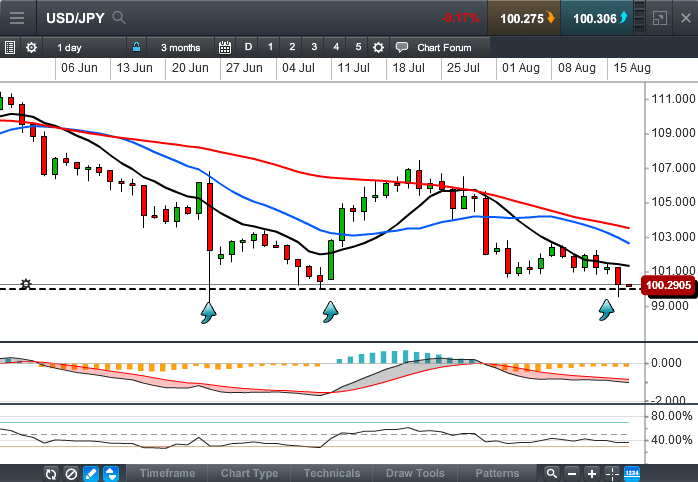 There has been a tough battle between bulls and bears around the 1.3000 level on USD/CAD. This level has been a major support/resistance level and a psychological level on the monthly chart for 5 months now. The weekly chart depicts the story between buyers and sellers more clearly as every time a weekly candle has closed above the 1.3000 level, it hasn't been able to sustain the bullish momentum the following week. Instead, the theme goes that any bullish advances are met by a brutal bearish attack. This lack of "follow through" signals it's more likely that the sellers are starting to gain the upper hand now. Currently, price is trading below 1.3000 and if it finishes this week with a close below this level, then it will be the first 2 down weeks in a row –  which is a more convincing sign that price is set to continue lower.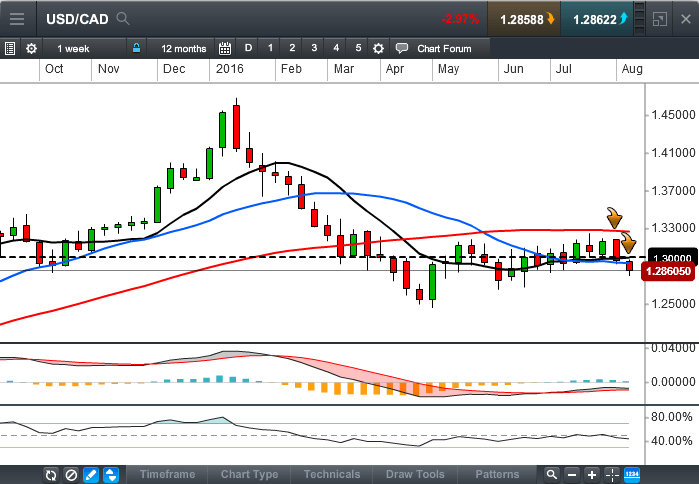 Another strong trend is in place on NZD/USD as price is in a well formed uptrend on the weekly and monthly charts. What's more significant is that price remains above the 0.7000 psychological and major support/resistance level that was cleared three months ago. The NZD/USD daily chart is currently range bound, but price continues to press against the top of the range around 0.7300. Should price manage a break above 0.7300 with strong force, then the daily chart will resume its longer term uptrend. Any retest of 0.7300 after the break could offer me potential long trade opportunities with a target set at the weekly major resistance level of 0.7700.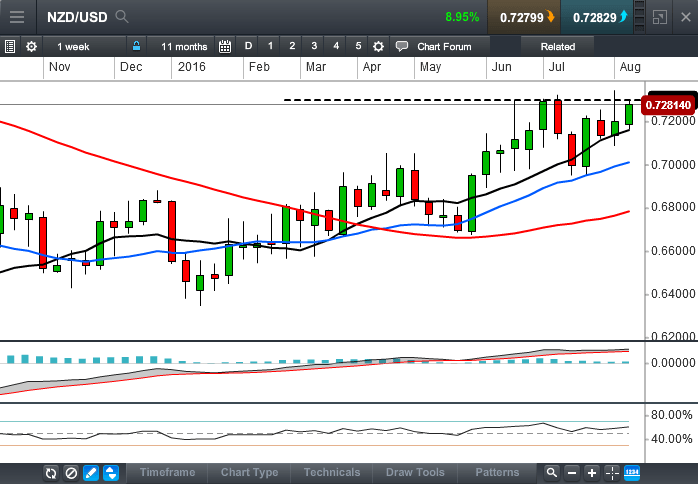 All three of these USD pairs point to the potential for continued USD weakness. Other USD pairs such as EUR/USD and USD/CHF are also echoing this theme of a weaker dollar.