Facebook parent company Meta Platforms [META] has hit a sticky patch. Although its shares have rebounded from last year's low, they remain way below pandemic-era highs amid investor concerns over cuts in digital ad spending, layoffs, a questionable metaverse push, and competition from TikTok. 
The company is expected to announce year-on-year declines in revenue and earnings when it reports Q4 results after the bell on Wednesday. Consensus estimates compiled by Zacks Investment Research point to per-share earnings of $2.21 on revenue of $31.44bn, down from earnings of $3.67 on revenue of $33.67bn in the year-ago quarter.
Meta shares sit below pre-pandemic levels
The Meta share price, which closed at $151.74 on Friday, has more than halved in the past 12 months, versus an 18% decline in the Nasdaq Composite over the same period. The shares have fallen more than 60% since their 2021 high, and are down more than $200bn on their pre-pandemic market value. 
Why such sharp declines? One cause has been a drop in online ad spending. Advertisers increased their digital ad spend during the pandemic, but have since cut back for various reasons, including the post-lockdown return to high street shopping, higher operating costs due to inflation, and tougher Apple privacy rules which limit the amount of Meta user data that advertisers receive. 
Meta CEO Mark Zuckerberg acknowledged his company's situation in a staff memo announcing more than 11,000 layoffs in November: "At the start of Covid the world rapidly moved online and the surge of e-commerce led to outsized revenue growth," wrote Zuckerberg. "Many people predicted this would be a permanent acceleration that would continue even after the pandemic ended. I got this wrong," he confessed. 
Meanwhile, investment in the metaverse is incurring huge losses. "During Q3, Meta's Reality Labs division, which produces virtual and augmented reality equipment, continued to haemorrhage cash," wrote our chief market analyst Michael Hewson on Friday, highlighting that the unit's third-quarter loss came in higher than expected at $3.67bn. Similarly, the Guardian's Nils Pratley commented in November that Zuckerberg was "squandering billions of dollars on building his mysterious metaverse," even though many shareholders "wish he'd stick to the safer game of flogging advertising space." 
Another drag on the share price is the threat of TikTok, a popular app among under-30s that is pulling users – and crucially advertisers – away from Meta-owned Facebook and Instagram. "We expect TikTok's market share of social media ad spending to increase 3.2 points from 2022 to 2024, with Meta's to drop 4.1 points during that period," wrote Jeremy Goldman in an article for market research site Insider Intelligence earlier this month. 
Where next for the Meta stock price?
Despite these challenges, it's not all doom and gloom for Meta shares. Since hitting a seven-year low of $88.09 on 4 November, the stock has risen 72% to Friday's closing price. The bounce has been driven by dip-buyers who continue to see upside in the long-term potential of digital advertising. US financial services firm Cowen recently told MarketWatch that Facebook's ad sales could reach $115.9bn in 2027, even though its worldwide market share may have dropped to 17.6% amid competition from rivals like TikTok.
"Meta shares have undergone a solid rebound," says Hewson. "However, for the momentum to be maintained, we need to see a move and close above the 200-day simple moving average [the blue line on the chart below]. That could send the price towards $180."
To make those gains, the price would first need to break above a key resistance level around $160. This area "acted as decent support throughout the summer of last year," adds Hewson.
Meta Platforms price chart, October 2021 - present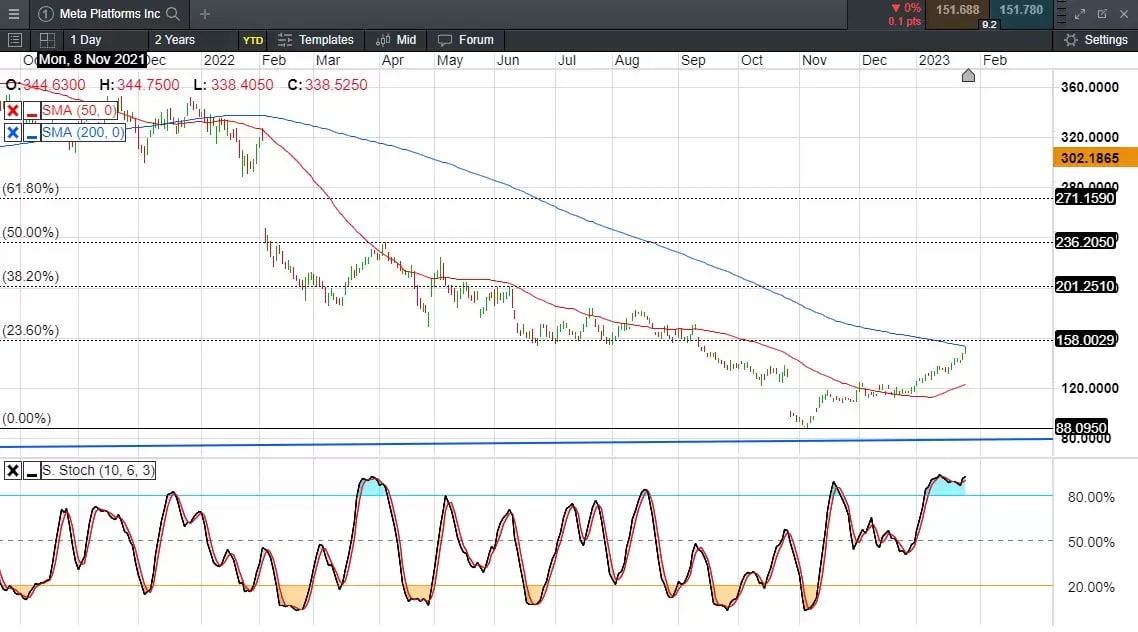 Source: CMC Markets
Most analysts remain bullish on Meta. The views of 58 analysts, as collated by the Financial Times in January, show that 14 analysts rated the shares a 'buy', 21 went for 'outperform', 19 rated them a 'hold', three said 'underperform', and one ranked them a 'sell'. 
However, their average price forecast points to a possible decline over the next year. Among the 50 analysts offering a 12-month price target for Meta shares, the median estimate of $150 represents a 1.1% fall from Friday's closing price of $151.74. The high estimate of $392 implies a 158.3% increase versus that closing price, while the low estimate of $80 would mean a 47.3% decrease. 
Views on Meta seem to hinge on timeframes. In the near term, concerns over ad spend, the viability of the metaverse, and competition from TikTok could weigh on the shares, potentially causing some price volatility. However, taking a longer view, Meta could be well placed to benefit further from the ongoing shift towards digital advertising. And who knows? The metaverse may even catch on, if the veil of mystery that surrounds it ever lifts. Meta will announce Q4 earnings after US markets close on Wednesday 1 February.