The US stock markets rebounded after a two-week losing streak as tech stocks rebounded amid dip-buys in AI stocks. Nvidia shares jumped 7.1%, AMD advanced 4.1%, and Intel rose 2.3%. On the other hand, the US bond yields climbed further, with the yield on the 2-year Treasury spiking 8 basis points to nearly 5%, the highest seen in early July and March this year, also the highest since 2007. This indicates that markets continue to price in higher for longer interest rates as inflation shows signs of re-elevation.
In FX, the US dollar index rose to above 103 for the first time since 6 July following a sharp selloff in the Chinese stocks markets on Monday, with both the Japanese Yen and the Chinese Yuan weakening to the lowest level against the dollar since November 2022. The strong dollar also pressed on commodity prices, including gold and oil.  
Asian equity markets fell broadly on Chinese stock woes before paring some early losses on Monday. The largest Chinese private fund managers missed payments on several high-yield investment products pooling with real estate, stocks, bonds, and commodities. Futures point to a mixed open across the region, with Nikkei 225 futures up 0.82%, the ASX 200 futures up 0.17%, and the Hang Seng Index futures down 0.66%. 
Price movers:
6 out of 11 sectors finished higher in the S&P 500, with Technology and Communication Services, leading gains, up 1.85% and 1.04%, respectively. Utilities Real Estate, and Consumer Staples were the biggest laggards, down 0.83%, 0.54%, and 0.52%, respectively.
Russian ruble fell to a 17-month low to above 100 amid a strengthened USD and loose monetary policy. Russian ruble slumped about 30% against the US dollar this year as the country's trade surplus fell 85% year on year in July due to Western allies' sanctions.
UBS's shares jumped 1.8% to the highest level since early March on the news that the bank will pay US$1.4 billion in civil penalties over fraud misconduct related to the offering of residential mortgage-backed securities between 2005 and 2007 and led to the global financial crisis.
WTI futures were under pressure on strong USD and China fears. Oil prices retreated from their 9-month high levels last week as the markets were probably overbought. WTI futures faced resistance of about 85.    
ASX and NZX announcements/news:
HealthCo Healthcare & Wellness REIT (ASX: HCW) reported FY23 FFO of 6.9 cpu, or A$25.5 million, up 13% annually, with the DPU at A$0.076. The FY24 FFO guidance is 8.0 cpu, a 16% up from FY23 and the DPU guidance is A$0.08, a 5% growth from FY23.
Cochlear Limited (ASX: COH) reported A$1.9 billion in sales revenue for FY23, up 16% annually, with a dividend of A$3.30, up 10% from a year ago.  
ASX performance:

Source: Bloomberg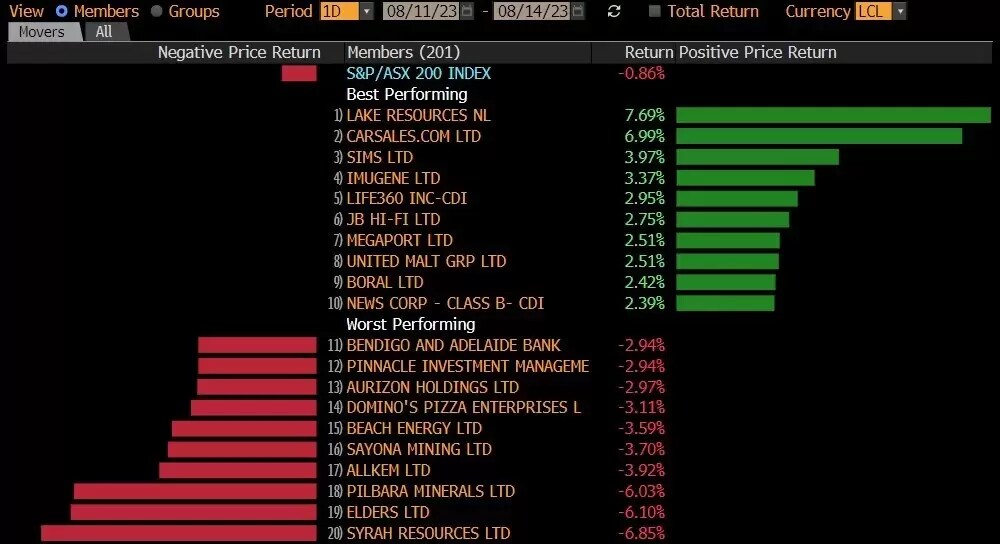 Source: Bloomberg
Today's agenda:
RBA Monetary Policy Meeting Minutes
Wage Price Index for Q2
China's Industrial Production, Retail Sales, Fixed Asset Investment, and Unemployment Rate for July
Maximize your potential gains! Take immediate action and seize the investment opportunities that await you. Login to the platform now!