Macro Scenes:
Wall Street had a relatively muted session following Moody's downgrade of the US credit rating, and the tech rally took a breather ahead of the US October inflation data. Consensus calls for a sharp decline to 3.3% year-on-year from 3.7% in September for the headline CPI. But the core CPI may stay elevated, which could keep the Fed on its hawkish tone on the interest rate.
The US dollar was slightly lower against most of the other major G-10 currencies due to a retreat in the US bond yields. The US faces a deadline for the debt ceiling negotiation, which risks a government shutdown at the end of the week.
Crude oil extended gains for the second straight trading day, but both Brent and WTI futures were below key resistance of the 50-day moving average.  
The Japanese Yen spiked against the USD on bets for the BOJ's intervention on the exchange rate. This caused a brief plunge of USD/JPY to 151.20 before bouncing back to about 151.70.
Chart of the Day: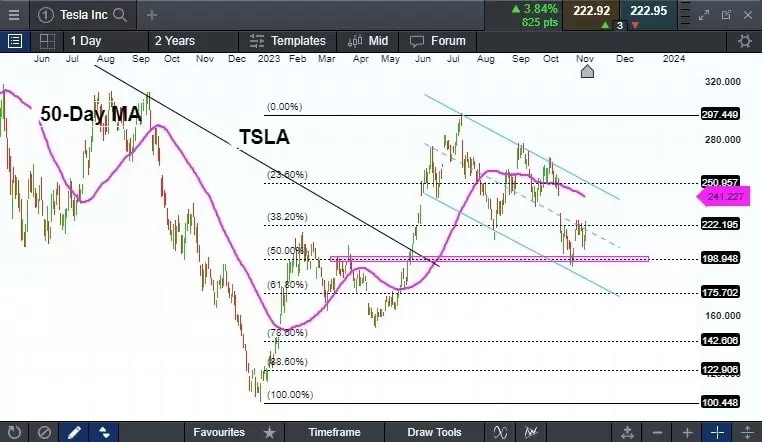 Source: CMC Markets as of 14 November 2023
Company News:   
Boeing (NYSE: BA) jumped 4.5% after United Emirates Airline announced an order of 55 additional 777X wide-body jets, worth of US$52 billion aircraft. The Chinese government is also considering ending its freeze on Boeing's 737 jetliners, which is expected to unveil the decision at the APEC Summit in San Francisco.
Tesla (NDX: TSLA) rose nearly 4% after it updated the terms of its cybertruck order agreement that buyers cannot sell the vehicle within the first year of purchase without Tesla's permission.
Nvidia (NDX: NVDA) rose slightly, inches from an all-time high on the nes the chipmaker unveiled the H200, an upgrade of the H100, which is used by OpenAi to train its ChatGPT-4.
Exxon Mobil (NYSE: XOM) was up 1% after the oil and gas giant unveiled a plan to become "a leading producer of lithium" through a drilling operation in Arkansas, branded as Mobil Lithium. The company's first lithium production is targeted for 2027.
ASX Corporate Actions:
NAB is on Dividend Ex-Date. Div: A$0.84. Pay Date: 15/12/23
Today's Agenda:
New Zealand FPI for October
Australia's NAB Business Confidence
UE Flash GDP
US CPI for October