Wall Street extends the third straight trading day gains amid the US midterm election optimism after a volatile session due to a plunge in cryptocurrencies. While hopes for Republican control in House or Senate pushed up equity markets, sending both bond yields and the US dollar down, an FTX liquidity crunch-induced crash in cryptocurrencies weighed down risk assets, dragging major US indices off session highs. Gold futures popped more than $30 dollars per ounce due to a softened US dollar, to a one-month high. The crude oil, however, tumbled nearly 3% amid China's widened Covid lockdowns. Cryptocurrencies experienced another liquidity crunch-induced selloff after the so-called stable Coin, LUNAUSTD collapsed in June amid FTX's native token, FTT's 80% crash.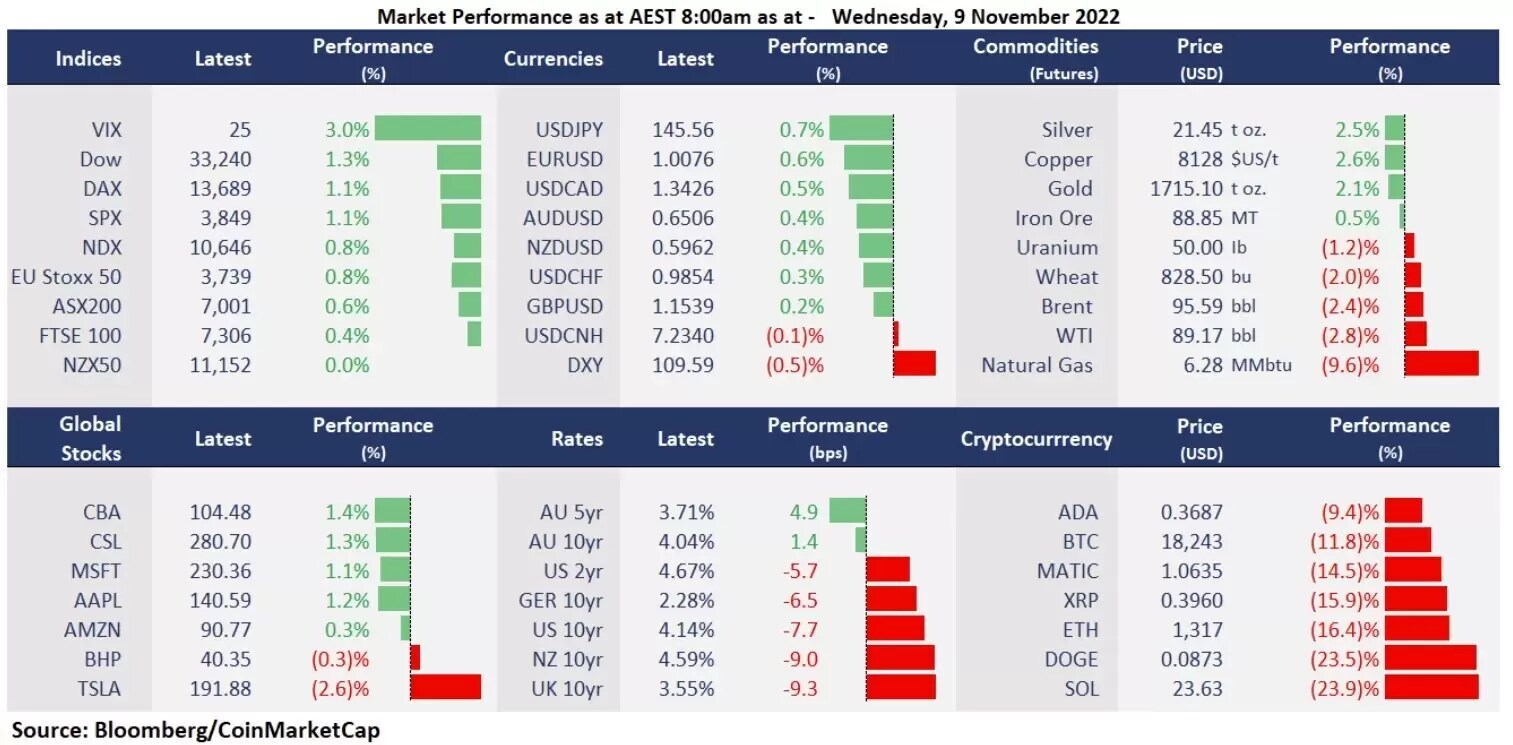 Click to enlarge the table
Industrials and Materials continued to lead Dow to outperform SPX and Nasdaq. 10 out of sectors in the S&P 500 finished higher, with Materials, technology, and Industrials leading gains, up 1.7%, 0.92%, and 0.86%, respectively. Consumer discretionary was the only sector that closed in red, down 0.3% due to a third straight trading day drop in Tesla's shares. 
Bitcoin plunged 12% amid Binance's acquisition offer to Sam Bankman-Fried's FTX to rescue the company from a liquidity crisis. The FTX native token, FTT plunged 80% in the last 24 hours on Binance CEO Changpeng Zhao's announcement to offload the company's entire holding of FTT.
Disney shares fell 6.4% in after-hours trading due to a miss on both EPS and revenue expectations in the third quarter, despite a positive outlook in its streaming industry, Disney +. The company's EPS is at $0.30 vs. the $0.55 estimated, and the revenue is at $20.15 billion vs. the $21.24 billion expected.
Most Asian equity markets are set to open mixed. ASX futures were up 0.49%, Nikkei 225 futures were slightly down 0.04% and Hang Seng Index futures were up 0.19%. The Chinese CPI and PPI data will be on close watch in today's Asian session.
Gold popped more than $30 to a one-month high amid a drop in the global bond yields and a softened US dollar. The precious metal had a major bullish break out on the key resistance of 1,680, potentially reversing its multi-month downtrend since March.
Crude oil slumped 3% amid China's expanding Covid lockdowns, and US midterm elections, ahead of the key US CPI data, among which darkened demand outlooks in China may have a major impact on the oil prices.