Macro Scenes:
The US stock markets extended gains amid further encouraging inflation data. The US October Producer Price Index (PPI) declined 0.5% month on month, the deepest drop since April 2020. However, the retail sales data came to be slightly stronger than expected. The diverging indicator may point to the "soft-landing" scenario for the US economy.
The US government shutdown risk receded as the House of Representatives passed a bill to fund the government until 18 January. The bill is sent to the Senate, which is expected to pass.
The US Treasury yields moved higher after a sharp decline on Wednesday as positive retail data took "higher for longer rates" fears back on the table.
The US dollar rebounded after Wednesday's biggest one-day slump in more than one year. This pressed on the Eurodollar and the British Pound as the UK October CPI fell more than expected, down 4.6% year on year, the lowest in two years.   
Gold extended the second-straight day gains due to slumped bond yields and weakened USD. Spot gold rose above the key resistance of 1,945 again.
Crude oil prices accelerated decline after the US reported higher-than-expected inventory data. The US crude production ramped up to a record of 13.2 million barrels per day.  
Chinese stock markets are set to open higher, buoyed by better-than-expected Chinese economic data and major Chinese tech companies' positive earnings reports. The Hang Seng Index futures rose 1%. The ASX 200 futures were up 0.05%, pointing to a higher open following Wall Street's rally.
Chart of the Day:
JD.com (NDX: JD ADR), daily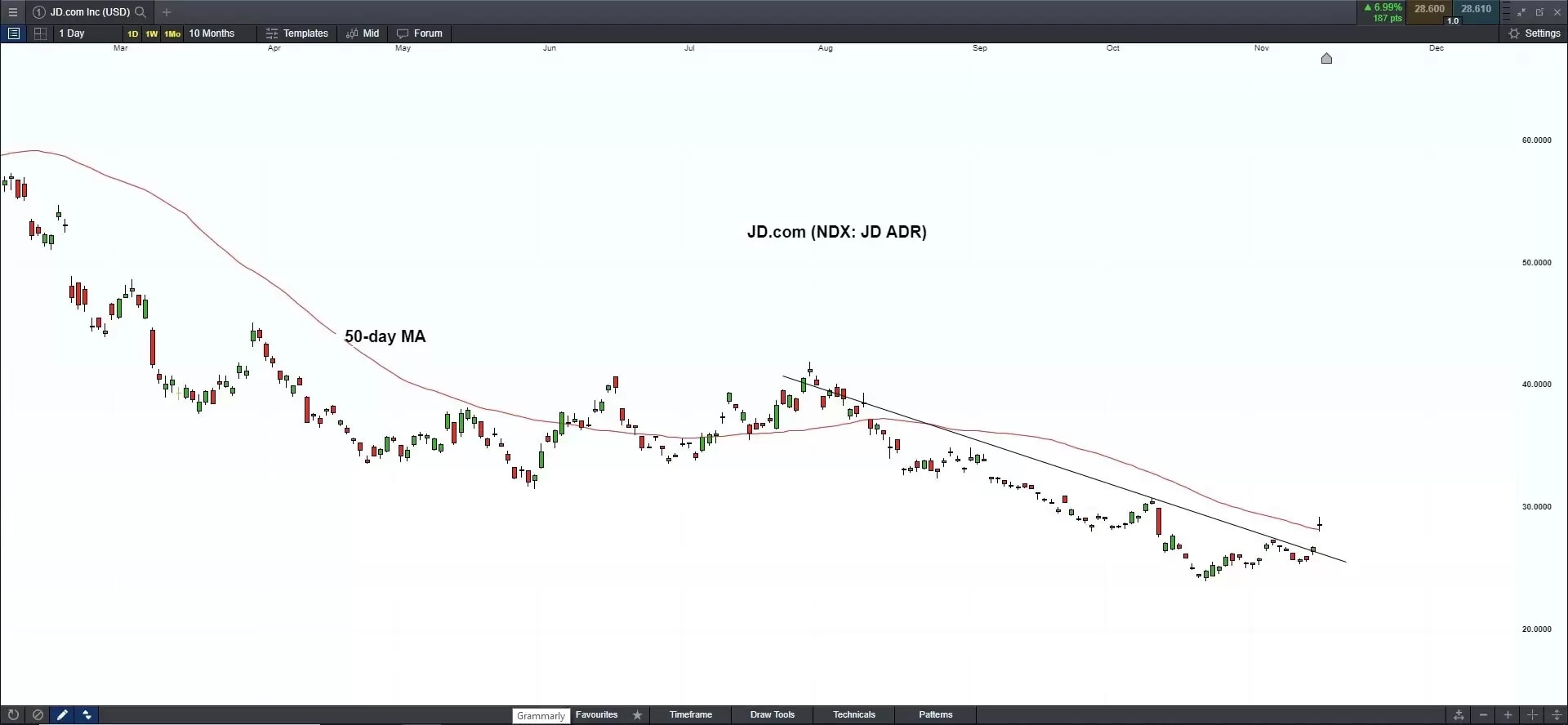 Source: CMC Markets as of 16 November 2023
Company News:   
Microsoft (NDX: MSFT) was flat after it introduced an in-house AI chip, Maia 100, which could compete with Nvidia's AI GPUs. It also unveiled a Cobalt 100 Arm chip for general computing tasks, which may compete with Intel processors. Nvidia's shares fell 1.8% on the news.
Tencent Holdings (HKG: 0700) rose 4.5% after the Chinese social media giant reported a profit that topped expectations. The biggest contributor to Tencent's growth is gaming and advertising, lifting the overall revenue by 10% to 154.6 billion yuan in the third quarter.
JD.com (HKG:9618, NDX: JD) jumped 6% on the Hong Kong Stock Exchange and 7.8% on the US stock markets amid better-than-expected third-quarter revenue. The Chinese e-commerce firm posted earnings per share of 3.7 Yuan on revenue of 247.7 billion Yuan, up 1.7% from a year ago. Both beat estimates.  
Today's Agenda:
Australia's October employment data
US Unemployment Claims