Wall Street fell on a broad-based sell-off as disappointing tech earnings and a slew of weak economic data sparked concerns about economic growth.
Tesla's shares tumbled 10% following its first-quarter earnings results, leading to tech stock losses. On the economic front, the jobless claims for last week rose to the highest since August 2022, and the Philly Fed Manufacturing index fell to its lowest level since May 2020.
Risk-off sentiment lifted haven assets, such as bonds, gold, the Swiss franc, and the Japanese yen, and sent copper, oil, and cryptocurrencies down. The CBOE Volatility Index rose 4.3% to 17.17, suggesting risk sentiment soured, though it is still at a relatively low level.
The Fed funds rate-sensitive bond yields, the US 2-year Treasury yield, fell 11 basis points to 4.15%. The US dollar weakened against haven currencies but strengthened against the commodity currencies, such as the New Zealand dollar and Canadian dollar. New Zealand's first-quarter CPI cooled more than expected, pressing down the NZD. And a slump in oil prices pressured the Canadian dollar. 
Asian markets are set to open lower. The ASX 200 futures were down 0.52%, the Hang Seng Index futures fell 0.59%, and Nikkei 225 futures slipped 0.17%.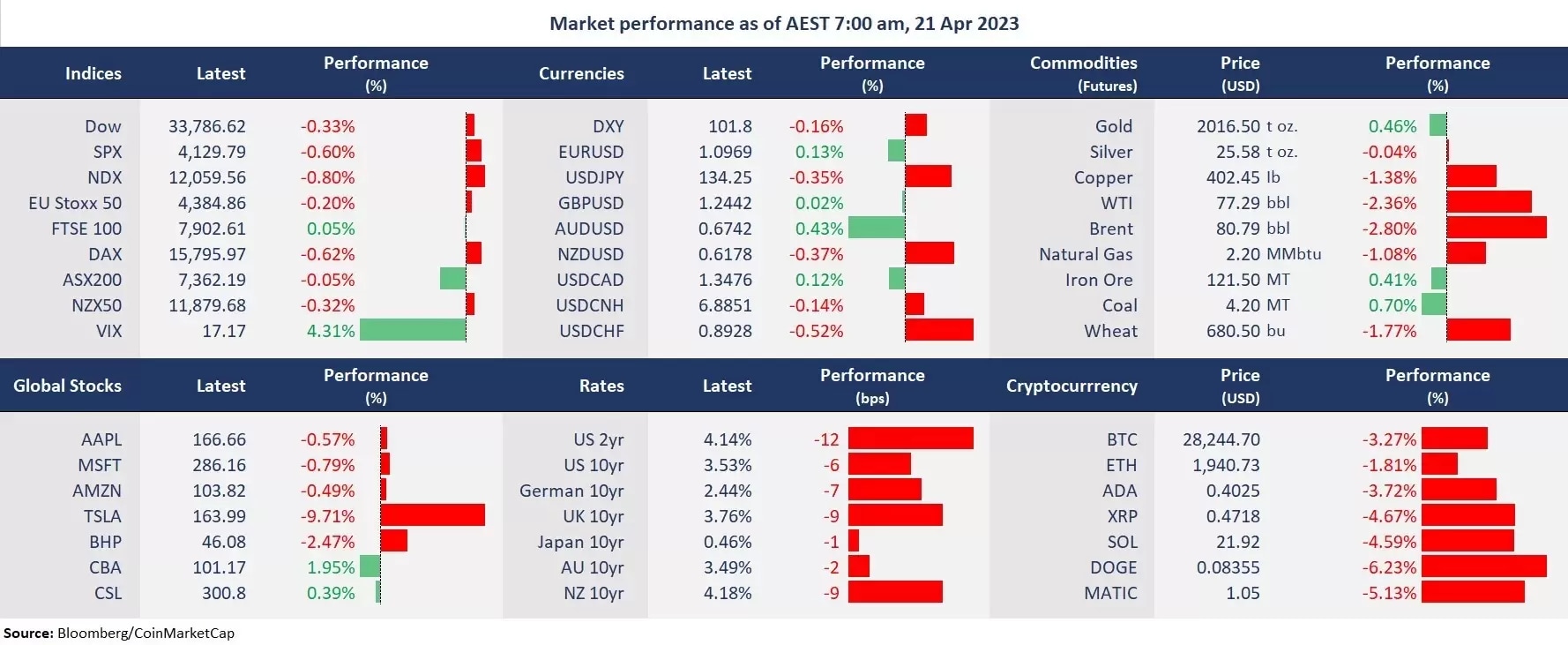 Click to enlarge the table
Price movers
10 out of the 11 sectors in the S&P 500 finished lower, with the growth sectors, including consumer discretionary, technology, and telecommunication services, leading losses. Real estate slipped by 4.2%. Defensive sectors, such as consumer staples (+0.06%) and utilities (-0.05%), outperformed as investors sought safety.
 
Alphabet's shares rose 1% after the company announced to build an AI-focused division, aiming to compete in recent flaring battles. Alphabet is merging an internal Google research team named Brain with DeepMind, which was acquired by Google in 2014. 
 
TSMC's ADR shares jumped 5.3% to just under US$92 before pulling back to 89.32 after the semiconductor giant reaffirmed its spending plans of $US36 billion. CEO C.C. Wei said the company was passing through the bottom of the cycle of TSMC's business in the second quarter, though weak demands in PC and chips are seen to continue to be soft for the time being.
 
WTI crude oil futures dipped for the fourth straight trading day on economic concerns. The WTI futures are being supported by the 100-day moving average, a breakdown below this level could send the price back to the low of around US$60 in May. While China's steady economic recovery continues to provide a bullish view on the oil markets, the uncertainty about Fed's policy and a possible US recession keep risk sentiment in check. 
 
Cryptocurrencies fell deeper as the bullish sentiment faded due to risk-off.
 
ASX and NZX announcements
Today's agenda:
Australian Flash manufacturing and services PMI
Japanese national core CPI for March