Wall Street drifted higher on Thursday, buoyed by tech stocks following Nvidia's 14% surge after the software giant beat earnings expectations in its fourth-quarter report.  Both US and EU government bond yields slid after the US fourth quarter GDP was revised to 2.7% annually, lower than the first estimate of 2.9%. Again, "bad news is good news" as investors hope for a soft tone from the Fed at the back of a slowdown in economic growth. Investors will eye on the upcoming US PCE data that is due for release later today, which is considered a favourite economic gauge by the Fed in deciding interest rates.
In Asia, BHP's dividend cuts dragged on sentiment on the ASX, sending Australian markets down 0.4% on Thursday. Hang Seng Index extended losses, though JD.com rebounded after an intense selloff amid its massive subsidiary program to compete with Pinduoduo. Asian markets are set to open mixed after a broad selloff yesterday, with ASX futures up 0.11%, HSI futures down 1.31% and Nikkei 225 rising 0.22%.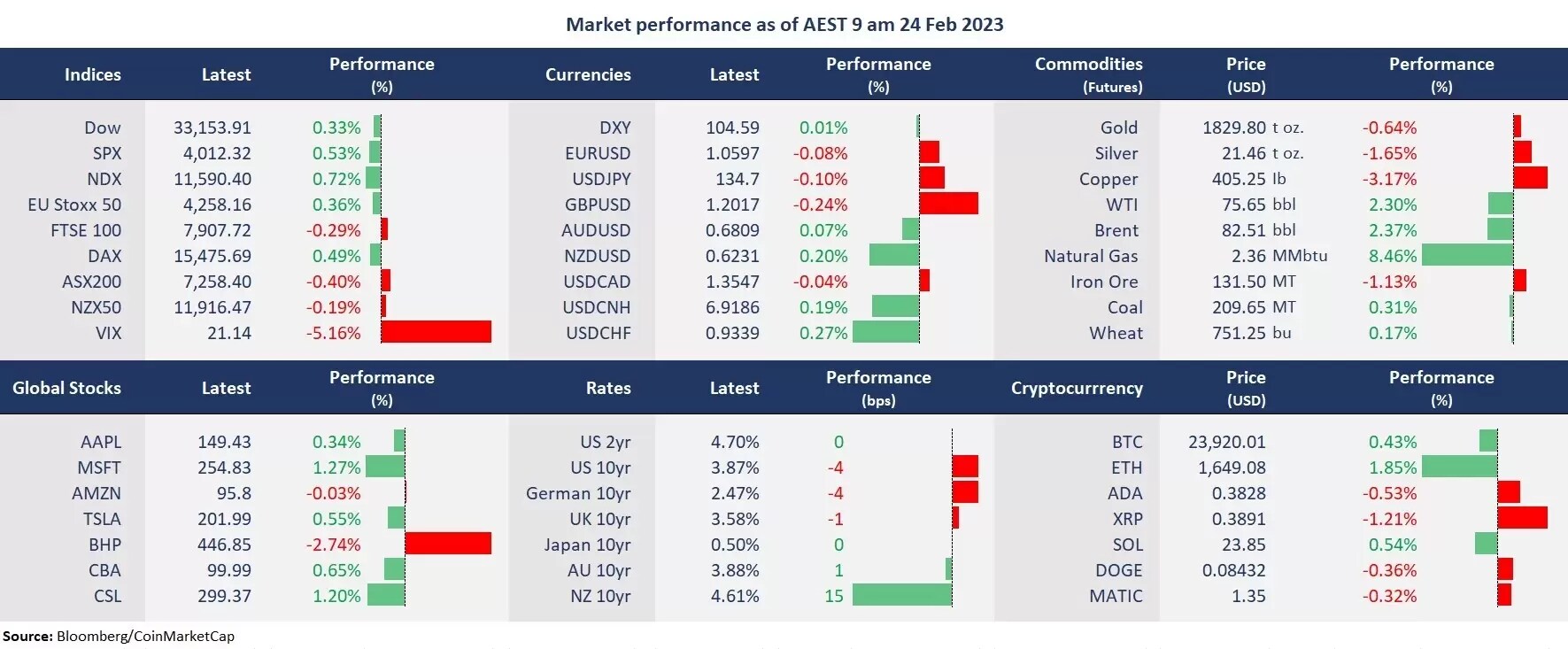 Click to enlarge the table 
The S&P 500 snapped a 4-day losing streak, with 7 out of the 11 sectors in the S&P 500 finishing higher. The technology and energy stocks led gains, up 1.6% and 1.3%, respectively. The Communication Services sector lagged broad markets, down 0.66%, dragged by Netflix after the live streamer announced to cut prices in some countries amid fierce competition.
Nvidia's shares jumped 14% amid earnings beat as AI chip demands powered its outlooks. The company reported $0.88 in EPS and $6.05 billion in revenue, topping estimates of $0.81 and $6 billion, respectively. Its key division, the data center's revenue rose 11% from a year ago. CEO Jensen Huang indicated that the AI boom has lifted Nvidia's GPU sales to the US cloud service providers.
Alibaba's shares were slightly lower after an initial 6% jump in the US markets following its strong earnings report. The Chinese e-commerce giant's profit surged 69% from a year earlier, thanks to the deep cost cuts. The company reported the fourth quarter revenue of 247.76 billion yuan, up 2.1% annually, while net income came as 46.8 billion yuan, well above an estimated 35 billion yuan.
Crude oil erased yesterday's losses on the news that Russia is planning to expand its output cut to 25% after it announced a 500,000 cut in March. However, the US inventory increased by 7.65 million barrels, more than 2.33 million expected for the week ending 17 February, marking the 8-straight week build.