Since rallying to 10-month highs back in July the Tesla share price has slowly lost ground, even though it remains one of the best performing S&P500 stocks year to date, up over 90%.  
The big question now after the release of a disappointing set of Q3 numbers is whether the declines seen since July morph into an even larger correction of the rally seen since the start of the year.
Tesla share price performance YTD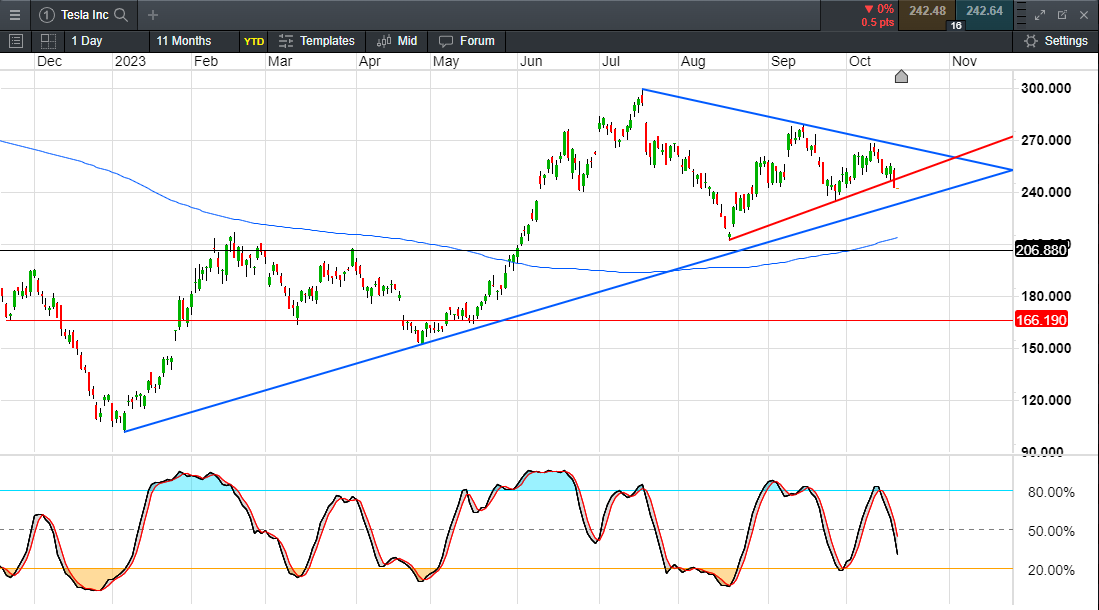 Source: CMC Markets
Earlier this month Tesla confirmed that vehicle deliveries slowed to 435,059, well below forecasts with production downtime at the Shanghai and Austin gigafactories accounting for most of the shortfall. The bulk of those deliveries were a combination of the Model 3/Y at 419,074.
Yesterday's Q3 numbers showed the impact of the more competitive nature of the electric vehicle market and the chopping and changing in selling prices as Tesla strives to maintain its marketshare, not only in China where BYD is making great strides but also in its European and US markets.
Revenues came in below expectations at $23.35bn but was still 9% higher than the same quarter a year ago, however profits fell more than expected, by 37% to $2.3bn of $0.66c a share.
Operating expenses rose 43% to $2.4bn, reducing margins to 7.6% from 17.2% a year ago, largely due to investment in Cybertruck and AI.
While total automotive revenues rose 5% the main growth area came from Tesla's energy generation business which saw revenues rise 40% to $1.56bn, while services grew 32% to $2.16bn. This will be a key area of revenue growth as electric vehicles become more mainstream with pay per use supercharging points likely to drive profits going forward, with the company looking to ramp up its charging infrastructure.
Free cash flow slid 74% to $848m.
There was good news on the Cybertruck with deliveries set to begin on the 30th November from its Austin Texas facility, with the initial aim of 125,000 capacity. Tesla also reaffirmed its full year delivery target of 1.8m vehicles.
Musk was uncharacteristically downbeat on the Cybertruck in the Q&A afterwards saying that it could take up to 18 months before it becomes cashflow positive. 
These comments appeared to weigh on the shares in after-hours trade with the key test from her being whether Musk can stop the erosion in operating margins at a time when competition in the EV area is becoming even more intense.