Seeking trades in an uncertain market
By Adam Harris, Trade With Precision
This has been an interesting year. And by interesting, I mean unpredictable and uncertain, with US President Donald Trump injecting a new element into global issues. Technical traders are aware that the market has not been able to ignore the shifting dynamics. We have seen trends come, calm down and then become erratic, and experienced market conditions not seen for several years.
The good news is that there have still been good opportunities for technical traders, especially when we participate in more than one market. There have been strong trends in currencies and commodities, and the occasional burst in the global indices, for both swing traders and day traders alike.
This week, keeping in mind that there are several potentially high impact news events coming up - most notably this Friday's US Non-Farm Payroll data - I will be cautious in my exposure in the lead up to Friday.
Coffee Robusta
This commodity is the first chart on my watchlist. First, looking at the Weekly chart, I like the downtrend in Coffee Robusta. It is currently printing a bullish candle, implying a possible retracement on this timeframe in the near future.
I have overlaid a Fibonacci retracement and note that the 38.2 percent and 61.8 percent levels coincide with key support/resistance levels at 1,650 and 1,700 respectively. Both of the momentum indicators are convergent with price, supporting the health of the trend. The 1 630-1,650 area may overlap with the Sell Zone of the 10 and 20 moving averages (MAs), so I'll be focusing here first.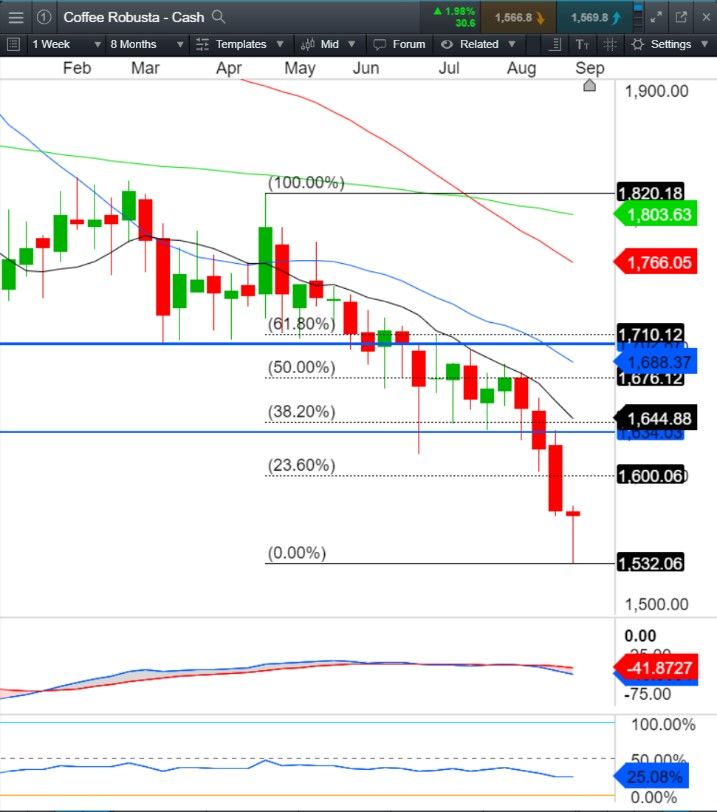 Moving on to the Daily chart, we may have a swing-low forming, possibly showing price action's attempt to retrace upwards over the next few candles back into the Sell Zone. It's worth noting that we are at around the 1,600 level here as well.
My primary expectation is that price retraces to a point between 1,600 and the 38.2 percent level and ideally form a small bearish candle, providing me with a graceful entry into the downtrend as it resumes.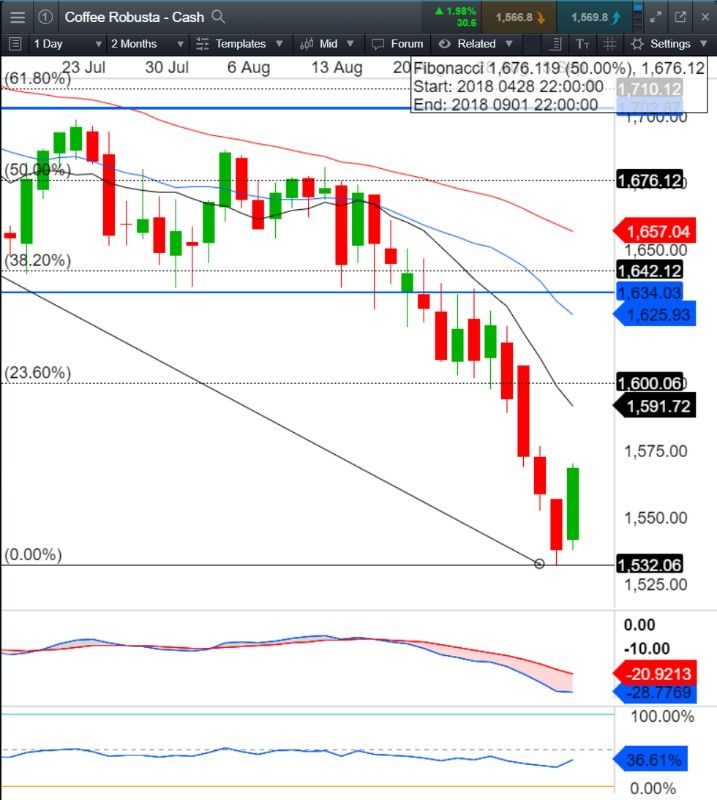 The 38.2 percent level and horizontal S/R level at 1,634 may also provide me with additional stop-loss protection. My plan is to enter on any break of the low of this bearish candle, which could also be indicated by one of the small indecision candles that often occur at turning points.
As per my own risk management rules, I will likely risk 0.5 percent per order, over two separate orders, and set a 1:1 target for the first order, aiming to achieve break-even as quickly as possible with no limit on the second order.
AUD/CAD
Next on my watchlist is AUD/CAD. Starting with the Weekly chart for higher timeframe correlation, I note that there is an established downtrend in this currency cross. The price has potentially started a retracement back up towards the 10 and 20 MAs - a point of equilibrium in strong trends. A recent key support and resistance level at 0.9600 also overlaps with a 38.2 percent Fibonacci level, increasing the probability that price could encounter resistance there.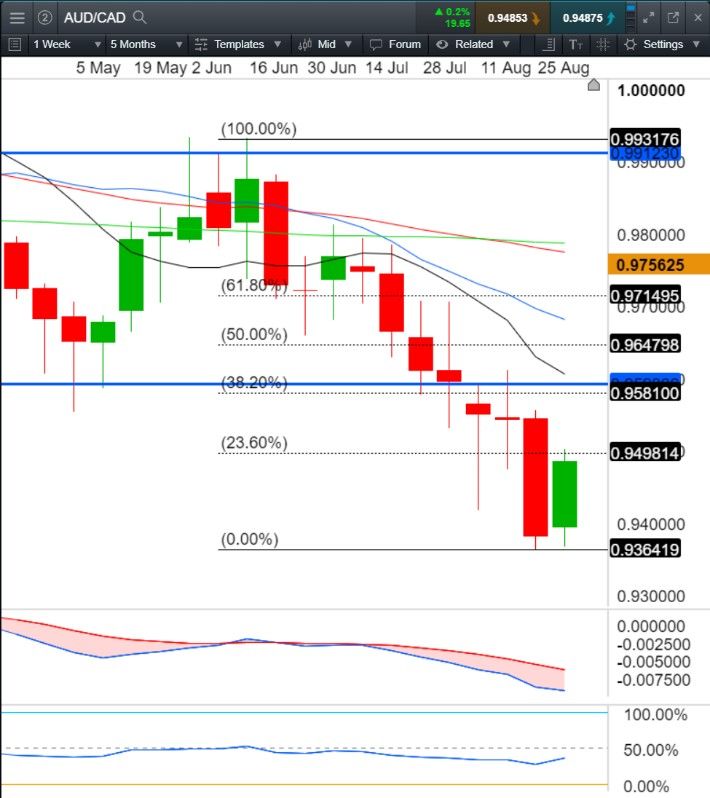 There is also a confirmed downtrend when we drill down to the Daily chart, with price currently entering the Daily Sell Zone area between its 10 and 20 MAs. My primary expectation is that price will, at its earliest, produce an entry closer to 0.9500 in the form of a small bearish candle, which is also the Sell Zone on the daily and the 23.6 percent Fibonacci level.
The 0.9600 level could provide a possible secondary entry, coinciding with the weekly reaching its point of equilibrium. This option could potentially provide a greater reward-to-risk ratio. I will still look to enter on the Daily timeframe, and consider placing my stop-loss above the 38.2 percent level for additional stop-loss protection.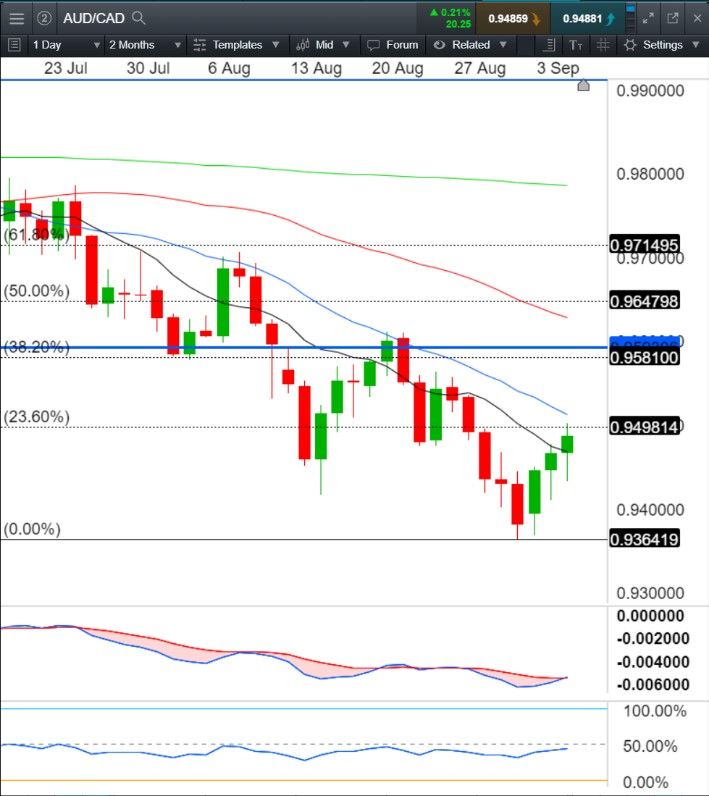 As per my Coffee Robusta risk management approach, I will again split my risk into two separate orders of 0.5 percent account risk each, with the first order having a 1:1 take profit target.
Most often, I use a 3:1 target for my second order and update my stop-loss behind a sensible swing in price action on the daily or 4-hourly timeframes, once the 1:1 target has been reached.
As Friday approaches, I will asses the open exposure of the trades, and consider either closing profits, or updating my stop-loss, or a combination of both.
Happy trading.