Get the latest updates on the major stocks in ASX, reporting in 2019. Companies will be publishing their earning reports for the year which will help traders and investors gauge their take away in terms of share prices.
28-2-2019
Today marks the official end of the Australian company reporting season. Ramsay Healthcare and construction materials group Adelaide Brighton missed forecasts slightly, and may see selling pressure. However traders will turn their attention to Inghams and Galaxy resources, the second and third most short sold stocks on the ASX respectively.  Food group Inghams has beaten consensus, and Galaxy has shot the lights out with a 60% revenue increase leading to a 90% profit lift, as well as completing the sale of its Posco unit. Extreme volatility in both of these stocks is a likely outcome.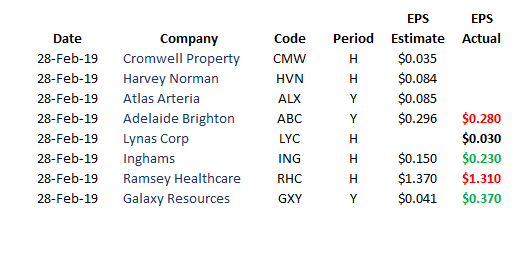 27-2-2019
The British Pound featured in overnight trading as Prime Minister May re-shaped the Brexit discussions to force a parliamentary choice between a clean exit and a deferral of the deadline. The Pound broke through US $1.32 resistance, aided by a weaker dollar after Fed chair Powell re-iterated responsiveness to a lower growth outlook for the US economy.

The lower US dollar fuelled initial gains for North American shares after a modest rally on continental bourses. Industrial commodities rose, led by crude oil and iron ore, although precious metals were largely unresponsive. As a consequence both the Australian and New Zealand have now reason to key levels at 72 and 69 US cents respectively.

Futures markets indicate opening gains for stocks across the Asia Pacific region. However poorer corporate reports may drag on today's session. Seek, Bellamy's, Trade Me and Vocus all dashed expectations, with software group Bravura Solutions providing a lonely bright spot.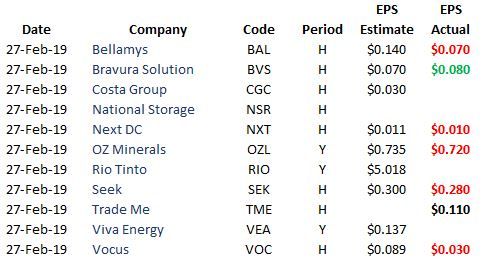 25-2-2019
The Australian corporate reporting season comes to an end this week, with around 40 major companies revealing results. Reports so far today are mixed. Bluescope Steel delivered a better than expected half year, and QBE Insurance swung back into the black. Shareholders in Lend Lease may be less impressed, as the company announced plans to divest its troubled engineering unit.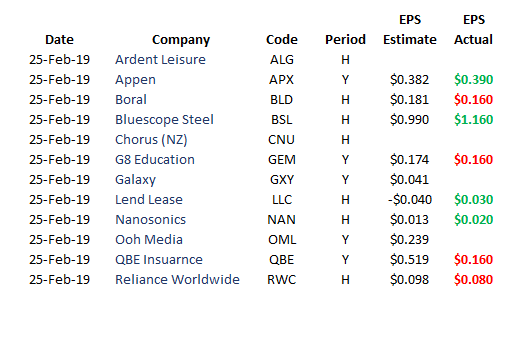 22-2-2019
The Australian dollar featured in currency markets. After an initial surge on stronger jobs data, it suffered double blows to slip below 71 US cents. An influential big bank economist changed his forecasts, and is now tipping two rate cuts before November. The selling accelerated as news filtered through that the Dahlian port in China placed restrictions on Australian coal imports. Although less than 2% of Australian coal exports go through this port traders fear it is part of a wider anti-Australian campaign by Chinese authorities.
Investors are still on alert as Australian corporate reporting rolls on. Charter Hall Group continued the dominant property theme with a stronger than anticipated result driven by better operating and revaluation. Traders will look to Resolute Mining's result for further positive surprise from the gold mining sub-sector.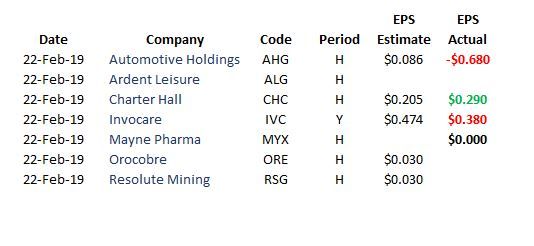 21-2-2019
The Australian corporate reporting season passes the three quarter mark today, with reports from 21 of the top 200 companies. Oil and gas stocks are the stand out performers, with a 34% increase in sales translating into a 68% lift in profits across the sector. Investors will examines Santos' report today for a similar lift. Telcos are the worst performers so far, with two reports so far averaging to a 26% decline in profits.
Data reads come back on the radar with the release of Australian unemployment data later this morning. Forecasts of 10,000 – 15,000 new jobs are conservative, but this notoriously volatile monthly data could provide a market moving surprise. Attention then shifts to German and French inflation numbers tonight.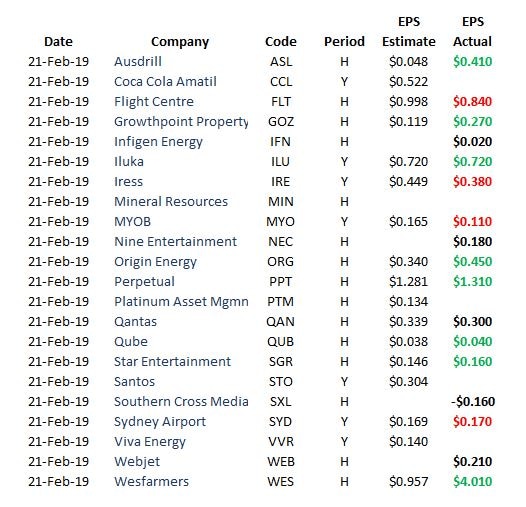 20-2-2019
Australian reporting today includes mining giant BHP, newly independent grocer Coles and medical appliance manufacturer Cochlear. Overall share market action over the last week was driven by company announcements, and trading today could follow the same pattern.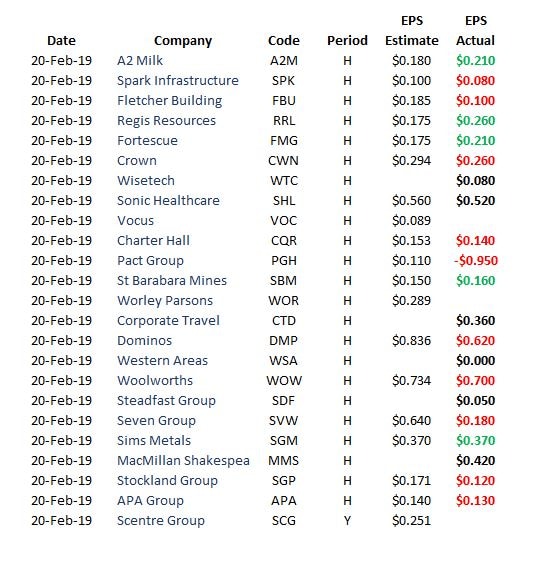 19-2-2019
Australian reporting today includes mining giant BHP, newly independent grocer Coles and medical appliance manufacturer Cochlear. Overall share market action over the last week was driven by company announcements, and trading today could follow the same pattern.
18-2-2019
The US reporting season is now around 80% complete. Sales growth around 6.5% and earnings growth near 11% is supportive of recent share market gains. In Australia, reporting will cross the half way in the busiest week of the season. More than 70 of the top 200 companies report to shareholders. In early results Ansell has come in below forecasts, and both NIB and Brambles slightly above.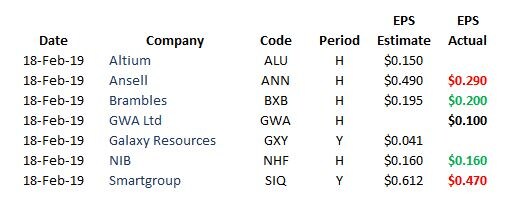 15-2-2019
After disappointment from AMP and Telstra dragged on the Australia 200 index yesterday it's likely today's reports will dominate the action. Online property group Domain took a massive goodwill write down after a further slump in listings and activity, which may see its share price hit an all-time low. Medibank Private's income took a hit as investment income fell. On a brighter note Whitehaven Coal announced a special dividend after a 19% lift in profits. However an overall impression of misses could see the market finish in the red.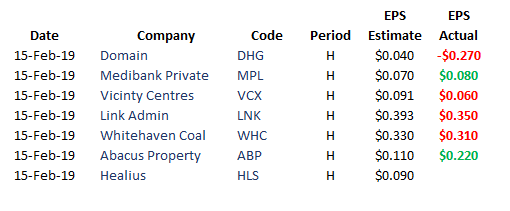 14-2-2019
Another full day of company reports will keep Australian investors busy. Sixteen top two hundred companies report their half or full year results today, and once again early indications are for disappointment. Yesterday the Australia 200 index confounded positive international leads to close lower, and a similar risk exists today, subject to further releases.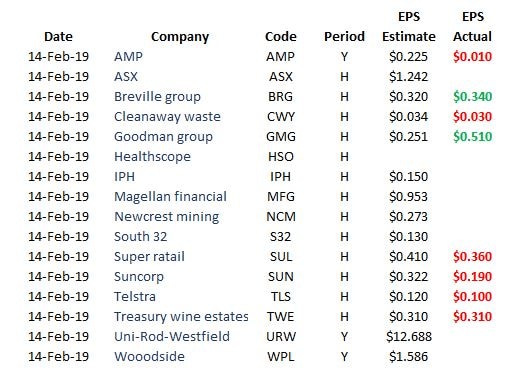 13-2-2019
Australian investors have much to consider as twelve of the top two hundred companies report half year earnings. The results are skewing negative so far, and combined with weaker metals prices and political chaos in Canberra there is potential for downside surprise.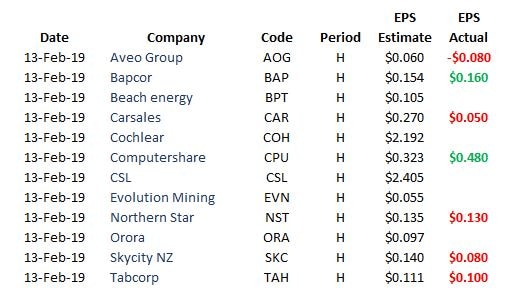 12-2-2019
The Australian season hits the quarter way mark today, with Challenger Financial and toll road manager Transurban fronting investors. Both have missed estimates by a very wide margin, Challenger reporting a 97% fall in profit and Transurban a 54% slump.

US reporting season is two thirds complete. Earnings growth around 14.5% so far is about 3% over forecasts, and giving some support to the higher index levels gained this year.
11-2-2019
The Australian company reporting season get into full stride, with 45 of the top 200 companies announcing results for the half or full year. In releases this morning property group GPT and retailer JB HiFi delivered above expectations, while packaging group Amcor missed the mark. With overall projections of 5% profit growth across the top companies more good results are required to justify last week's raging rally in the Australia 200 index.

8-2-2019
The dual US /Australian listed News Corporation unveiled a whopping 21% increase in revenue, swinging back into profitability for the quarter. The improvements came across its publishing, cable and streaming services, and the partially owned digital real estate subsidiary REA was a significant contributor, although REA's headline result was dragged down by write-offs associated with their Asian businesses

7-2-2019
The Australia 200 index is sitting just above the technically important 6,000 level, and any gains today may see underweight investors forced back into the market.
Announcements this morning showed IDP Education and property group Mirvac beat consensus forecasts in the first half of the financial year. Engineers Downer EDI unveiled a return to profitability and lifted guidance on full year earnings. However power utility AGL saw a modest decline in revenues exacerbated by significant hedging losses. It's a coin toss.

6-2-2019
The Commonwealth bank of Australia reported a modest 1.7% lift in operating profit, although overall profit fell 2.1% on higher impairment charges. The result is below consensus forecasts and may see CBA shares give back some of yesterday's extraordinary gains. Other results this morning are more impressive, and IAG, Bunnings Trust and Dexus Property delivered pleasant surprises to shareholders.

5-2-2019
It's a full day for Australian investors. Financial stocks comprise 31.55% of the Australia 200 index, and the sweeping change coming to the sector will keep analysts busy for weeks to come. There is an emerging view that the big four banks may rally from this point given the actions taken already and more certainty about the future. This is a view yet to be tested, although index futures lifted in an immediate response to the report delivered after the cash market close yesterday.
It's the first day of the corporate reporting season with James Hardie, Cimic and Scentre Group fronting shareholders. Throw in an overnight surge in aluminium, nickel, iron ore and steel and predicting the outcome of today's session is a tough call.
Below are the expected results: