By Chloe Edwards, Trade With Precision
Comparing the precious metals in terms of density, Platinum and Gold are the real heavyweights, with Palladium sitting somewhere mid-way between these and the lighter Silver and Copper.
But in terms of value, it is Palladium that is performing as if it is lighter than air, having been on a run to the upside since early 2016 and yielding some favourable trend trading opportunities along the way.
If we take a look at the monthly timeframe above, we can see that after a modest retracement back to the 10 period exponential moving average (EMA), Palladium continues to perform well, with current price having taken out the high of last month's candle.
I can see bullish MA geometry, and the MACD and RSI indicators are also showing bullish momentum and giving me further confidence that the trend is strong. This means that I am now ready to start looking for further buying opportunities on the lower timeframes.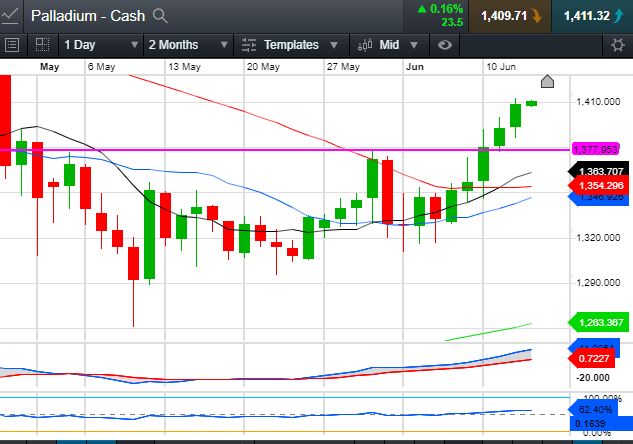 On the daily timeframe, I am just starting to see a return to the uptrend after the retracement that took place from March to May. Higher highs and higher lows are starting to form, and the EMAs are starting to point upwards. I can also see clear bullish momentum in both the MACD and RSI indicators.
I always like to look at the lower timeframes in strongly trending markets, as they can offer some higher reward to risk opportunities, with the benefit of offering a more refined entry than entering on the daily timeframe. On the 4-hour chart above I can see price is in an uptrend, with price action forming a series of higher lows and higher highs, and the 10, 20, 50 and 200 MAs are lined up and showing good bullish geometry.
Both the MACD and the RSI indicators are trending higher in a bullish fashion, which could confirm the trend momentum. The combination of this price action and the indicators suggests to me the potential for possible long swing trading opportunities, so I will be awaiting a pullback into the MAs on this timeframe.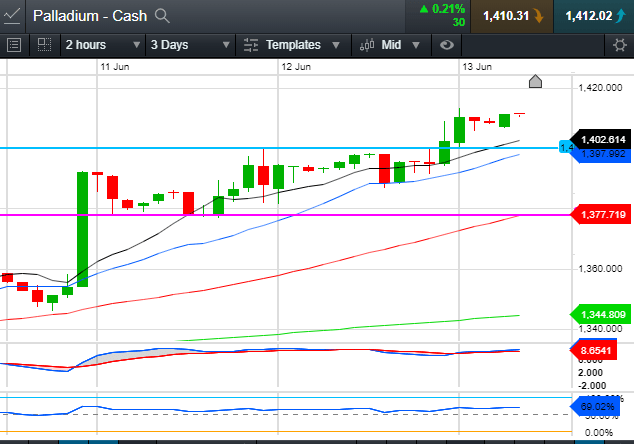 The two-hour chart has also been showing some good trend structure, with bullish geometry on all four MAs. I am looking for a pullback into the MAs to coincide with the 1,400 level, and a small sized bullish candle to print in this buy zone.
In terms of the potential move, if price continues to trade above the 1,400 level, I will be trailing my stop loss and aiming for the next major resistance level at around 1,460.