Wall Street ran off a session high despite cheerful earnings from Microsoft and Alphabet. Both Dow and the S&P 500 pared early gains and finished lower, while Nasdaq managed to end in the green after rising 1.4% at a session high as Microsoft jumped 7.2%. Alphabet, however, finished lower after cutting a 2% gain in the early session. Meta Platforms' shares jumped more than 11% in after-hours trading due to a beat on expectations for both earnings per share and revenue, which may book another positive session in the Asian markets, particularly in the tech shares. Market players will be awaiting Amazon's first-quarter earnings reports that are due for release tomorrow.
Sentiment stayed fragile, with the CBOE Volatility Index up slightly to just under 19. Notably, technology stocks were the only sector that endured the broad selloff in the S&P 500, up 1.73%. Otherwise, markets were in a sea of red as the regional bank's rout may not be over after the First Republic Bank (-29%) tumbled for the second straight trading day. The US bond yields climbed higher, sending gold futures down below 2,000 again. The US dollar index weakened but continued to strengthen against commodity currencies, such as the Australian dollar, New Zealand dollar, and the Canadian dollar, as commodity prices slid on economic concerns, with crude oil prices slumping more than 3% on Wednesday.
Asian markets are set to open lower. The ASX 200 futures were down 0.22%, the Hang Seng Index futures fell 0.11%, and Nikkei 225 futures slipped 0.35%.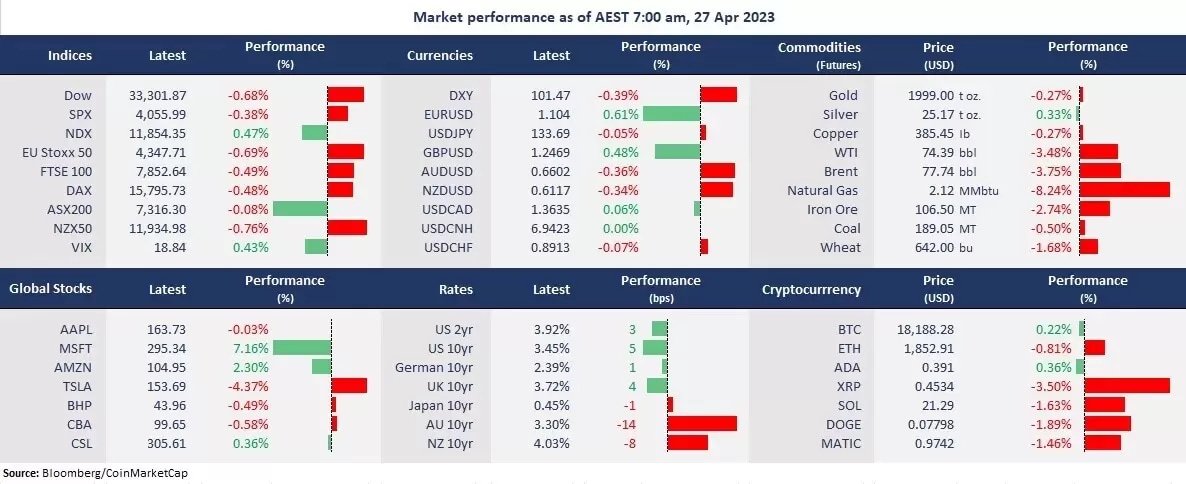 Click to enlarge the table
Price movers:
10 out of the 11 sectors in the S&P 500 finished lower, with utility stocks leading losses, down 2.37%. Energy, industrials, and materials continued to fall on a darkened economic outlook. Technology is the only sector that finished higher, lifting other growth sectors, such as consumer discretionary (-0.38%), and communication services (-0.62).
Meta Platforms' shares jumped 11% in after-hours trading as the company returned positive revenue growth after three consecutive declines. The social media giant beat expectations in EPS, Revenue, and user growth. Earnings per share was at $2.20 vs. $2.03 expected. Revenue was at $28.65 vs. $27.65 expected. The Daily Active Users (DAU) was at 2.04 billion vs. 2.01 billion expected.
Amazon starts the second round of layoffs in its cloud computing and human resources divisions. The e-Commerce giant cut 18,000 jobs earlier this year, and the second round of layoffs may affect 9,000 employees. The massive headcount reductions and a hiring freeze are aiming to cut costs at the back of an economic downturn. The company also paused some experimental projects.
The WTI crude oil futures fell below the 100-day moving average for the first time since 31 March, when OPEC announced its plan to cut production further, despite a larger-than-expected draw in the US inventory as the economic concern overtook the supply worries.
Cryptocurrencies swung widely following US tech shares' volatility. Bitcoin briefly topped 30,000 before pulling back to just above 27,000 at a session low but rebounded to above 28,000 after Meta Platforms' strong earnings reports. Ethereum was in a similar move, swinging between above 1,960 and just under 1,800 but finishing flat in the last 24 hours.
ASX and NZX announcements/news:
Air New Zealand upgraded its FY23 earnings guidance to between $NZ510 million and $NZ560 million from $NZ450 million to $NZ530 million. The improved outlook reflects strong demands for both domestic and international travel.
Today's agenda:
New Zealand ANZ business confidence. Business confidence was little changed at -43.4 in March but showed a consistent improvement from -70.2 in December 2022. The level, however, was still at a historically low level due to high inflation and RBNZ's aggressive rate hikes.
US Q1 GDP. The US GDP grew by 2.6% at an annual rate in the fourth quarter, slightly down from 2.7% in the second estimate, due to a downward revision to exports and consumer spending. Consumer spending slowed in February and March after a 3% jump in January, which may bring down the GDP growth in the first quarter.