US stocks finished higher after a volatile session following Fed Chairman Powell's speech on Wednesday. Powell said inflation started to ease but more rate hikes are expected, and the peak of interest rate may be higher than previously projected as the labour market is "extraordinarily strong". Wall Street's rally suggests that market participants see the rate hike cycle as close to its end, though Powell stayed hawkish. The US 2-year bond yield rose 2 basis points to 4.47% following the speech, which did not respond as hawkish as the Fed suggested.
Equity futures point to a mixed open across the APAC region, with ASX futures up 0.43%, Nikkei 225 futures up 0.14%, and Hang Seng Index down 0.86%.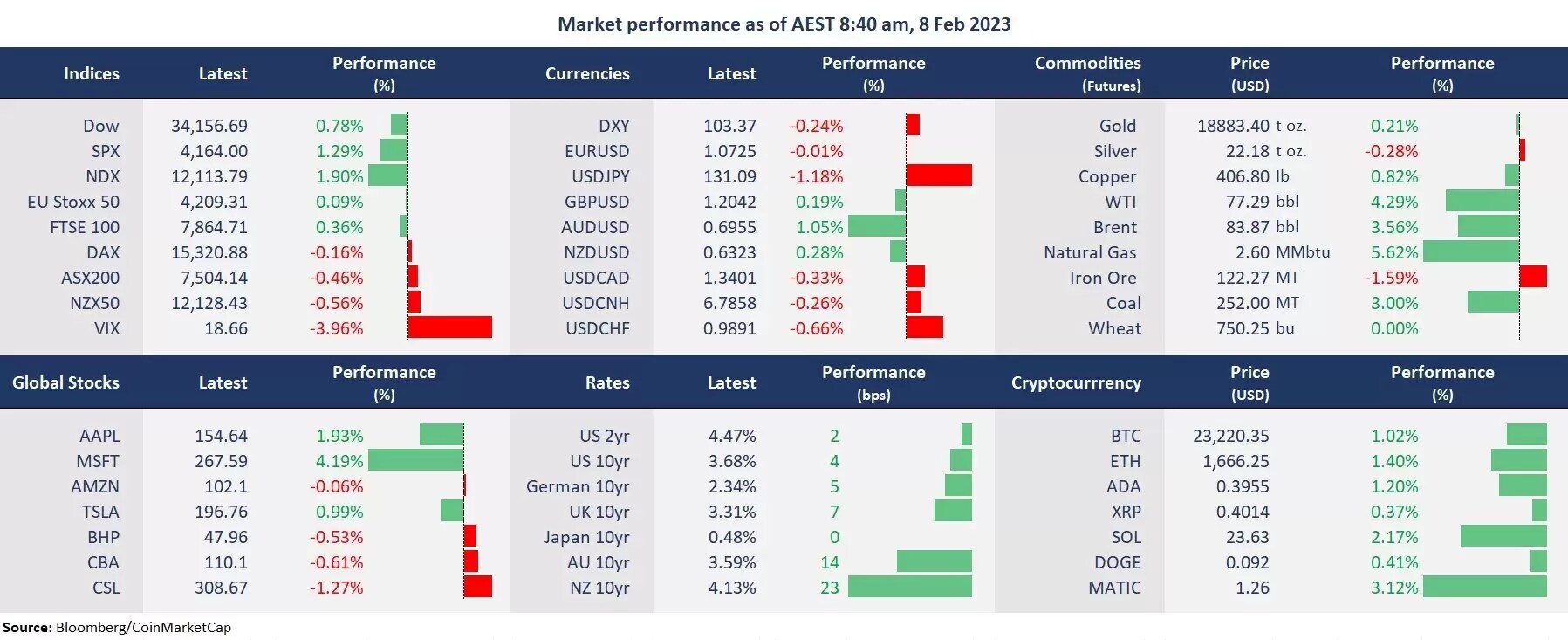 Click to enlarge the table
Both Technology and Energy stocks performed strongly and led broad market gains. 8 out of the 11 sectors in the S&P 500 finished higher, with the energy sector up 3%, while both Technology and Communication Services rose 2.5%. Consumer Stables, Real Estate, and Utilities fell slightly as defensive stocks underperformed due to risk-on sentiment.
The ChatGPT-alike technology spurred tech gains, with Baidu ADR shares jumping 11%, while both Alphabet and Microsoft's shares rose more than 4% after these accompany announced their adoption of the chatbot software. Microsoft launched a new AI-powered Bing homepage search engine which allows users to chat with it to get detailed answers.
The Australian dollar strengthened amid RBA's 25 basis point rate hike, while the US dollar index fell slightly after swinging in directions. The RBA expects more rate hikes in the coming months as the country's inflation rose to 7.8% in the fourth quarter, the highest yearly increase since 1990.
Crude oil gained for the second straight trading day after the IEA said half of this year's demand growth was going to be from China. The strong job data from the US also indicates that the economy is not as bad as previously expected. A softened US dollar has also helped lift the oil markets.
Gold edged higher after pulling back from the session high amid Fed Chair Powell's speech as the US bond yields climbed.  The rally in the precious metal lost steam in the last few sessions following a strong US job number as traders are concerned about the Fed's rate hike path.