Macro Scenes:
Stock markets gained: Wall Street extended gains following a three-week winning streak as tech stocks continued to fuel the rally. Microsoft hit a new all-time high amid OpenAI's board drama. NVIDIA topped US$500 per share, also reaching a record high, ahead of the third quarter earnings tomorrow.
Bond yields were flat: The US long-dated government bond yields were slightly lower after a US$16 billion sale of the 20-year treasuries. The treasury auction showed government debts were still in strong demand despite a high premium.
US dollar slumped: The USD index fell to the lowest since the end of August as markets continued to price peaking Fed's interest rates. Asian currencies strengthened in particular amid the king dollar's softness, with USD/JPY falling to a two-month low and USD/CNH down to the lowest since the end of July.     
Crude oil came back: Crude oil prices rebounded sharply in the last two trading days, with both WTI and Brent futures testing the 50-day moving averages, which are the key near-term resistance. The rebound was probably due to a technically oversold signal in the past week.
Asian markets to open higher: Chinese stock markets gained amid China's fresh supportive policy to aid private developers. Asian markets are set to open higher. The Hang Seng Index futures were up 0.83%, and the ASX 200 futures rose 0.33%.
Chart of the Day:
NVIDIA (NDX: NDVA), daily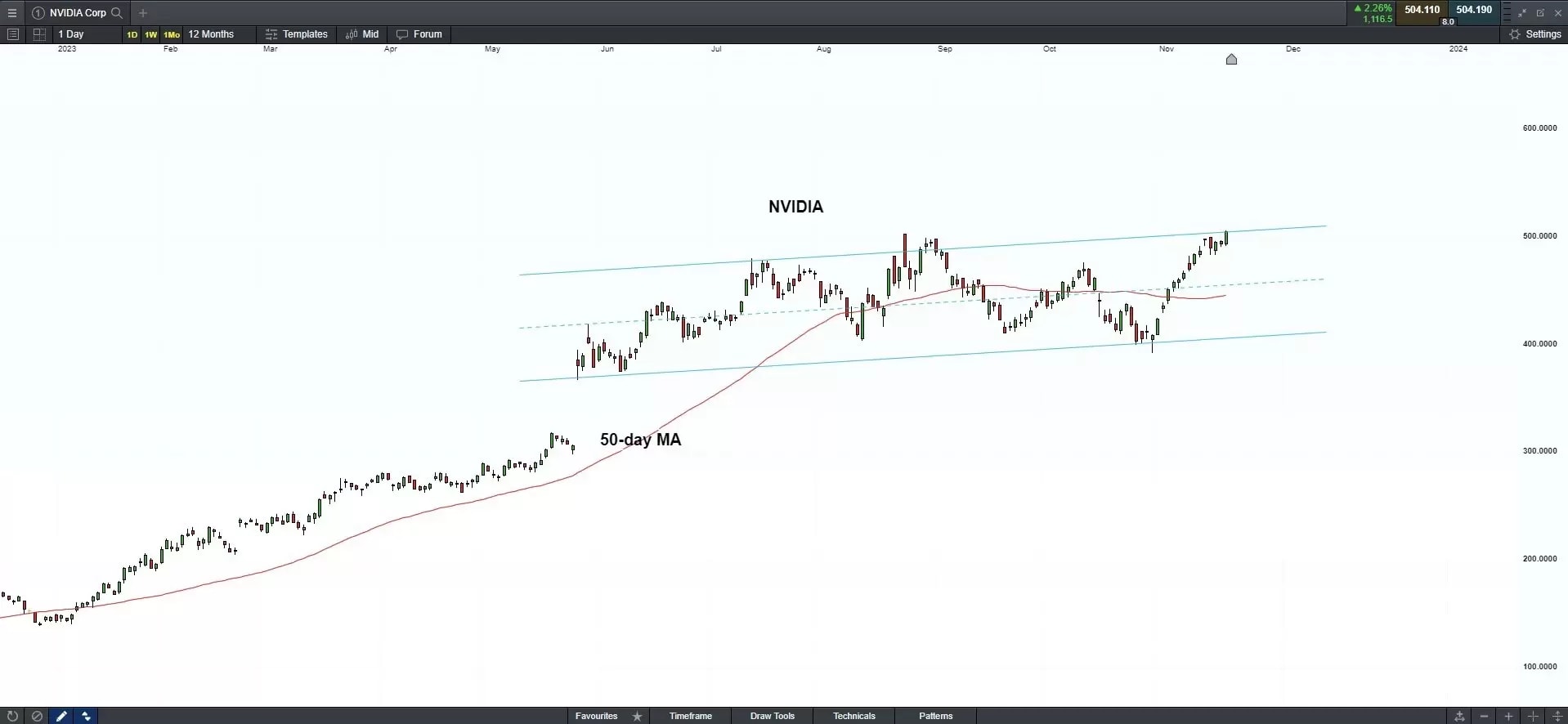 Source: CMC Markets as of 21 November 2023
Company News:   
Microsoft (NDX: MSFT) rose 2.2% after the tech giant offered former OpenAI CEO Sam Altman a position to lead the company's new AI team. Altman was ousted by OpenAI's board on Friday due to a disagreement between members about how the tech firm should approach to monetize its AI technology.
Zoom (NDX: ZM) rose nearly 3% due to a beat on earnings expectations. The communication technology company reported earnings per share at US$1.29 on revenue of US$1.14 billion, topping the estimated US$1.08 and US$1.12 billion, respectively.   
Today's Agenda:
New Zealand's Trade Balance for October
RBA Meeting Minutes and Governor Michele Bullock speaks
Canada's CPI for October