The easyJet [EZJ.L] share price has risen by more than a third since the turn of the year as investors bet that the travel industry will enjoy an upturn in fortunes in 2023. This sense of optimism is likely to make the FTSE 250 company a subject of close attention when it reports its Q1 results on Wednesday. 
Airlines see brighter skies ahead
EasyJet shares are up 36.5% so far this year, significantly outperforming the FTSE 250's year-to-date increase of 3.4%. Shares in easyJet's competitors have also made gains since 3 January, with Ryanair [RYA.IR] up just over 20% and Wizz Air [WIZZ.L] up 50%. 
These gains have been driven by buoyant investor sentiment as airlines expect that 2023 will be better than last year as more passengers take to the skies.
In the year to the end of September 2022, easyJet flew at 85.5% of capacity, up from 72.5% in 2021, but still below 2019 levels of 91.5%. However, in the July-September period, the percentage of available seats that were filled with passengers – or the 'load factor', as this metric is called in the industry – reached 92%. The company expects its load factor in Q1, which includes Christmas, to be up by around 10 percentage points year-on-year. 
For the year to September, easyJet posted a pre-tax loss of £178m – its third annual loss in a row, but an improvement on the previous year' s £1.1bn loss. To bring about further improvement in its bottom line, the budget airline is taking steps to avoid a repeat of last summer's travel chaos, when runway capacity constraints and staff shortages caused lengthy delays and left passengers stranded as thousands of flights were cancelled at UK airports. 
Meanwhile, various tailwinds could give airlines a lift this year. Falling inflation, stable jet fuel prices and strong demand for post-lockdown travel are fuelling market optimism, according to Crispus Nyaga, an analyst at financial news site Invezz. Although "jet fuel is still at an elevated level, there is a rising possibility that it will be much lower than it was in 2022," writes Nyaga. 
Nevertheless, challenges persist. Border force workers at several UK airports went on strike for eight days in December and, with their pay dispute with the government yet to be resolved, the possibility of further strike action cannot be ruled out. That could bring yet more disruption for passengers in the months ahead. 
Where next for the easyJet stock price?
Since hitting a 10-year intraday low of 276.87p on 3 October last year, the shares have risen 62.5% to close at 450p on Friday 20 January. However, the stock's current level remains well below the pre-pandemic highs of more than 1,270p seen in early 2020, and even further below the record high of more than 1,570p set in 2015.  
Our chief market analyst Michael Hewson, comments that "the easyJet share price has enjoyed a decent rebound" since that 10-year low, explaining that the stock has broken above both its 200-day simple moving average (SMA; the blue line on the chart below) and the August and November peaks around 428p (as indicated by the red horizontal line). "If the shares hold above this support level, we could see further gains towards the 500p area," suggests Hewson.
EasyJet price chart, January 2022 – present ​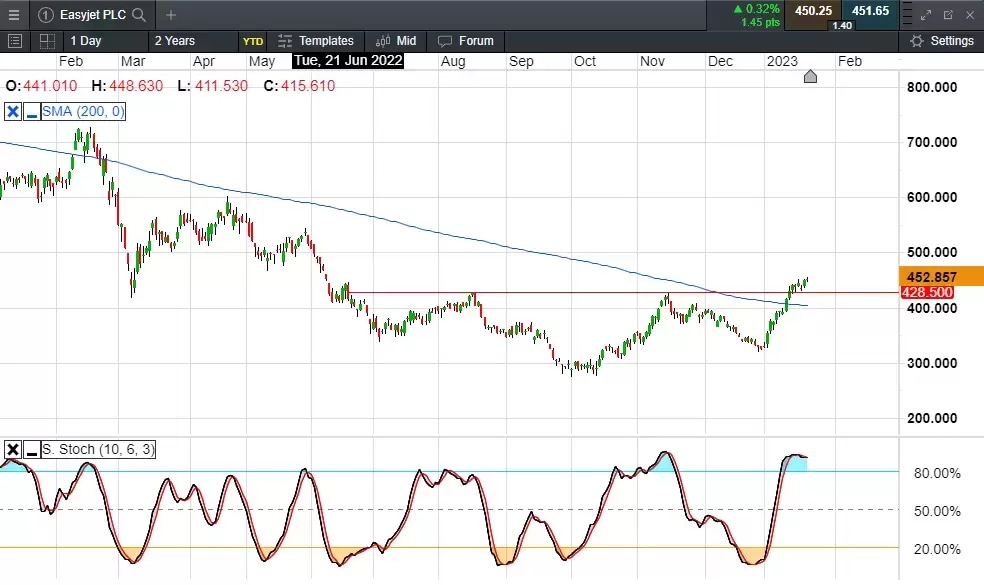 Source: CMC Markets
Analyst doubts
Elsewhere, views among analysts are mixed. Of the 19 analysts polled by the Financial Times in January, four gave the shares a 'buy' rating, six expected them to 'outperform', three rated them a 'hold', five expected them to 'underperform', and one branded them a 'sell'. 
Meanwhile, their price forecasts diverged widely. Among the 15 analysts offering a 12-month price target for easyJet shares, the median estimate of 440p represents a 2.2% fall from Friday's closing price of 450p. However, the high estimate of 670p implies a 48.9% increase versus that closing price, while the low estimate of 270p would entail a 40% decrease. 
While buoyant demand for travel and falling inflation could support easyJet's ongoing post-pandemic recovery, the threat of further travel disruption this year has not completely disappeared. That could limit the prospect of a sustained share price rally. What seems certain, though, is that easyJet's Q1 results will offer an early indication of whether the low-cost carrier has the potential to turn a corner this year. EasyJet will deliver its Q1 trading update before UK markets open on Wednesday 25 January.