The streaming giant, Netflix, will be the first major US tech company to report its first-quarter earnings after the US market close on Tuesday. The company's share price is up 19% year-to-date, outperforming a 16% gain in the tech-heavy Nasdaq. While subscriber growth remains in focus, its performance in its add-supported programme is also the key area that investors will be looking at. So what is expected of the upcoming Netflix earnings report?
Steady user growth expected
The live streamer had negative use growth in both the first and second quarters of 2022, with the company's shares slashing 68% in the first five months of 2022. Coupled with macro headwinds in 2022, Netflix realised that its ads-free business could not be sustainable as a slowdown in user growth and rising costs in filming ate up profit margins.
While yearly user growth slowed due to fierce competition from rivals such as Amazon Prime, Disney +, and YouTube, new subscribers picked up again from the third quarter of 2022. In November 2022, the company launched its ad-supported tier programme, with one million subscribers added in the US for the first two months this year. The company forecast to add about 13 million users from the ad-supported tier service by the third quarter of 2023.
Netflix increased users by 7.66 million in the fourth quarter, which blew away expectations. By the year-end, the live streamer's subscribers totaled 239.75 million. But Netflix stopped providing guidance for user growth from the fourth quarter of 2022. Analysts expect Netflix to add 3.71 million new subscribers in the first quarter, according to Zacks Investment Research.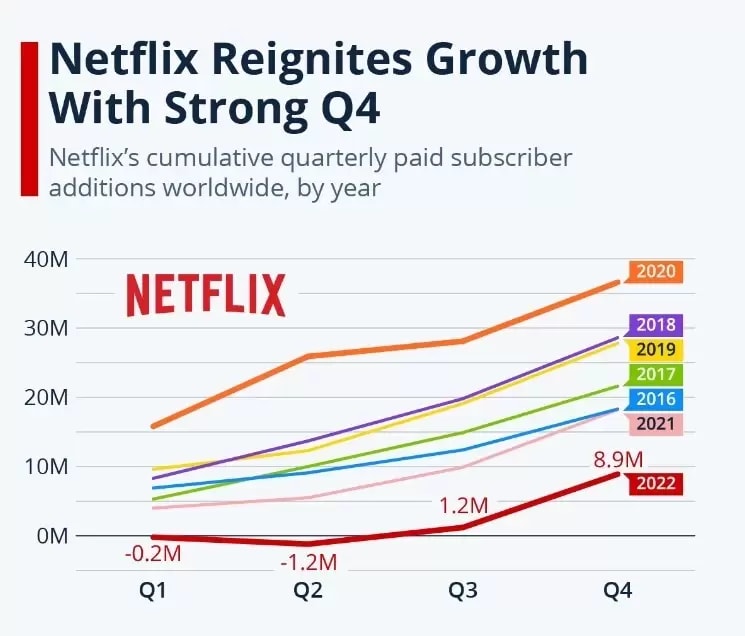 Source: Netflix, Statista
Earnings per share set to decline
Netflix's earnings per share (EPS) are expected to be at $2.81, or a 20% decline from a year ago. And the revenue estimate is $8.18 billion, or a 4% growth annually. But keep in mind that the company's EPS was only $0.12 in the final quarter last year, which posted a 91% drop year on year. The massive miss on earnings was due to a loss related to euro-denominated debt.
Lately, Netflix's paid-sharing service has shed light on the business's potential for growth, allowing a paying subscriber to add one extra member to their profit while cracking down the password sharing to multiple non-paying members. The measure is considered to help grow its earnings and revenue in the long haul, though this could affect its subscribers in the near term.
In addition, Netflix reported $1.6 billion in free cash flow in 2022, with an expectation to grow to $3 billion in 2023. Healthy financials are seen as a key element supporting growth, especially in the tough macro environment.  
Netflix's earnings are expected to grow 12% in 2023 and another 26 % in 2024, according to Zacks Investment. With its P/E ratio dropping to 35 from above 90 in early 2021, its stocks may have a better chance to beat growth expectations
Technical analysis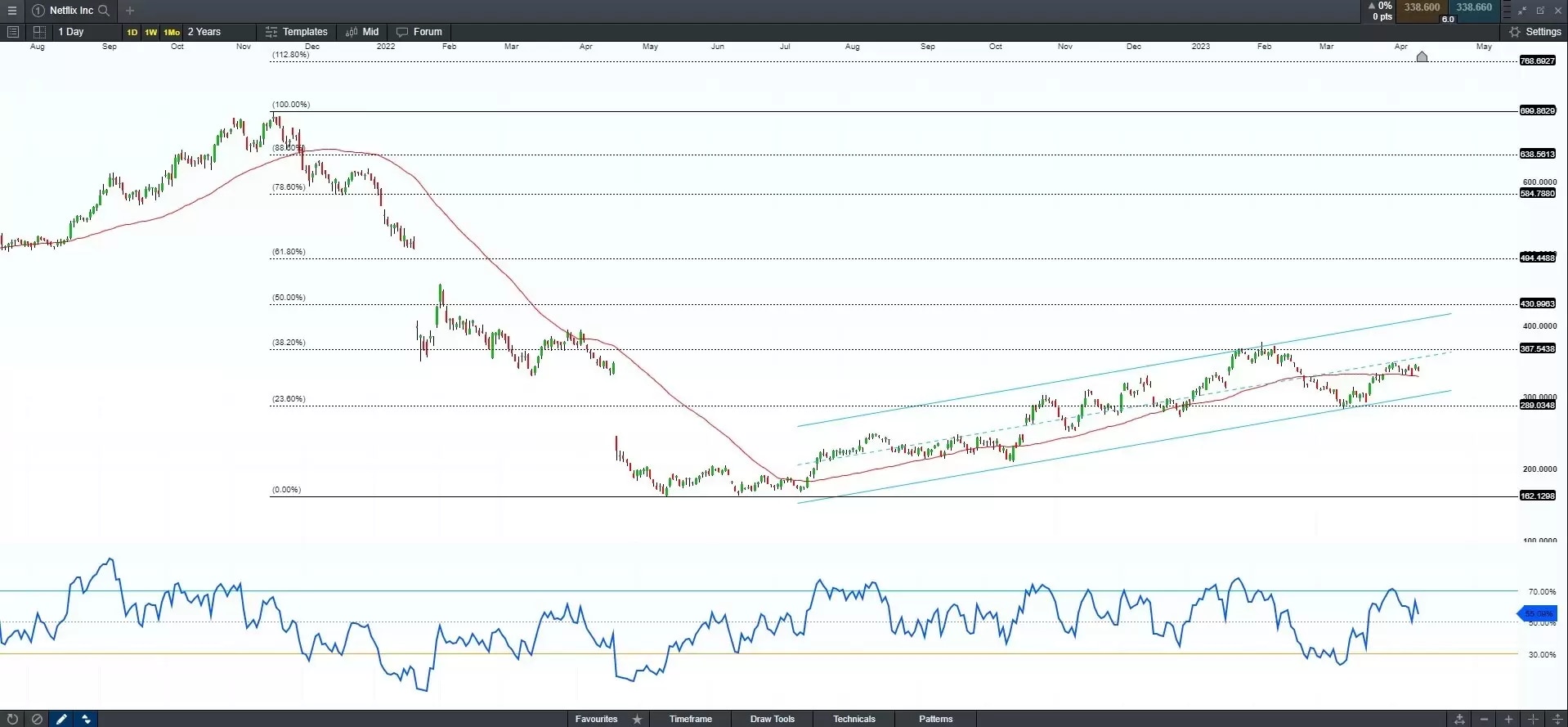 Source: CMC Markets NG as of 17 April 2023 (Click to enlarge the chart) 
Netflix's shares have been moving in ascending channels since July 2022. The imminent support may be around the 50-day moving average of 330. The share price may continue its uptrend if earnings results meet expectations, with a near-term potential long target at about 430, around the 50.0% Fibonacci retracement.
On the flip side, a miss on earnings expectations may press on the share prices again. A breakdown below the 50-day moving average may take the share price to approach the March low of about 289 again.