Market Wrap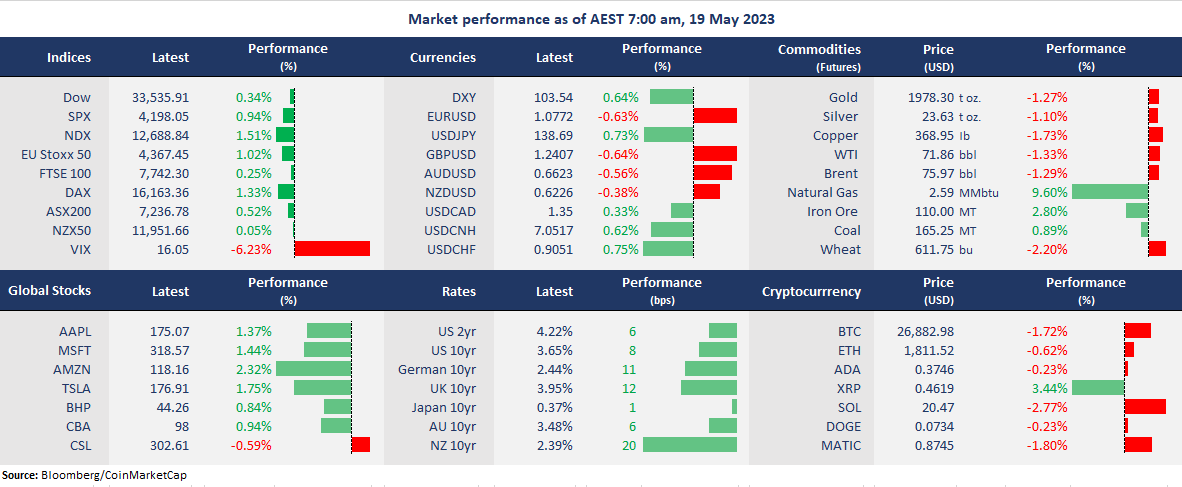 Click here for full size image
7 out of 11 sectors in the S&P 500 finished higher, with growth sectors, including consumer discretionary, technology, and communication services, leading gains, up 1.54%, 2.06%, and 1.79%, respectively. Defensive sectors, such as consumer staples, healthcare, and utilities, were lower. And the real estate stocks also slid due to higher rates.
Netflix's shares jumped 9% after the company unveiled details about the ad-supported tier's success. The live streamer launched a cheaper option of its live streaming option in late 2022 after two consecutive use losses. The division is seen as critical for the company's future growth, which helped the company to gain about 5 million monthly active users.
Walmart's shares rose more than 1% after the retailer reported stronger-than-expected quarterly earnings amid strong grocery sales. The report shows consumers spent more on groceries than discretionary items, but demand stayed resilient. The earnings per share came as US$1.47 vs. $1.32 expected on revenue of US$153.30 billion vs. $148.76 billion expected. Its sales were up 8% year on year. It also raised earnings for the full-year guidance to between US$6.10 to US$6.20 per share.
The Chinese e-commerce giant Alibaba's ADR shares slid 5.5% amid tepid earnings results and the announcement to spin off its cloud business. It was the first quarterly result after the company's business unit split. The company's earnings per share came to 1.34 yuan, short of analysts' estimate of 2.08 yuan, despite greater-than-expected revenue of 208.2 billion yuan.
The USD/JPY rose to above 138.70. At the same time, the Chinese Yuan weakened further, with USD/CNH topping 7.05, both of which are the highest seen in November 2022, as the monetary policy divergence between the US and Asian countries continued to lift these pairs.
Gold prices fell for the third straight trading day to the lowest since late March. A potential double-top pattern may take the metal price to approach further potential support of 1,900.
Bitcoin slumped below 27,000 due to a strengthened USD.  The head-and-shoulder-top pattern may take it lower to further support of 25,000.
Stocks finished higher after House Speaker Kevin McCarthy told reporters the House of Representatives could vote on a debt-ceiling deal as soon as next week.
The S&P 500 rose about 0.9%. The Dow Jones Industrial Average gained 0.3%, while the Nasdaq Composite Index advanced 1.5%.
Walmart, the biggest U.S. retailer, climbed after reporting earnings that beat Wall Street's estimates on revenues and profit. Meanwhile, Dallas Fed President Lorie Logan suggested that barring further weakness in the economic outlook, she would be prepared to lift the benchmark federal-funds rate by a quarter percentage point at the central bank's next meeting.
In Asian trading, Japan's Nikkei Stock Average ended 1.6% higher, led by gains in electronics stocks, as optimism has grown for U.S. debt-ceiling negotiations. Sony Group gained 6.4% following news that it is considering listing its financial unit.
Chinese shares ended mostly higher amid divergent expectations for policy easing after recent domestic economic data signaled that economic recovery could be losing steam. The Shanghai Composite Index ended 0.4% higher. The Shenzhen Composite Index rose 0.1%, and the ChiNext Price Index closed 0.7% lower.
Elsewhere, Australia's S&P/ASX 200 closed 0.5% higher amid gains by both large-cap companies and tech stocks. Shares of nine of the 10 largest companies by market capitalization finished higher.
New Zealand's NZX-50 closed 0.2% higher amid the release of a federal government budget that some economists said nudges the central bank closer to another interest-rate hike.
Broker Upgrades/Downgrades
(BPT) Beach Energy Price Target Cut 6% to A$2.05/Share by Bell Potter
​(BPT) Beach Energy Price Target Cut 2.9% to A$1.65/Share by Citi
(IEL) IDP Education Initiated with A$30.45/Share Price Target by Bell Potter
(IPL) Incitec Pivot Target Price Cut 28% to A$3.29/Share by Morgans
​(IPL) Incitec Pivot Target Price Cut 4.2% to A$3.40/Share by UBS
(LOV) Lovisa Price Target Raised 4.9% to A$25.75/Share by Citi
(NUF) Nufarm Price Target Raised 2.8% to A$7.35/Share by Bell Potter
​(NUF) Nufarm Price Target Raised 6.9% to A$6.20/Share by Jefferies
(PSI) PSC Insurance Price Target Cut 5.9% to A$5.86/Share by Bell Potter
(SUL) Super Retail Price Target Raised 3% to A$12.40/Share by Wilsons
(TPW) Temple & Webster Price Target Raised 15% to A$4.70/Share by Bell Potter
(UMG) United Malt Target Price Raised 32% to A$5.00/Share by UBS
(XRO) Xero Price Target Raised 17% to A$120.95/Share by Jefferies
Commodities
Oil ended lower, losing around half of the prior day's gain, as investors kept tabs on debt-ceiling negotiations.
West Texas Intermediate crude for June delivery fell 1.3% to settle at $71.86 a barrel on the New York Mercantile Exchange following a gain of 2.8% Wednesday. July Brent crude, the global benchmark, fell 1.4% to $75.86 a barrel on ICE Futures Europe.
Oil traders are "exhibiting a more cautious approach, particularly with regards to the outcome of the debt ceiling negotiations," following gains for oil prices on Wednesday, said Ricardo Evangelista, senior analyst at ActivTrades.
Gold prices settled at their lowest level since late March, pressured by a stronger U.S. dollar and hopes for a deal to raise the U.S. debt ceiling by Congress.
June gold declined by 1.3%, to settle at $1,959.80 per ounce on Comex, the lowest since March 27.
Speaker of the House Kevin McCarthy said a debt-ceiling deal might be "doable" by Sunday. However, market experts cautioned that reaching a deal is merely the first step in what could be a fraught process.
ASX and NZX announcements/news:
My Food Bag (ASX/NZX: MFB) announces that it has submitted a formal application to ASX Limited for its removal from the official list of ASX. The company's FY23 revenue was at NZ$175.7 million, down 9.4% from a year ago. Its profit fell to NZ$18.2 million from NZ$34.0 million in FY22
Today's Announcements
New Zealand trade balance
Japanese National Core CPI for April y/y
New Zealand credit card spending
​(All news & data sourced from Aspect Huntley / AFR / The Australian / Bloomberg / Reuters / CNBC / Wall Street Journal / Morningstar / OPTO / Trading Economics)ASX