Thanks to further cooled US inflation, the major global stock markets all finished in the green last week as market players bet on a sooner peak of rate hikes by the Fed. Dow notched a 4th straight weekly gain. And the big banks, including JPMorgan Chase, Citigroup, and Wells Fargo, all beat Wall Street's estimates in their first-quarter earnings results due to higher interest rate income. This week, the most popular US tech companies, Netflix and Tesla, start reporting earnings, which will be the main market movers to steer sentiment.
Elsewhere, China's better-than-expected trade balance data boosted sentiment in Asian stocks. The world-second-largest economy's first-quarter GDP will be in the spotlight for investors to navigate its economic trajectory this week.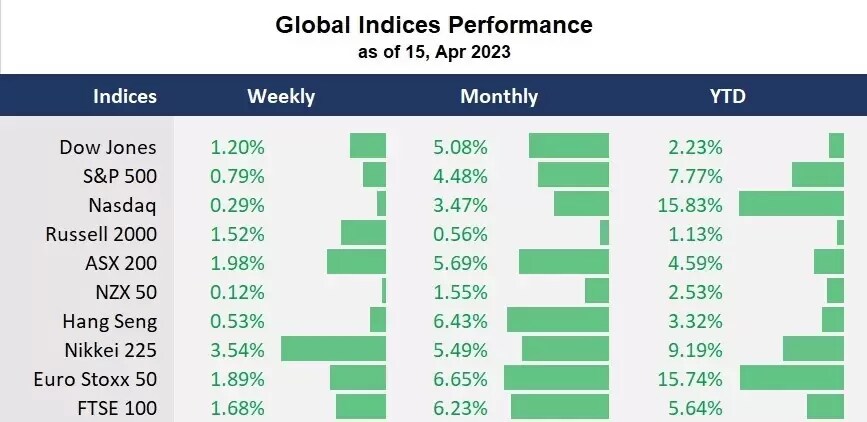 Click to enlarge the table
What are we watching?
The US bond yields started climbing again: Though broad markets cheered for cooled inflation and the Fed's caution about the economic risk, strong US big bank earnings, and stubborn core CPI sent bond yields soaring last Friday, which strengthened the US dollar again.
Gold pulls back: Gold futures slashed 38 dollars, or 1.8% per ounce, last Friday as the USD regained strength. With the precious metal hovering around close to the all-time high level, a correction might be needed as rates start rising again.
Crude oil: Oil prices continued to climb, with the WTI futures rising to a 4-month high amid OPEC+'s plan to further cut output, a softened USD, and positive Chinese economic data.
Buying frenzy in Cryptocurrencies: Bitcoin topped 30,000, and Ethereum hit above 2,000 last week as the crypto buying frenzy continued amid Fed's policy optimism and the US dollar's weakness.
Tesla's profit margin is in check: Despite a record Q4 delivery number, Tesla's profit margin is in doubt due to its generous price cuts. Also, whether the EV maker can achieve its 2 million delivery number becomes suspicious amid severe Chinese carmaker competition.
Australian markets
The ASX 200 outperformed most of the major stock markets globally, up 1.98% last week, with all 11 sectors finishing higher last week. Strong commodity prices boosted mining stocks. The softened US dollar and China's positive economic data gave a ride to industrial metal prices, such as copper and iron ore. Strong crude oil prices helped boost oil and gas producers' shares. The tech sector also took a ride on Wall Street's performance.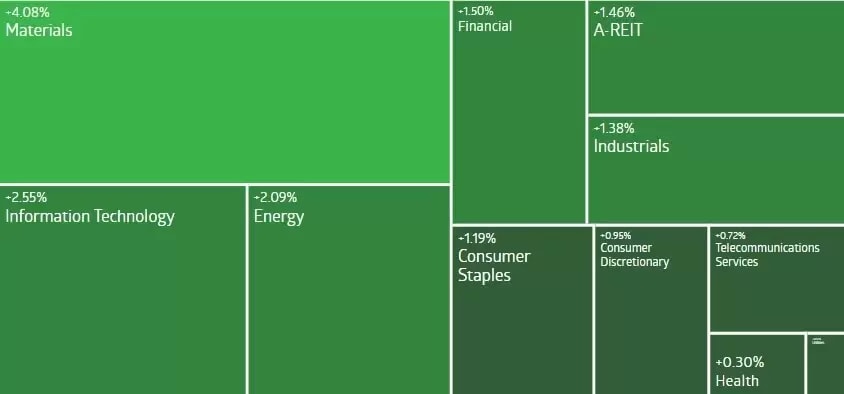 Source: ASX as of 16 April 2023
The Australian dollar rebounded against the US dollar following a stronger-than-expected March employment as the ongoing tight labour market strengthens the odds for the RBA to continue raising the OCR, probably another two 25 bps hikes in the coming months.
The RBA meeting minutes for April will be on close watch for clues of the reserve bank's rate hike path, which will be released on Tuesday.
Economic Calendar (17 April – 21 April) All time is in Australian AEST