Price to earnings ratios can be misleading. Usually they look at the next 12 months' earnings only. If a company is in the midst of a strategic transformation that will deliver benefits beyond the one year window the P/E may look much worse than the real prospects of the company. This brings us to the Australian Agricultural Company (AAC).
AAC's shift is driven by a desire to turn from price taking to price making. Traditionally larger agricultural produces tended towards commodity production, seeking scale to drive higher profitability. However producers of commoditised goods are at the mercy of the market. If they refuse the market price, any other producer of the same goods can and will take their market share.
On the other hand producers of niche and premium products have much more control over the prices they charge. This is the philosophy underpinning AAC's investment in its beef herd and the creation of the premium Westholme and Wylarah brands in October last year. At its November results announcement AAC claimed the largest Wagyu herd in the world.
Naturally these products speak directly to the "pure food" thematic that global investors seek in NZ and Australian food producers – from Manuka honey to infant milk formula. Yet the disruption of the ban on beef exports to Indonesia started a long period of underperformance. The silver lining is that this ultimately led to the new approach to AAC's product range.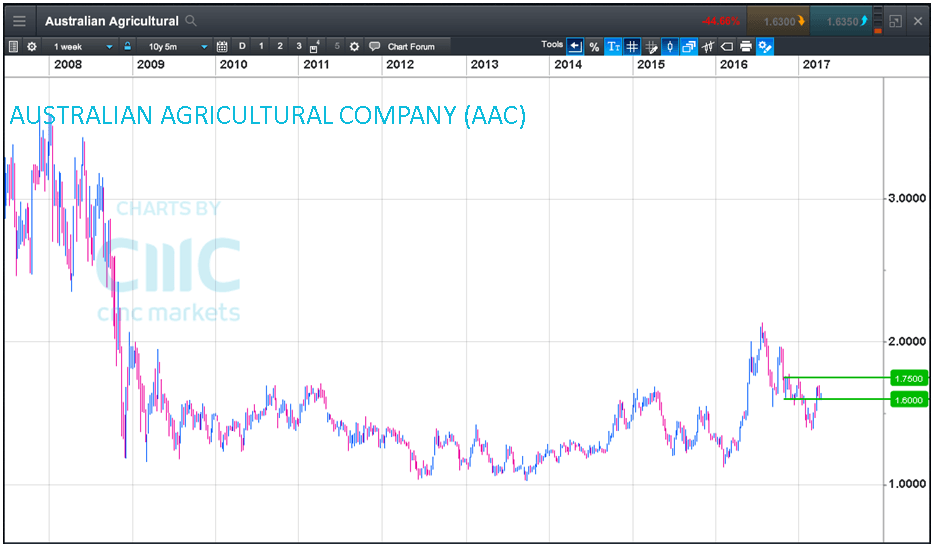 The increase in price
swings
on the long term chart point to market interest in this strategy. The current PE for AAC is around 31 times. However Bloomberg consensus estimates of 2019 earnings suggest at current share price levels a PE closer to 17 times, and in 2020 a mouth-watering 8 times. Tactically, investors may attempt to pick up AAC close to the $1.60 support, with a back-up plan to jump on board on any move above $1.75.