By Adam Harris
The Japanese Yen is currently showing weakness with its stronger trading partners revelling in its lacklustre performance of late. This weakness has me interested but as always, I find the key is to be patient in waiting for the weekly chart to reach its point of equilibrium in order to time a good entry on the lower timeframes such as the daily chart.
In recent months, the Yen charts have trended cleanly, offering numerous trade entries based on our trend following strategies. Let's consider EUR/JPY, we can see below that the weekly chart in in an uptrend making higher highs and higher lows.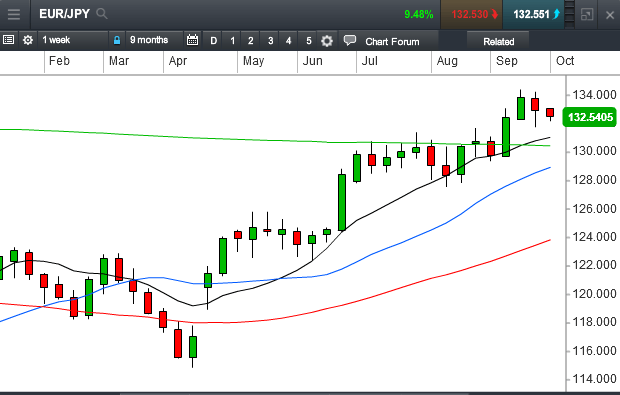 The trick is understanding that, while the weekly timeframe is retracing back into the Buy Zone (the area in-and-around the 10 & 20 moving averages), the daily timeframe is consolidating. On the daily chat, the key price levels where I'll expect price to find support is either 131.50, or possibly 130.00.  At both these levels, I'll look for small bullish candles, as signs of the bulls re-entering the market to resume the up-trend.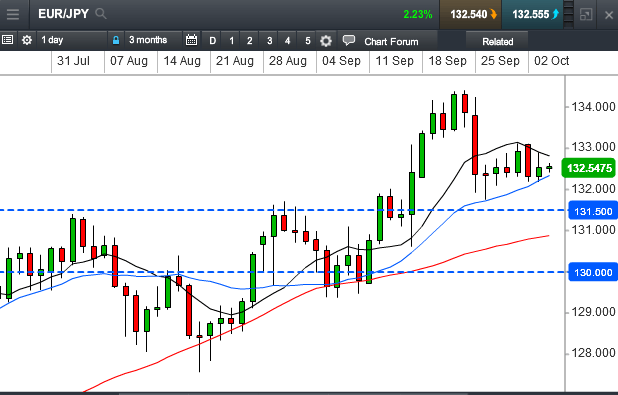 In each of the JPY charts below, I'm focusing on the weekly timeframes to determine which levels price action is likely to retrace down to to find its equilibrium. In these areas I'll focus on bullish signals on the Daily, and possibly 4-hour charts once price begins a new uptrend from there, which is also likely if the weekly begins its new move to the upside as expected.
I'll also use the previous weekly highs as my first profit target; preferring to bank profits across at least 2 separate orders, usually 1:1 and 3:1 respectively.
My trade criteria would be as follows:
On the weekly charts
- The 50, 20 and 10 MAs in the correct order.
- Supported by an uptrend, or at least higher-lows.
- For price to pull back/retrace into the buy-zone.
- Near the highlighted key price levels.
- A small bullish candle to form near the level, and entering on either the weekly, daily or 4-hour timeframe, when price subsequently breaks the high of that bullish candle.
- Taking profits at 1:1 and 3:1 and managing my 1% risk between each of these trades.
Looking at the GBP/JPY weekly chart below, price is cleanly retracing back down to the level of 148.00. I won't change my plan if price breaks below this and settles closer to 145.00, but if price is truly bullish, I would expect it to brake closer to 148.00
This level could offer stop-loss protection, and I would anticipate price to move back up to at least 152.00 to 153.00.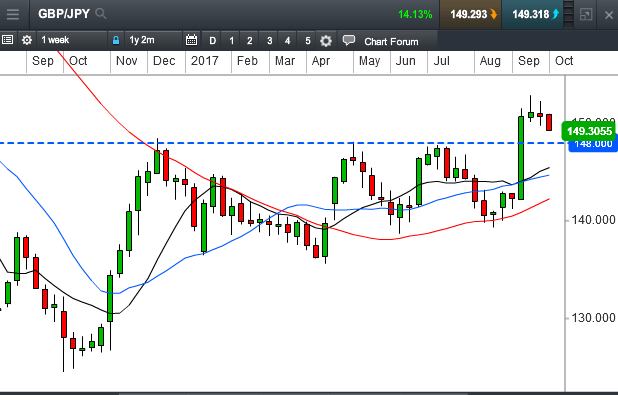 The AUD/JPY chart is also in an uptrend, combined with its bullish moving averages. Not only that, but the buy-zone is neatly located around a level of previous resistance at 87.00.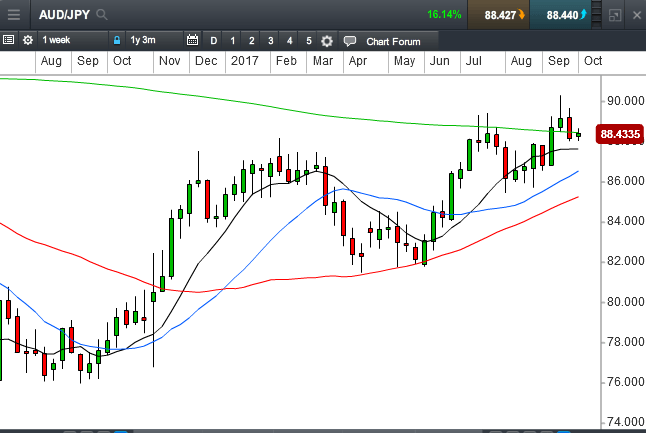 Similar to the AUD/JPY weekly chart, the CAD/JPY uptrend with its current retracement neatly overlapping the 89.00 level with its up-trending buy-zone also has me interested. It's not unreasonable to expect price to aim for 92.00 and this move has the potential to yield me some profits if managed carefully.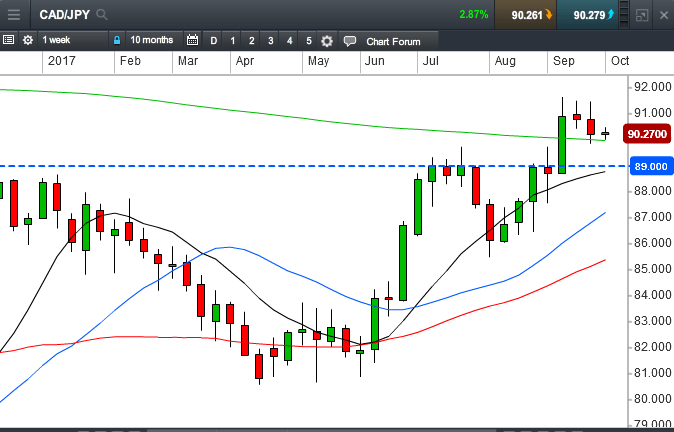 Good trading results can occur when price is in the buy zone on both the Weekly and Daily timeframes. And that would also offer extra protection for my stop-losses, if I were to locate them below those levels. Traditionally, I use the recent daily or weekly swing low as the point below which I will place my realistic stop-loss.
I will also be monitoring other JPY charts, including USD/JPY, CHF/JPY and NZD/JPY, but for now, these ones covered here appeal to me the most. Happy trading.