The US equities market is looking particularly strong at the moment with most of the indices either at, or close to all-time highs. There may be some debate about how long this bull market can last, but until it shows signs of coming to an end we should be looking to trade with the momentum of the market.
One of the stocks on my watchlist right now is Visa, which is outperforming the S&P by a considerable margin, which is no mean feat at the moment.
Beginning our analysis on the Monthly chart below, we can see a very strong uptrend, with price surging upwards and hardly a pullback. The moving averages (MAs) are confirming the strength of this trend with the 10, 20 and 50 period MAs all flowing upwards in a fanning pattern.
The momentum of the trend is confirmed by the MACD & RSI, which are both showing bullish convergence. The only potential negative is that price is a little over-extended. However, on this timeframe, the over-extension could continue for months and there are no technical signs of an impending reversal.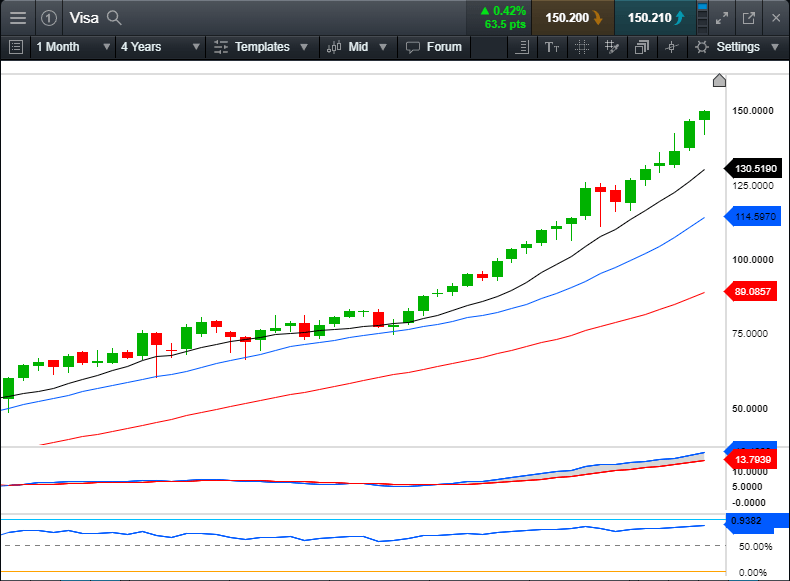 On the Weekly chart, the outlook looks equally bullish. We can see that price action on this timeframe has a clear structure. Notice the way price reacts - the way it makes a new high before pulling back to the MAs, then goes on to make a higher high. This is the type of price action that we look for to assist us with our trading decisions.  Again, the trend on this timeframe is showing optimal MA geometry and bullish indicator convergence.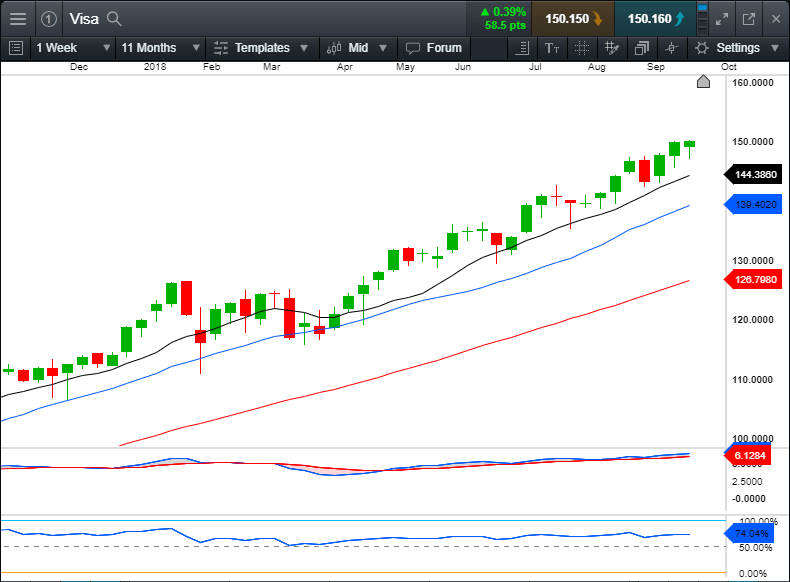 Moving our analysis down to the Daily chart, we can see that we have a clear uptrend with optimal MA geometry and bullish convergence, confirming the trend momentum. Again, notice on this timeframe how the way price makes a new high, pulls back to the MAs and then moves up again. The fact that we have trend agreement across the Daily, Weekly and Monthly timeframes, means we have the ideal conditions for a potential swing trade. For a valid trade setup to occur, I will be looking for price to pull back to the MAs and for a reversal candle to form.
To summarise, Visa is on my watchlist due to the multi-timeframe strength that it's showing. I will be watching it carefully to see if a potential trade setup forms that will allow me to participate in this trend.