By John Sheridan
As technical traders it can be advantageous to scan a wide range of markets to increase the potential to identify the better trading opportunities.
This process begins with identifying the best trends in the market at any given time.  And a potential setup has recently shown up my radar as a result of the useful trend emerging in US Five Year Treasury Notes. These notes have been taking a beating for some time now, long enough for a downtrend to become established on multiple timeframes.
Looking first at the weekly chart below, we see that the Five Year Notes have been looking bearish since coming off their highs back in June 2016.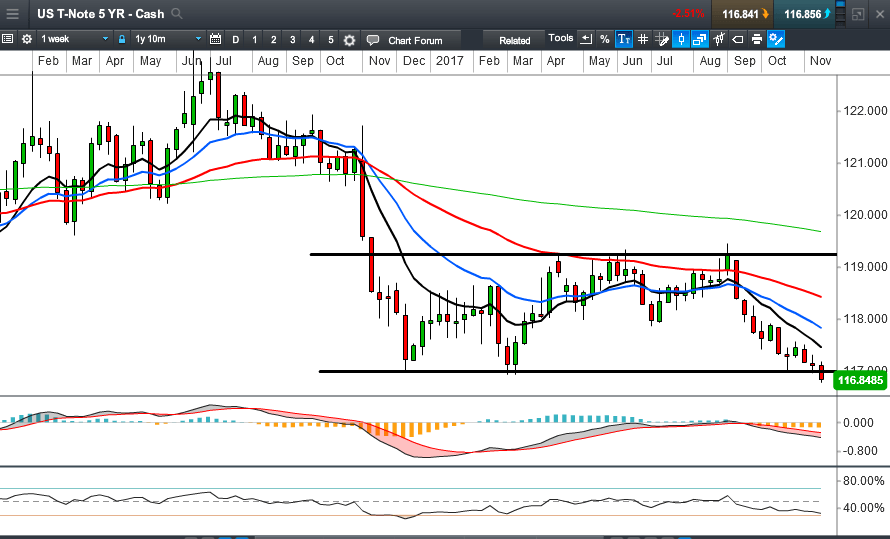 From there the US T-Note 5 Yr trended downward for a while before finding support at 117 and have been ranging between that level and 119.25 for the past 12 months. Since testing the top of that range, price has been moving steadily downward with the moving averages coming back into their optimal geometry and forming a fanning pattern before price broke though the support level.
Moving down to the daily timeframe, on the chart below, we can see that the price action since the September high has formed a very clean downtrend, with a clear series of lower highs and lower lows.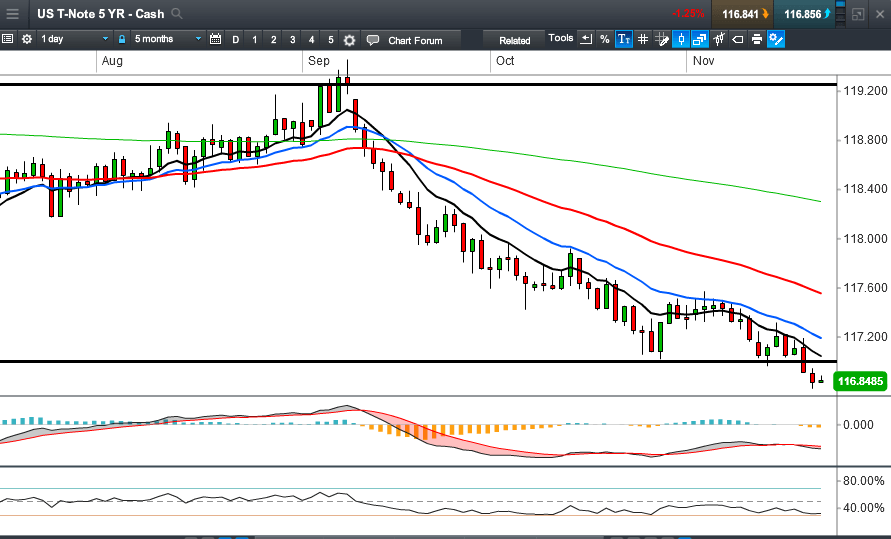 The moving averages are forming a clear fanning pattern with the trend showing an appealing structure, moving down, then pulling back to the averages, before taking its next move down. On this timeframe, we can also see that we have gone cleanly through the level of support.
The question is, how best to participate in this trend?
I have a couple of options. I could look to trade this on the daily time frame.  Price has moved a long way in a short space of time and is due for a pullback. So one option would be to set up a short order just below the support and resistance level in the assumption that price will re-test that level before continuing moving down. 
However, I think that going down to another timeframe could well provide us with a more elegant opportunity.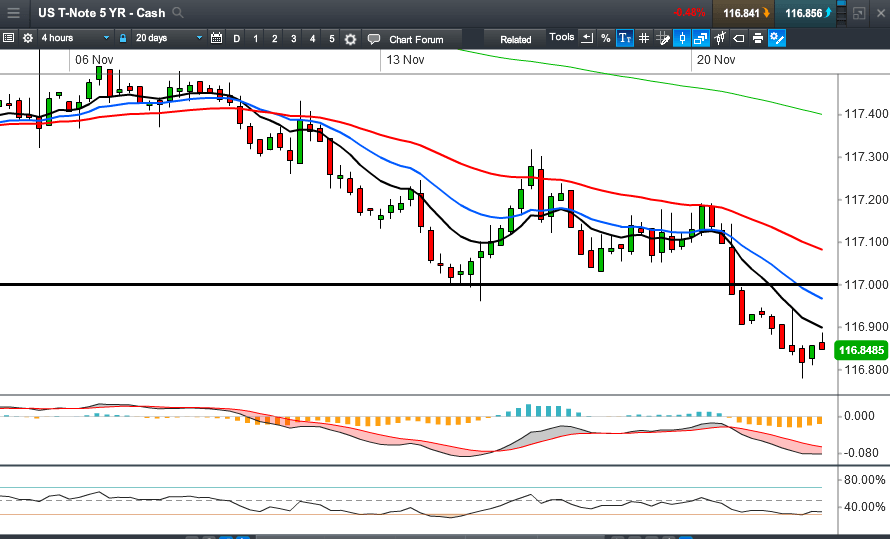 The four-hour chart above is down trending, with the moving average geometry again optimal and the trend momentum confirmed by the indicator convergence. My preferred approach to this trade would be to wait for price to pull back to the zone around the 10 & 20 period moving averages, and look for a small bearish candle to form, which would act as a trigger candle.
A break below the low of the trigger candle, once it has closed, would trigger my trade entry. My stop loss location would be up above what was the support level, which I would now anticipate to act as resistance.
To summarise, what we have here with Five Year Notes is a useful instrument for the watchlist - or an itch waiting to be scratched. If the trade sets up in the way I anticipate, I will take it. If not, it will stay on my watchlist until I do get a valid setup, or the trend breaks down.