The Aussie Dollar has seen some big moves over the past 2 weeks. This makes it vulnerable to any surprises in Wednesday's inflation data
Why inflation data is important to the Aussie Dollar
Inflation is an important determinant of RBA interest rate policy and Interest rate expectations are a key driver of FX rates
That makes Australia's quarterly inflation data a big event on forex traders' calendars. RBA policy changes often follow and currency markets are quick to respond to this possibility.  
Despite an improving job market, persistently weak inflation and now a stronger $A are the main reason the market thinks it will be some time before the RBA begins to lift rates
Underlying measures of inflation have been below the RBA's 2-3% target since September 2014. The RBA may want to at least see some signs of inflation heading in the right direction before beginning to lift rates.  Markets are not currently pricing an RBA rate rise until May next year.
Rising commodity prices and a weaker US Dollar are what has driven the recent $A rally.
In fact $A strength helps keep inflation low by bearing down on the cost of imported goods like petrol; clothing and electronic equipment.
Cyclical or structural
Central banks have been assuming that low inflation is about the economic cycle. In a major downturn like the GFC, demand drops and this creates an oversupply of labour; commodities and capital putting downward pressure on prices. As the economy recovers, the supply overhangs (like the unemployment rate) reduce and price pressure picks up.
However sections of the market are coming more to the view that this time it may be different. Structural factors may be at play in keeping inflation depressed. These might include the impact of technology, ageing populations and globalisation which is tending to make the labour market global rather than national
A scenario that sees inflation stubbornly low due to structural reasons would likely impact most major economies. However, it might affect Australian interest rates most. Our rates are already higher than other major economies and so would rise even less if inflation stays low.
What to look for on Wednesday
Inflation data is due for release at 11.30 AEST
The headline CPI is expected to rise 0.5% for the quarter and 2.2% for the year. This is likely to reflect a tussle between rising fruit prices due to the impact of Cyclone Debbie and falling petrol prices
However the main market focus will be on the underlying trimmed and weighted median measures of inflation which strip out volatile influences. These are expected to remain stubbornly below 2% with reads of 1.8 and 1.7% for an average core inflation rate of 1.75%
Market reaction and the chart situation
The current market situation means Wednesday's inflation data could see volatility in either direction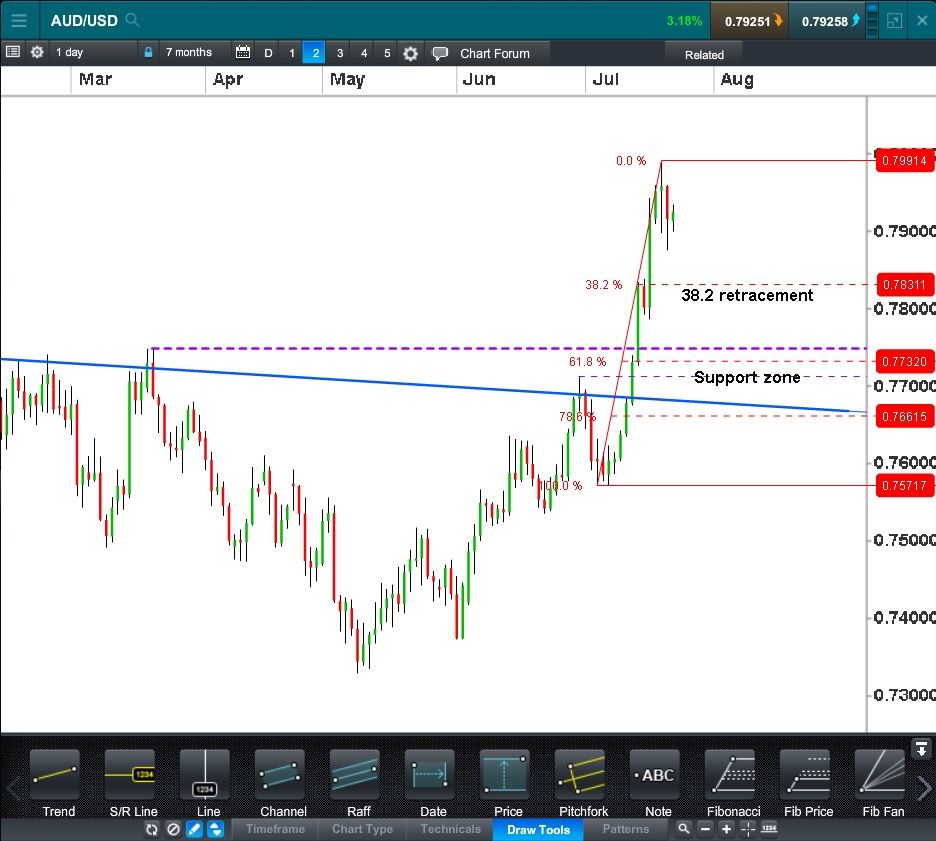 The fact that the Aussie Dollar has been so strong over the past couple of weeks means that any downside reaction to weaker than expected data could be amplified.  The daily chart saw Friday's candle making a lower high and lower low. This means the short term trend is now down, suggesting a correction is under way.
Weak inflation data on Wednesday could see this correction extend to the 38.2% Fibonacci retracement around .783. Ultimately it would not surprise to see a test of support around .77/.775. This picks up the March peak and a re -test of the old trend line resistance
However, I will also be alert to the possibility of a bullish reaction to positive inflation data. Markets have got used to soft underlying inflation data in recent times. Stronger than expected data would be a shock and could push the Aussie higher
Buy dips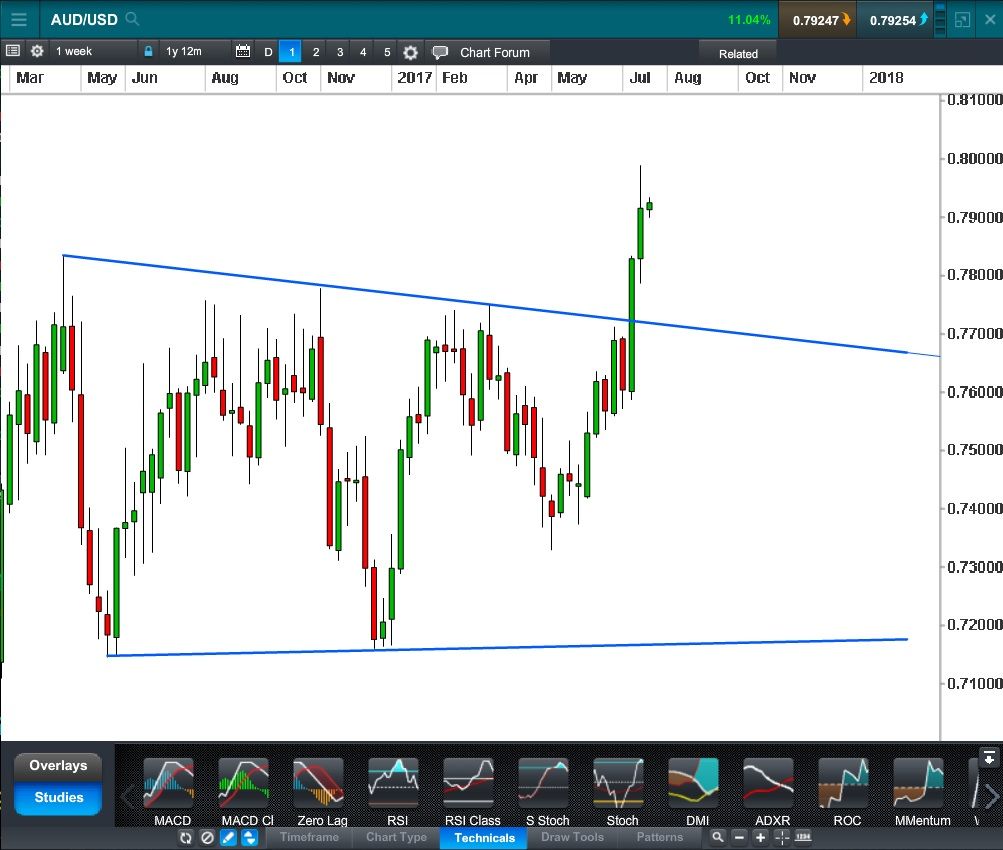 For longer term traders who follow a strategy of trading in the direction of the longer term trend, AUDUSD looks like a market to buy dips. The trend on the weekly chat is up
Of all the possibilities from Wednesday's data, a bit of a sell-off  to the supports mentioned above might be the most attractive, creating a buying opportunity for longer term traders looking to take advantage of a minor correction to join the longer term up trend